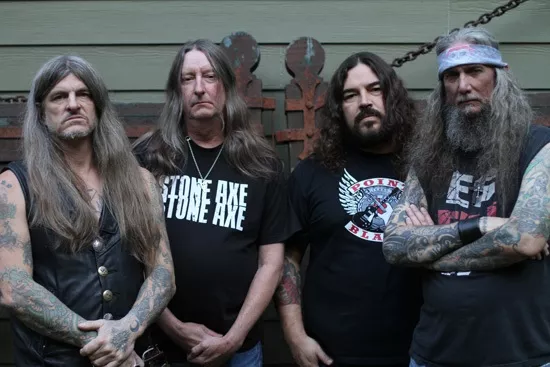 Audrey Jarret
Saint Vitus
Looking for a good place to see flashy and exciting music played at high volume, have your mind blown by dark and powerful sounds, or just stomp around like a drunken goon with your shirt off? Then a heavy-metal concert might be just the place for you. Each month I'll be offering my top picks of the upcoming metal shows in town that shouldn't be missed. And I'll try really hard not to make fun of the ones I don't care for, like Bullet for my Backstreet Boys or whatever the hell those bands are.
See Also: I Pissed Off Megadeth This Week, My (Former) Favorite Band
Saint Vitus with Pallbearer, the Hookers and Fister at the Firebird October 6 7 p.m. / $20
With the obvious exception of Black Sabbath, there are few bands more directly responsible for the stoner-rock movement than Saint Vitus. Even predating bands such as Sleep by over a decade, Vitus' beginnings trace back to the early 1980s, when the band first merged the fuzz and darkness of Black Sabbath with the raw intensity of Black Flag. Classic albums were released, lineup changes ensued, breakups, reunions and finally now the band is making its way through St. Louis for a major Sunday night doom fest.
This is typically the kind of show you might have to make a trip out of town to catch, but the good folks over at the Firebird are bringing the band here with Pallbearer and the Hookers in tow. This version of Vitus features Scott "Wino" Weinrich, also of the Obsessed and ultra-heavy supergroup Shinebuilder, on vocals. Wino first debuted with Saint Vitus on 1986's Born Too Late album, but setlists from a recent Australian tour show the potential of hearing fan favorites such as "War Is Our Destiny" and other early Scott Reagers-era tracks. If you've ever hoped to catch a stoner-metal legend like Saint Vitus live, this may likely be your first and last chance to do so.
Obituary with Strong Intention, Enflesh, Eternium and Animated Dead at Fubar October 17 7 p.m. / $20
The death-metal fans of St. Louis have been hitting the jackpot lately. So far this year we've already had visits from giants like Cannibal Corpse, Napalm Death, Vader, Nile, Deceased and more. The winning streak seems to be continuing into the fall with not only a show from Morbid Angel in November, but also the legendary Obituary returning to St. Louis for the first time in more than a decade this month. (If my intel is correct, the last time the band was in town was back in the early '90s at Club 367. Although I can find no official evidence of this, I know I also cannot remember ever hearing of the band coming through in my adult life.)
This October brings the chance for all of us young punks to finally see the band live, including original vocalist John Tardy, original guitarist Trevor Peres and original drummer and ex-Andrew W.K. bandmate Donald Tardy. The band dates back to 1984, but it was 1992's The End Complete that put Obituary on the map and helped bring death metal to the attention of fans everywhere. The cryptic artwork, filthy guitars, pained vocals and barbaric drums have since influenced everyone from underground grind bands to modern hardcore and punk groups while maintaining its own instantly identifiable sound. A kickstarter page was launched for the band in August with the goal of $10,000 to record a new album, which was answered by eager fans quickly raising more than $60,000, so hopefully we can expect a new album sometime early next year. I'll admit I'd like to get my hands on one of those camouflage Obituary beer coozies, myself.
Death Angel with 3 Inches of Blood, Battlecross, Revocation, Diamond Plate and more at Fubar October 27 5 p.m. / $16 - $20
I could honestly never tell if the members were Asian or Latino, teenagers or 40-year-olds, there might be even a girl in there somewhere... But I know for sure that Death Angel has been tearing shit up ever since they first opened for Forbidden at Mississippi Nights back in the early '90s. The band always stood out in the world of thrash metal, not because they were some of the only non-Caucasian band members in the scene who weren't Rocky George, but because they played with a infectious groove that was seldom heard from most straightforward Bay area thrash bands. Over the past three decades that groove has grown into an overwhelmingly heavy and frantic bitchripper of a heavy-metal band. The band's newest album, The Dream Calls for Blood, will be released on the eleventh of this month and may be its heaviest material to date. From where a band with members in their mid-40s(OK I did my research, original members were born in the late '60s, are Filipino, and all are boys) are able to conjure the kind of anger necessary to create an album this ferocious I can't say, but the last couple releases from Death Angel could easily keep up with some of Sepultura and Kreator's best.
Also on the bill are a bunch of bands that honestly don't do anything for me. If you like any one of them, then come for the whole show because you'll probably like them all, because they all sound pretty much the same. Good to at least see Death Angel headlining this tour and getting the respect that it is due.
RFT MUSIC'S GREATEST HITS
The Ten Most Metal Deaths of Metal Musicians I Pissed Off Megadeth This Week, My (Former) Favorite Band The Top Ten Douchiest Guitar Players of All Time Lady Gaga is Really into Crust Punk, DOOM and G.I.S.M.
Follow RFT Music on Twitter or Facebook. Follow RFT Music editor Daniel Hill on Twitter too, if you are into that sort of thing.