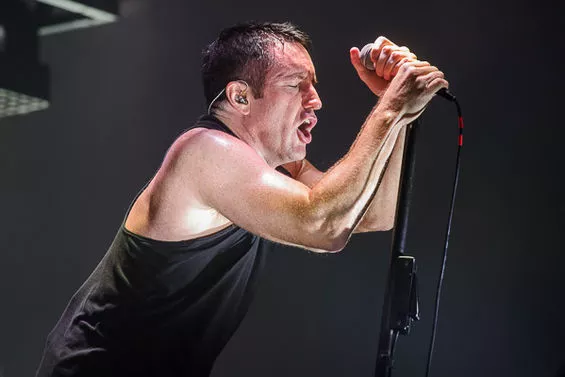 Let's just put this out there right now: Trent Reznor never retired.
OK, yeah, Trent Reznor took Nine Inch Nails out of the touring business for a few years while he got married and won an Oscar and did a whole bunch of other neato stuff. But last night's show at Chaifetz Arena proved that, despite the time off, the man never really left the stage. During the third stop on NIN's "Tension" tour, Reznor's "comeback" ended up being an exhilarating "come again."
And we almost missed it, dammit.
See also: Last Shot: Nine Inch Nails Helps Me Find My Way Through Cancer Pain
No, really. The delivery service that was supposed to put press passes into our grubby hands sent us on a wild goose chase until the last possible moment, ensuring that our own pretty hate machine was in full effect by the time we walked into Chaifetz. But since "Federal" is part of the delivery company's name, we can only surmise that this idiocy was a result of the government shutdown. THANKS, OBAMA!
Whatever. Reznor and his stagemates made us forget how stupid the government is as soon as the house lights went out at 8:48 p.m. With each band member coming out individually and encased in their own "isolation booths" of red and white light at their stations, Nine Inch Nails opened the show with "Copy of A," the second single from August's Hesitation Marks. Reznor's bulging biceps seemed even beefier than when we last saw him during the "Lights in the Sky" tour back in 2008, and he used them to pump the microphone stand as if he were jacking up a car.
The floor crowd hadn't shown much excitement during the first song, but "1,000,000" hit the audience hard. With its guitars sounding like buzzsaws, the angry song whipped concertgoers into shape. Alessandro Cortini had a mad-scientist thing happening at the side of the stage, as lightning and strobes hit the screen around him while he mashed his keyboards.
Reznor didn't speak much at all during the show, but he shouted "Yes!" before picking up the guitar next for "Terrible Lie." He can be a difficult person to read, but Reznor's constant bouncing suggested an enthusiasm for his return to touring. Flashing black and white backlights accompanied most of the performance, with the stage going dark and Reznor standing in the spotlight as he sang the quiet, painful bridge: "Don't take it away from me. I need someone to hold on to." The energy went back up for the raging outro as Reznor stomped and panted while screaming: "You fucking promised me!"
"March of the Pigs" was predictably frenzied. With yellow strobes exploding behind him, drummer Ilan Rubin bashed his kit with a ferocity that perfectly matched Reznor's rage. The pit crowd raved, and Reznor became so animated that he knocked his mic stand off the stage. The NIN lead man seemed to have his own beef with the government, as he paused and laughed while singing, "Doesn't that make you feel better? The pigs have won tonight. They can all sleep soundly, and everything is all right." (THANKS, OBAMA!)
Continue for more heart-pounding goodness and the setlist.
Reznor showed another mic stand who's boss during "Piggy." He angrily kicked and stumbled over the stand while the band played a version that had an odd hint of sex appeal, thanks to some stunning bass by Pino Palladino. The band continued with "All Time Low" and "Disappointed," which launched a light show that ranks up there with any of Radiohead's. With multiple LED screens now in front of and behind the group, vertical lights moved in, out and around, sometimes encasing the guys in spinning boxes. As multi-instrumentalist Josh Eustis wailed on the saxophone, the lights picked up speed and changed perspective, giving the illusion that the stage was spinning like a carousel.
Reznor's voice was exceptionally strong during "Came Back Haunted," the lead single from Hesitation Marks. White light blips resembling the screen on the Ghostbusters' P.K.E. meter only reinforced that the song will be on every Halloween party playlist this month. Reznor continued stomping around during "Find My Way" and "Satellite," at some point changing from his black tank top to a black sleeveless shirt. He heightened the crowd's ecstasy with the fist-pumping, tongue-tying "Survivalism," which was accompanied by strobes and foggy green lights that made us fear that we were breathing poison.
The audience didn't seem to appreciate "Running." Despite the RGB light show that went with it, the beep-boop slow burner appeared to be the beer-fetching song of the evening, especially as it fed into the etherial "A Warm Place" from The Downward Spiral with Reznor playing synths and keys solo. But the crowd certainly woke up again during "Somewhat Damaged," a screamo tune with hints of metal from 1999's The Fragile.
This ramped us up for the loudest, most crowd-approved section of the show. Reznor grabbed a guitar again for "Wish," and as a grid of white rectangles flashed behind them, he and guitarist Robin Finck shared their trademark buzzsaw sounds, proving that "Wish" easily would fit into any gory horror movie. "The Hand That Feeds" was just as exciting, slowed down ever so slightly and featuring extra video-game-like bloops that you won't find on the album version. And the entire arena flailed to "Head Like a Hole," a Nails anthem if there ever was one. Reznor bounced around himself and the lower strobe lights spazzed out, making the entire scene feel like a hallucination. With a smile on his face, Reznor ended the song and the lights went down, allowing a fade-in of the letters "NIN" to take center stage on the light board as the band took its encore break.
But wait, there's more! Like, 30 minutes more!
Only a minute after leaving the stage, Reznor returned solo to plunk out "The Frail" on keyboards, standing ever so still until the rest of the band joined him for a hard-hitting version of "The Wretched." As Reznor screamed "Now you know! This is what it feels like!" white lasers shot out over the audience, moving low as if they were cutting right through us.
Continue for a St. Louis debut and the setlist.
St. Louis got the tour's first performance of "Echoplex" next. Backup vocalists Lisa Fischer and Sharlotte Gibson added a new layer to the song with their double-time "la, la, la" mimicking the bassline as Finck dipped and swayed while doing his own thing. Afterward, Reznor finally chatted with the crowd and quipped, "It's been a while since we've decided to come back. Honestly, we had no idea if anybody would show up."
With that, Nine Inch Nails went into "In This Twilight" and "While I'm Still Here," with Reznor slowly moving to his keyboard, arms aloft as if in victory. After a gloriously guitar-trashy version of "Black Noise," the band stripped down for "Hurt." As Reznor sang the emotional, strained tune, images of destruction flashed behind him: Chernobyl, an exploding barn, rotting strawberries, hungry insects. A beady-eyed white snake framed the concept of evil, its dead black eyes boring into the audience as Reznor finished out his lament: "If I could start again a million miles away, I would keep myself. I would find a way."
SETLIST
"Copy of A" "1,000,000" "Terrible Lie" "March of the Pigs" "Piggy" "All Time Low" "Disappointed" "Came Back Haunted" "Find My Way" "Satellite" "Survivalism" "Running" "A Warm Place" "Somewhat Damaged" "Wish" "Burn" "The Hand That Feeds" "Head Like a Hole"
Encore: "The Frail" "The Wretched" "Echoplex" "In This Twilight" "While I'm Still Here" "Black Noise" "Hurt"
See also: - Slideshow: Nine Inch Nails Returns to St. Louis - Six Great Bands That Aren't Nine Inch Nails - Last Shot: Nine Inch Nails Helps Me Find My Way Through Cancer Pain
Follow RFT Music on Twitter or Facebook. Follow RFT Music editor Daniel Hill on Twitter too, if you are into that sort of thing.