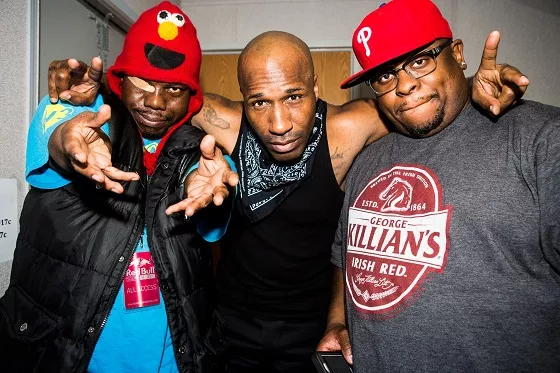 Press Photo
The Geto Boys, left to right: Bushwick Bill, Willie D, and Scarface.
By Travis Cohen
The bands that last, they're the exceptions to the rule.
The Geto Boys are that kind of long-lasting, exceptional group. And after 24 years, they're still going strong and they're headed to St. Louis this Sunday to perform at the Coliseum Music Lounge.
See Also: Ask Willie D - RFT Music's Advice Column with the Geto Boys Legend
Widely regarded as one of the greatest hip-hop crews of all time, the Geto Boys have been known for their sharp-tongued lyricism, laced with visceral visions of crime and violence, their overt disregard and distaste for authority, and their dark sense of humor.
Over the last two and a half decades, Willie D, Scarface and Bushwick Bill have seen their fair share of controversy. They've been persecuted by Tipper Gore and her self-righteous American Inquisition of music, investigated and harangued by the FBI, and changed lineups more than a few times before settling back into the trio that will be performing in Brickell on Thursday.
Recently, we spoke with Willie D about one of the most storied and enthralling groups that ever put rhymes to a beat.
RFT Music: How it is you guys have managed to keep it together? For most groups, regardless of genre, it's no easy feat to keep making good records and playing together for 25 years. Willie D: Well, with the chemistry between myself and Face as the primary writers for the band, and what we've got between the three of us in terms of chemistry, both in the studio and on the stage -- this is the lineup that has worked better.
As far as what it's taken, it's just really the will to want to keep the legacy alive, you've got to have the will. You know, there's ups and downs, and it's been contentious at times, so it takes a lot of will to want to keep it going. That's outside the regular acrimony that could happen within the constraints or the confines of being in a group. In addition to that, you just have the politics that's played in the game, with the radio and videos, even distribution channels, how your music is placed in stores. The music industry is very much a political game. So aside from the will, it takes some adjusting. You've gotta be willing to adjust. Any group or any artists that have been successful have kind of grown to be like the industry in that they've figured out that change is necessary to grow and to continue to be relevant. You've got to try to strike that balance between change and not losing your identity, and keeping the integrity of the product. I think when we go in, we're all very conscious of that.
You've got a really strong air of eloquence and maturity and intelligence. But at the same time, there's something of a 'Fuck You' attitude about the Geto Boys, especially when you think of your time going toe-to-toe with Tipper Gore. How do sum up your legacy and the lasting ideas you all represent? I see the legacy as being a group that challenged the norms, a group that even when we felt some trepidation about attacking certain powers, like the government, and certain self-interest groups, like PMRC [Parents Music Resource Center] with Tipper Gore being at the head, and even the NAACP, even the FBI, institutional establishments that make up the so-called "fabric of America," when we feel like there's been an injustice, then we speak on those injustices.
To go out on a limb for the people like that, people respect that, and through the years they've rewarded us. We've put ourselves out there -- not just under scrutiny, but under attack. We've had our record label targeted by the FBI. We've had our artists targeted in homes, our doors kicked in, been set up by various crooked individuals working in law enforcement -- all because they just couldn't stand the fact that you had these young kids that were out of the hood, who we've made into influential men in the community with a solid voice, not just speaking with reckless abandon, but actually speaking with some directness and knowing exactly what the game is, knowing exactly what the play was, and exposing those people out there that take part in the divisiveness in our country.
When people look at the totality of that, that's what separates us from just being a group that entertains. A lot of the time, people will go out and purchase the music and they'll enjoy it, but only a few of them really, really get it. Like maybe five or ten percent of people really get the message at the time when it's being said. Everybody else might ride with it because it's entertaining. But then years later, you start looking back and you start listening to the lyrics and say, "Damn - it's happening right now! They talked about this 20 years ago and it's happening right now!" And that's the kind of music that we always wanted to make, we wanted to make timeless music.
Willie D: Going in, we always said we didn't want to make training music, we wanted to make timeless music. We wanted to make sure that what we speak on today is still relevant 25, 30, 50 years from now. And that's 'cause we were inspired by artists who made timeless music. We were inspired by musicians like the Rolling Stones, Stevie Wonder, people like Sting, B.B. King, Janis Joplin, Jimi Hendrix, and Marvin Gaye. We were inspired by all these types of people and one thing that they all had in common was that their music was timeless. It spoke to the people of their generation, but it also spoke to the new generation, it spoke to our generation.
So we wanted to make that kind of music and make sure we didn't get caught up in the traps of being trendy. We wanted to make sure that we just spoke for the block and that we were conscious that the world is a ghetto, that struggle is struggle and pain is pain, it doesn't matter what your race is, how old you are, or what region of the world you're from -- struggle is struggle, pain is pain, love is love, abuse is abuse, injustice is injustice. And we knew were a voice for those that were voiceless for a long time. We just wanted to be the type of group that stuck our necks out there for the people.
Well, for what it's worth, that seems to have gone beyond simply being something you wanted -- it's been a very strong part of the group's nature. As you said, perhaps a great deal of people don't understand it at the surface level, but for those who sit down and really digest the music and the lyrics, that intent and that ideal comes through very strongly. It's like when I was younger, there was a song I would listen to called "Bring the Boys Home". I was maybe six or seven years old when this song came out and we would sing it in my grandma's garage with broomsticks as microphones and the song would go: Fathers are pleading, Lovers are all alone, Mothers are praying, Send our sons back home, You marched them away - yes, you did - on ships and planes... So it was describing the emotions that people go through during wartime, but we didn't even know there was a war going on. That was the Vietnam War going on at the time and we were totally removed from what was going on. Grown folks didn't talk about it, we didn't know about it, and back then they didn't put everything on television like they do now. So it was only years later, around when I got out of high school, that I realized, 'Oh, wait a minute, that song came out during the Vietnam War. I didn't know there was a war going on.' A lot of the time, people don't get it when they first hear it, when they hear it, they hear it in the entertainment form. And then years later, they hear it and they say, 'O Hell, that's what they were talking about!' When they first hear a song like "City Under Siege" and we were saying, "Reagan and Bush were cutting tough on Noriega", for a person that was not politically astute, they might say 'ahaha that's dope, they calling Reagan out, they trying to slap Noriega!' A lot of those people might not have even known who Noriega was. They know now. Most of the people who didn't know then, they know now. Some times it just takes longer for some of us to get it than it does others, but eventually, you get it.
Now, you said you were inspired by timeless music when you were starting out. What do you listen to nowadays? Today it's hard to find solid music that talks about something socially. Most of the best real good songs today are about love and they're coming from pop artists. People like Taylor Swift and I know that's unpopular to say Taylor Swift, but it's real. You listen to what she's talking about and it's real. I just like real music, I don't care much about what the topic is. If it's real and it makes a lot of sense - and love is on the table every day - so if you can talk about it and sing about it in a way that makes sense, then I don't give a damn what genre of music you're from, I've got to respect it and I respect what she does...I think right now, the Pop artists are making the best music. If I was a kid all over again, listening to music in the 5th ward, I'd be listening to John Mayer, you know, that type of stuff. I'm not the type of dude that wants to just listen to sexually charged music all day. And I don't want to hear music that's about heartbreak all day. I want to hear music that tells me about my situation and lets me know you can relate and give me some hope at the end of the day. Real music, real life, real lyrics, first and foremost.
Before we wrap up, is there anything developing on the horizon for the Geto Boys or for yourself that you could tell us about? I'm just putting in work right now, about to make some moves in Hollywood, you know. Besides that, we've been talking about a new Geto Boys record, we don't have a start date yet, but I think we're pretty close to doing it. Normally, before we start a Geto Boys project, we have to talk about it for about five years and it's been about eight years, so it's a bit overdue. Right now, we're really focusing on doing shows and getting out there and also going into markets we've never been into. We've done a lot of first time markets in the last three months. I like the idea of coming into a city or a town that we've never been to and do a show and let people see us live and in the flesh where some people have been waiting decades to see us live. I met a guy a couple of months ago, can't remember what city it was, he said he had been waiting 25 years to see us. I asked him how old he was and he said 'I'm 25.' So to see the look on their faces when they finally see us on stage together, it's really special.
RFT MUSIC'S GREATEST HITS
The 15 Most Ridiculous Band Promo Photos Ever "Where Did My Dick Go?" The Gathering of the Juggalos' Best Overheard Quotations I Pissed Off Megadeth This Week, My (Former) Favorite Band The Top Ten Ways to Piss Off Your Bartender at a Music Venue
Follow RFT Music on Twitter or Facebook. Follow RFT Music editor Daniel Hill on Twitter too, if you are into that sort of thing.