A screenshot from one of the videos that fooled the whole conspiracy-theorist corner of the Internet.
St. Louis Rapper Prince Ea is no stranger to viral-video marketing. His "Backwards Rapper" video from 2011 has nearly 1 million views on YouTube, setting the Internet on fire when it was released. Last year's "Smoking Weed with the President" took off in a similar way when it came out, and it presently sits just shy of the 400,000 mark.
But his latest, highly ambitious endeavor just may be the best yet.
See Also: Prince Ea's Video For "Backwards Rappers" Turns a Gimmick Into a Symbol And Goes Viral
On September 17, this video went online:
In it, a bald man in a suit claims to be a Department of Defense whistleblower named Robert Connors. He claims that in March of 1994 a project named "Operation Sedgwick" was launched under Ronald Reagan's orders, designed to "control the African American population and urban youth through music." Connors claims to have in his possession a series of video and audio recordings that expose this project, which he failed to destroy, against orders. One of those audio tapes is purported to be an audio recording of Michael Jackson's final phone call on the night of his death, in which the late artist relays his fears that the government is out to get him.
Within days the grainy black-and-white video went viral, spreading like wildfire on conspiracy theory websites, (have a look for yourself here) and garnering 17,000 hits. Rampant speculation ensued as to what would happen on September 23 (the date Connors set for his next dispatch).
And when 9/23 rolled around....
As it turns out, the information Connors had in his possession was compiled by none other than Prince Ea, whom we see in a room covered in black-and-white photos of rappers (in Beautiful Mind fashion), rapping his latest conspiracy-fueled track entitled "I Know Who Killed Hip-Hop." At the end of the video, just as Ea is about to reveal the name, he is suddenly attacked by a demonic figure and dragged out of the camera's view. The video has garnered an impressive 95,000 hits in the three days since its release.
Continue to page two for more.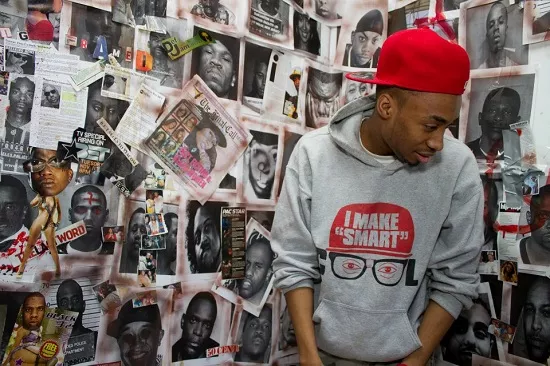 Press Photo
Prince Ea on the set of his video.
The duped conspiracy theorists were not happy and had been speculating prior to the release of the second video that the original may be a hoax. Prince Ea posted the following on his Facebook:
Take note, people: THIS is how you properly execute a viral-video campaign. More in the series are to come; keep an eye on Prince Ea's Facebook page for updates.
RFT MUSIC'S GREATEST HITS
The 15 Most Ridiculous Band Promo Photos Ever "Where Did My Dick Go?" The Gathering of the Juggalos' Best Overheard Quotations I Pissed Off Megadeth This Week, My (Former) Favorite Band The Top Ten Ways to Piss Off Your Bartender at a Music Venue
Follow RFT Music on Twitter or Facebook. Follow RFT Music editor Daniel Hill on Twitter too, if you are into that sort of thing.