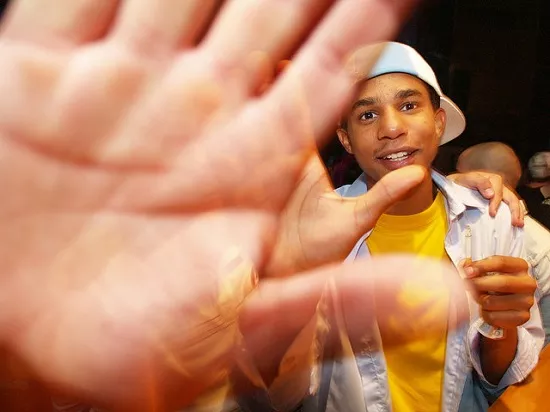 Photo by Zeitfixierer
Face-to-face battles may soon be a thing of the past.
By Jonah Bromwich
You enter the room and they're already there. Some of the names you recognize: Randa the Rhyma (45 wins), Gig@ntic (48 wins), and Novice Raps (53 wins). You've checked the boards obsessively, but you've only ever been here before anonymously, as a guest. This is your first appearance in competition. You're nervous. You signal that you are open to a battle and, before you know it, Unlimited Barzz (49 wins), has challenged you to compete. You're about to make your debut, rapping against one of the best. You should probably put on some clothes.
See Also: Definitely the Best Rap Quiz You're Going to Take Today
Welcome to rapt.fm, a new website on which rappers can face off against each other over a selection of topnotch beats, all from the comfort of their own homes. All you need is a webcam and a decent connection. It's Chatroulette, but powered by hip-hop with significantly fewer dicks.
Erik Torenberg, the site's cofounder (T Berg, 71 wins), first conceived of rapt.fm in 2009 after seeing Freestyle: The Art of Rhyme, a documentary in which the likes of Mos Def, Black Thought and the prolific freestyler Supernatural build rapid-fire rhymes out of thin air. Torenberg was already interested in learning how to rap, and seeing the documentary accelerated that desire.
"What excited me was the improvisation of it," he says. "The excitement that came with coming up with something on the spot, whether it was competitive or collaborative."
Freestyling is closely linked to the birth of rap. One of the genre's origin stories concerns DJ Kool Herc, Melle Mel, and others improvising simple rhymes over breaks at parties in the Bronx in the early '70s. A decade later, competitive freestyle had become recognized as a way for emcees to prove themselves. At the Harlem World Christmas Rappers Convention in 1981, Kool Moe Dee cemented his place as one of rap's earliest superstars by directly challenging Busy Bee Starski in a freestyle battle, insulting the latter's rhymes and calling him a rhyme thief. It was a development central to the conception of hip-hop as a competitive landscape.
Torenberg is quick to emphasize the collaborative nature of freestyling. But right now, rapt.fm is structured as a proving ground. By logging into the site through Facebook, users can challenge each other, or choose to watch others do so and vote on the outcome after three rounds. (Though rappers are welcome to face off until they feel satisfied.) A leaderboard compiles wins, incentivizing users to rap as much as possible in order to push their way to the top.
Winning can be easier than you might expect. Much of the rapping on the site is execrable. Users trail off, ignore the beat, mumble, and jack rhymes from famous rappers. In the course of watching battles on and off for a week, I saw one rapper named T. Skillz win a contest while rhyming less than half of his lines, and another who was clearly reading his rhymes off of a sheet of paper that he was holding directly below his camera's sightline.
But there are talented rappers to be found on the site -- some more practiced than others. Torenberg has reached out to the underground rap community and has found support from like-minded professionals. The ex-professional battle rapper Soul Khan is a fan of the site, and has participated in its forums.
See also: Soul Khan Makes Music For the Audience, Not Himself: "It's Not My Journal"
"Not everyone is lucky enough to live or grow up in a hip-hop community," Khan says. "This could be a great way to bring those folks together to hone their abilities."
Also a fan: Queens rapper and underground legend Dres of Black Sheep. He says he was pleasantly surprised by the rapt.fm community. "Everyone was anxious and open to the experience," he says via e-mail. "I enjoyed it."
Rapt.fm is linked to a larger trend of rap populism as exemplified by the website rapgenius, which transcribes and annotates rap lyrics. Rapgenius made a splash last year when the venture capital firm Andreessen Horowitz decided the site was promising enough for an investment of $15 million (not a misprint). Rapgenius and rapt.fm operate under similar, seemingly noncontroversial premises: Anyone is entitled to understand rap lyrics, and everyone can rap.
Though the two have no formal relationship, the sites are simpatico -- when rapt.fm launched, a promo song Torenberg and his developer made was placed on the front page of RapGenius. That's no small gesture: As of September, the site was receiving about 24 million unique visitors a month. The investment from Andreessen into rapgenius helps rapt.fm too, as there are always those eager to write checks, for fear of missing out on a hot new something that others have already deemed worth the risk.
"Their success in the tech world kind of paved the way for us," Torenberg admits.
Rap was colonized by corporations decades ago. But rapping itself has long been thought to be the province of a select few. Sites like rapgenius and rapt.fm seek to decode what, for some, seems sacred. They take hip-hop off its pedestal and present it to anyone interested, as a kind of hip-hop populism.
But there's a difference between the way two sites interact with the music. RapGenius rubbed a lot of people the wrong way when it first debuted, as its founders often seemed to be treating rap with a kind of ironic distance, mocking and monetizing it in the same breath. Its founders didn't have to participate -- they could sit back, let other people do the work of explaining lyrics for them, and watch the cash roll in.
Torenberg, though, thinks of himself as a rapper, and that changes the way that he interacts with his work.
"The reason I made the website is because I wanted to learn how to rap," he says.
Bronx rapper YC the Cynic, one of the better up-and-coming rappers in the city, vouches for Torenberg's talent: "I participated in a real life cipher with [Erik]. He's incredible. And I never say that. He's one of the best at freestyling that i've ever heard in my life."
Torenberg's attitude toward hip-hop informs the community that he's created. Every employee at rapt.fm is encouraged to use the site, and to learn about the rap community. The emphasis is on sharing and empowering those who might be too timid or not have the access to hip-hop that others are blessed with. Not to mention that rapt.fm encourages rap meritocracy. All that matters, in the site's current format, is how well you can rap.
"Just seeing this is joyous," says Dres. "It very well may become a tool that sharpens the new generation of emcees."
RFT MUSIC'S GREATEST HITS
The 15 Most Ridiculous Band Promo Photos Ever "Where Did My Dick Go?" The Gathering of the Juggalos' Best Overheard Quotations I Pissed Off Megadeth This Week, My (Former) Favorite Band The Top Ten Ways to Piss Off Your Bartender at a Music Venue
Follow RFT Music on Twitter or Facebook. Follow RFT Music editor Daniel Hill on Twitter too, if you are into that sort of thing.