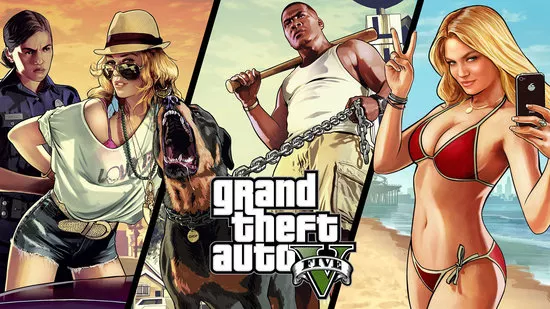 By Gavin Cleaver
As I sit here at work my mind drifts from matters such as job responsibilities to more jovial pursuits such as murder, car theft and the endless slaughter of pedestrians. Last week saw the release day of the biggest game of the year.
Aping the inanities and cliches of radio DJs was one of the series' earliest innovations, before music licensing. Since then, more than any other game, the GTA series (from Vice City onwards) has used licensed music on its selectable radio stations to create an evocative real-world scenario. I find there are now tracks I hear on real-world radio that instantly take me back to doing something horrific (or hilarious) in one of the GTA games. Here are my five favorites.
I. Kiss -- "Strutter"
Because each radio station was cued up to take up exactly one game-day to cycle through, you'd often get a save file stuck on playing one particular song every time you loaded it. In my case, after beating San Andreas, I used to launch all my games from the airstrip on the third island, simply because I had a Harrier Jump Jet there.
Every time I would step into that jet, readying my collection of missiles for a heavily pixellated approximation of Las Vegas, Kiss' "Strutter" would start up. At first, I would change the channel. Eventually I came to embrace it. Now I can't fire missiles in a desert scenario without this song.
II. Toto -- "Africa"
Not all GTA memories involve mass slaughter. Sometimes you're just cruising around in a car you stole from an old lady moments ago, and it turns out that old lady has the exact right song on the radio. The sun's going down over Vice City, you're cresting around the top of the first island; it's so perfect you don't even want to lean out the window and fire your Uzi at the guy that just cut you up. If any song perfectly encapsulated aimlessly cruising in a simulated version of the 1980s, it's surely "Africa."
III. Cannibal Corpse -- "I Cum Blood"
You can't cruise forever, though, and GTA IV had a song on the Liberty City Hardcore station that is the series' high point for songs that invoke an unquenchable bloodlust (although Vice City had "Raining Blood," now I think of it). I challenge you to hear the intro to this song and not immediately want to start driving at full speed into an entire sidewalk of pedestrians. The only real shame is that the song didn't carry on when you bailed out the car to start flinging grenades at them.
IV. Kool and the Gang -- "Hollywood Swinging"
If you're a filthy degenerate like me, you'll have spent an inordinate amount of time gambling in the casinos in San Andreas. Far and away the worst thing about these casinos is that they had a piped-in soundtrack that was really only three or four songs, over and over again. No button to change the radio. This was one of them, and whenever I hear it now, all I can think about is going bust on blackjack yet again, standing up, killing both myself and the dealer with an explosive, and re-loading my save to start again.
Good times. Halcyon days.
V. Slick Rick -- "Children's Story"
The perfect song for the ghetto settings of San Andreas, "Children's Story" seemed as if it could have been describing the urban blight of the gang wars ravaging the first island. Not only that, it's a killer tune. One to cruise up Grove Street listening to. I hear rumors that Grove Street is back for GTA V -- I also hear rumors that specific moments of the game will be scored, much like the astonishing job Red Dead Redemption did in ensuring its finest moments stayed embedded inside a gamer's head for years. As soon as I get out of this office I'll be sure to get to the bottom of these rumors.
RFT MUSIC'S GREATEST HITS Justin Bieber Downward Spiral Predictions for 2014 Six Perfect Songs for Getting People to Leave Lady Gaga is Really into Crust Punk, DOOM and G.I.S.M.
Follow RFT Music on Twitter or Facebook. Follow RFT Music editor Daniel Hill on Twitter too, if you are into that sort of thing.