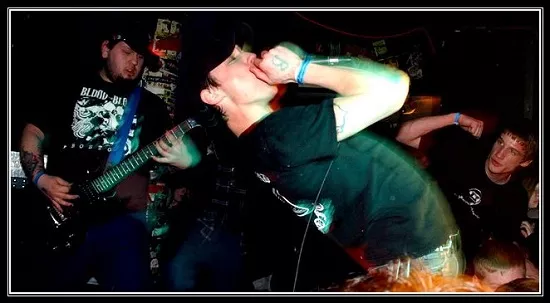 Kate Silver
SNAFF in 2004.
Local veteran DIY hardcore band Saturday Night's Alright For Fighting is getting back together. If you missed out on its ferocious live shows in the first portion of the 2000s or you're into Poison Idea, 7 Seconds, Void or Black Flag, pay attention, because you are about to learn about one of your new favorite local bands.
See Also: Gateway to the West Fest 2013: The Full Lineup is Here
The lineup will consist of original members Brandon Hoffman (vocals), John Gierse (guitar), Kevin Tomorrow (bass) and newcomers James Ridling (guitar) and Josh Van Hoorbeke (drums). The band is un-calling it quits after disbanding around the mid-Aughts. Rather than pulling a cheap, one-off ploy to get some posthumous recognition, capital gains or fast, loose women, SNAFF is going to be a real band again, playing fast, tight hardcore and giving future Panic/Holding On reunions a run for their money. The culmination of the band's shared hatred/digust with humanity will premiere on Friday, October 18, during Gateway To The West Fest 2013 at Fubar.
RFT sat down with SNAFF, set aside the acronyms, and got down to business:
Jimmy Eberle: What prompted the reunion?
Kevin Tomorrow: Back in April, Better Days was playing a show with La Armada at Lemp Neighborhood Arts Center. Mark was telling me about how 2014 will be the twentieth anniversary for LNAC and how he wanted to do some fun shows. Some reunions and one-off shows. We got to talking about all the shows we did there ten years ago, and he was saying it would be great to get a couple of those bands to do a show there next year. For the bands I was in at the time, SNAFF seemed like the logical choice. I got a hold of Brandon a few days later and proposed the idea to him, and he was all for it. I got at John the next day and he got right on board. The next step was to figure out a drummer since Mitch lives in Austin, Texas, and tours in Ancient VVisdom. Dan Ryan, our original bassist, is caught up with work and family life.
Brandon Hoffman: We decided to ask James and Josh, who play in Everything Went Black, to fill in the voids.
KT: Yeah, Josh used to come see us back when we were first together, and he plays in the same vein that Mitch did.
I've heard you guys want to play more shows than just Gateway. Is this a back-on, writing-stuff-again thing?
BH: As far as the reunion goes, we are going to see how things pan out. All of us are very busy with other bands and work. We might limit it to playing only a couple shows a year, and there have been talks of working on a new EP. Our main concern right now is getting on track for Gateway.
Was the name chosen just because of Elton John being kick ass?
BH: It's because Verbal Abuse did a kick-ass cover of an Elton John song. I hate Elton John. It was a bad decision. Imagine how many minutes have been taken off of my life typing that shit out.
SNAFF's Big Reunion Night
How many dildos has Kevin [manager of Hustler Hollywood] brought to practice?
BH: None yet. We are all waiting and willing. I'm sure the Black Knight will ride again.
Any spoilers for the Gateway set?
BH: Well, no Hatebreed or Pantera covers, that's for sure. We will be cramming the majority of our discography into our twenty-minute set.
Are any of the old recordings/merch available for our angelic, uncorrupted youths?
BH: We have our discography posted online so all those new jack kids that were into metalcore last year can learn them and sing along..
Are you going to take your big reunion winnings from the show and go to the greyhound track?
BH: If it were 2003 we would be heading to Casino Queen for dollar drinks.
RFT MUSIC'S GREATEST HITS
Lady Gaga is Really into Crust Punk, DOOM and G.I.S.M. "Where Did My Dick Go?" The Gathering of the Juggalos' Best Overheard Quotations I Pissed Off Megadeth This Week, My (Former) Favorite Band St. Louis Band Spelling Bee Outs Alleged Undercover Cop Posing as Punk Fan
Follow RFT Music on Twitter or Facebook. Follow RFT Music editor Daniel Hill on Twitter too, if you are into that sort of thing.