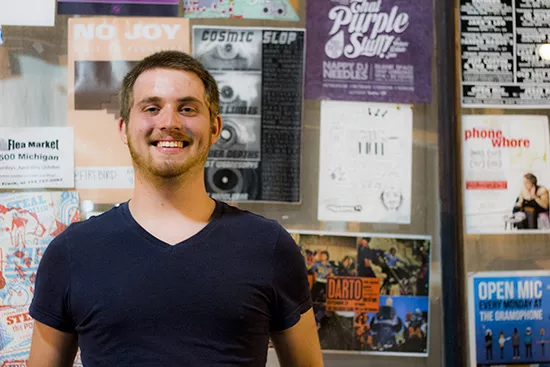 Mabel Suen
Jake Leech, formerly known as Kid Counselor, outside Apop Records on Cherokee Street.
Ambient sounds serve a much different purpose than say, a well-crafted pop hit or straight-ahead punk song. Sure, we know how to mosh, run in circles or bob our heads when the proper song calls for such a reaction. How then, do we react to an aural drone that moves like a musical mantra? One might find themselves moving to a non-rhythm, or sitting cross-legged in meditation.
Jake Leech believes you could operate complex machinery. Rather, Leech prefers that you throw on his latest cut, Brightest Night to Memory, and explore downtown Clayton in a moving vehicle. Having spent the better part of his teen years living in the suburban city, Leech taps into the energy of a place so safe, yet so close to the famously "dangerous" St. Louis.
Mabel Suen
Jake Leech collaborates with labelmates Ou Où at the Already Dead label showcase at Apop Records.
"I wanted to try to make an audio take of what it meant for me to grow up in Clayton, Missouri. Which, to a lot of people is just a very wealthy suburb -- which it is. There's a lot of really fancy houses, fancy cars. But there's something about it that felt real, like an actual city as opposed to just a suburb," Leech says. With his latest release, Leech draws aural parallels to the mix of age old housing, forestry and sterile downtown buildings that make up Clayton.
Specific instructions, with a route and detailed directions, can be found through Leech's blog. For the complete experience, you need a vehicle, a sober driver and a copy of Brightest Night to Memory, which can be had in digital form through Leech's bandcamp or as a cassette via Chicago tape label Already Dead.
"The drive itself is only 18 minutes, because that's the whole A side. And as the album's finishing, I like to think that the B side, as that starts, is the drive home. You start the experience with the A side and end up where you started, and the B side gets you home," Leech says.
As Kid Counselor, Leech began performing at Lemp Arts Center in early 2008. Starry-Eyed Summer Souls, the first Kid Counselor EP, was an ever-changing endeavor. Because the album was available via digital means, Leech could modify the tracks without notice. "It started off fifteen or seventeen tracks or something crazy like that and I slowly kept reducing it. I would sort of add certain things to it too," Leech says.
Many who downloaded the record have a different set of songs than say, a person who grabbed the release only months prior. This amorphous way of working through his debut release helped Leech to cement a style for later records and an eventual split with shoegaze group Since 1902.
From 2010 through late 2012, Kid Counselor spread milky drone by way of subtle keys and processed swirls. Regular stomping grounds included the now-defunct Cranky Yellow and Pig Slop spaces, and intimate venues like Foam. "I was always keeping my eyes out. Sending e-mails no matter what. There was even a time I asked the Blue Note if I could open for Bright Eyes in Columbia," Leech says. That gig didn't work out, but Leech has since opened for Prince Rama among many others.
By January 2013, Leech dropped the Kid Counselor name in favor of a more personable approach, marking a fresh start. Leech wrapped up Brightest Night to Memory earlier this year, and shopped around to smaller labels known for ambient and noise releases. Already Dead Tapes responded within days, and Leech found common ground with the Chicago-based label, known for putting out other St. Louis bands Ou Où and Trauma Harness. The cassette released this past May, with digital tracks available through Leech's bandcamp.
Leech intends exploring a full band set-up -- something he's dabbled with in the past. Leech plans to follow up Brightest Night to Memory by meshing singer-songwriter style with his own ambient works to work out a new, full-fledged sound in the future.
Follow Jake Leech on Facebook or on Tumblr.
RFT MUSIC'S GREATEST HITS
Taylor Swift Is Destroying America Six Perfect Songs for Getting People to Leave Six Tips for Dating a Musician Remembering STLPunk.com -- How to View the Site Today and Find Your Old Profile Page
Follow RFT Music on Twitter or Facebook. Follow RFT Music editor Daniel Hill on Twitter too, if you are into that sort of thing.