Against Me! - Thursday, September 19 @ The Firebird
This week, look forward to stops in town from touring bands including No Age, Typhoon, Against Me!, Billy Bragg and Black Prairie. An Undercover Weekend 7 takes over the stage at the Firebird, too! Get details on these shows and more in our show recommendations.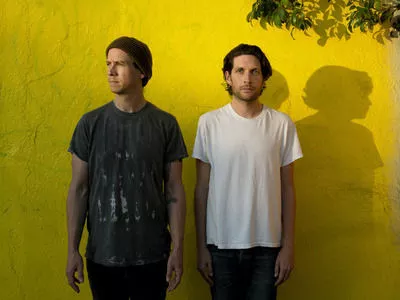 No Age Monday, September 16, 8 p.m w/ Ghost Ice, Trauma Harness @ Billiken Club - free By Joseph Hess The St. Louis University-based Billiken Club often hosted musical miscreants in years past, and the relaunch this Monday returns the venue to form with a full-on pile of noise. No Age, from LA, cruises through on its latest LP, An Object, out on Sub Pop Records. The stillborn child of many '90s ne'er-do-wells, No Age takes what old heads used to call "indie rock" and crams it through a woodchipper. The result compacts guitar into fierce rhythmic boxes while throaty croons chug along. The guitar manages to fill in any craving for bass or keys through a pile of footswitch tricks. There's a fulcrum between rock and feedback squalor; No Age occupies that space with succinct sound.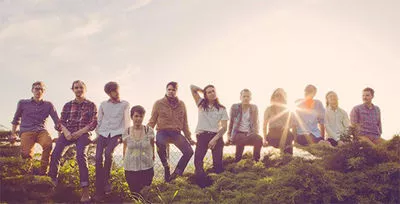 Typhoon Tuesday, September 17, 8 p.m. w/ Radiation City, Bo & The Locomotive @ Old Rock House - $10/$12 By Roy Kasten If you thought the tide of quasi-chamber folk bands flowing out of the Northwest would ebb anytime soon, forget it. Led by songwriter Kyle Morton, Typhoon seems to echo the likes of Beirut or Lord Huron, though on the newly released, highly ambitious White Lighter the only thing canned about the orchestral production is the Victrola-sampled prelude and the only hints of crunchiness are the blasts of electric guitar. With what sounds like half the music majors in Portland shouting, clapping, plucking, blaring and bounding around him, Morton masters folk-pop pastiche with an imagination and voice as big as his arrangements.
Big George Brock Tuesday, September 17, 7:30 p.m @ The Sheldon - $10 By Jenn DeRose Big George Brock is drenched in the authenticity that younger bluesmen -- those under 75 years old -- would shoot their own mothers for. Everything about George Brock is big, even his style: Brock's huge frame is consistently covered by vibrant pinstriped suits and his head is crowned by panama hats that barely contain the shimmering curls below. His bejeweled hands make his harmonica and microphone look like children's toys as he leisurely draws them towards his mustachioed face and blows harp with the arresting power earned from a lifetime of work. After a summer of outdoor events like the Whitaker Music Festival in the Missouri Botanical Gardens and the Big Muddy Blues Festival, it will be a treat to catch Big George Brock and the New Houserockers in a more intimate venue where the audience can be enveloped in the massive sound.
Already Dead Tapes Showcase Wednesday, September 18, 8 p.m. w/ Teenage Tasteless, Problems that Fix Themselves, Bill Tucker, Electric Nature, Jake Leech, Ou Ou, Britches @ Apop Records - $7 By Joseph Hess From "The Best St. Louis Noise/Experimental Shows: September 2013": Seven bands for seven dollars. Before you moan at the impending marathon and click elsewhere, there's a subtle detail these shows tend to share with hardcore or punk. Sets last roughly 15-20 minutes. The A.D.D. laden population should rest easy. After all, isn't a schizophrenic jamming of genres more in line with American society than say, an easy to follow, repetitive pop hit? One would think. Britches, featured above, gives a sampling of the gig's particular flavor, but don't dismiss one for the other. Already Dead, the tape label from Chicago, brings bands from Germany, Chicago and Atlanta.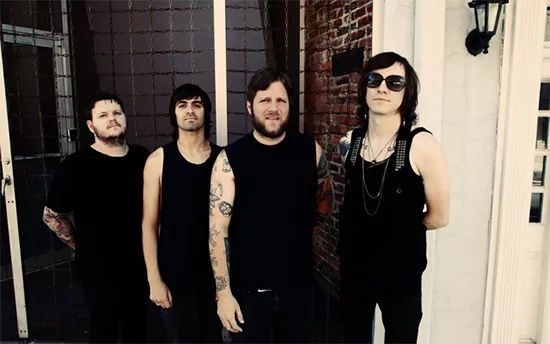 Against Me! Thursday, September 19, 8 p.m. w/ Off With Their Heads, Hop Along @ The Firebird - $20-$22 By Michael Dauhpin It's been over three years since Gainesville, Florida's Against Me! released its highest-charting (number 34 of Billboard 200), Butch Vig-produced White Crosses album -- a furious punk rock offering with mainstream rock & roll underpinnings. Since that time, the band cut ties with its label, Sire Records, and added drumming royalty, Jay Weinberg, son of Max, to its lineup. Weinberg subsequently -- and abruptly -- quit in the midst of recording. Longtime bassist Andrew Seward also stepped down and the band started its own label, Total Treble. Also in that time, singer Laura Jane Grace came out as transgender, after having dealt with gender dysphoria her whole life, and began her transition to living as a female. All things considered, one has to think Laura Grace has had plenty of inspiration to draw from while penning the band's next album.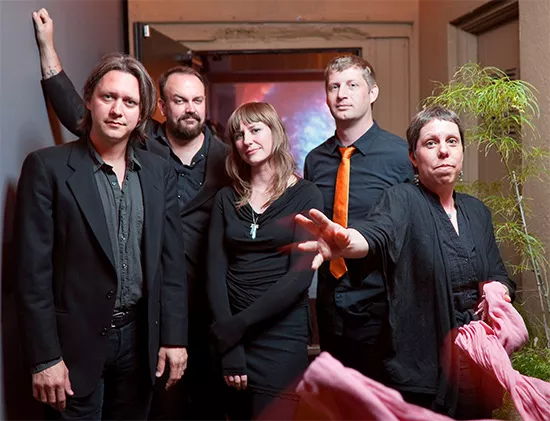 Black Prairie Friday, September 20, 8:30 p.m. w/ Ashleigh Flynn @ Off Broadway - $15-$18 By Roy Kasten The idea of a musical collective has romantic appeal, but for most bands it's just a marketing tool or an excuse not to become a band at all. Black Prairie doesn't claim to be a collective, but that it is, with three members of the Decemberists joined by Bearfoot singer and violinist Annalisa Tornfelt and Dolorean guitarist Jon Neufeld. And while the five know this experimental configuration is a side project, they put extraordinary energy into their sound-shaping, from klezmer jaunts to folk hymns, from silent-film swing to clogging-worthy jams that would make John Hartford proud.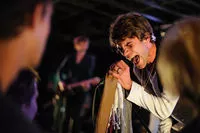 An Undercover Weekend 7 Friday, September 20, 7:30 p.m. Saturday, September 21, 7:30 p.m @ The Firebird - $10 per night By Daniel Hill From "Lineup Announced for An Undercover Weekend 7": Seven years running, An Under Cover Weekend is St. Louis' premiere cover show experience. Each year, local artists line up to transform into their favorite acts for one night only. Day one of the two-day event features the Incurables as T. Rex, Dots Not Feathers as Queen, the Defeated County as the Mamas & the Papas, Search Parties as Arcade Fire and Bluefish as Rat Pack. On Saturday night, look forward to Via Dove as INXS, the Feed as Wham, Last to Show First to Go as the Police, Scarlet Tanager as the Beach Boys, and Ryan Wasoba & Foxing as Neutral Milk Hotel.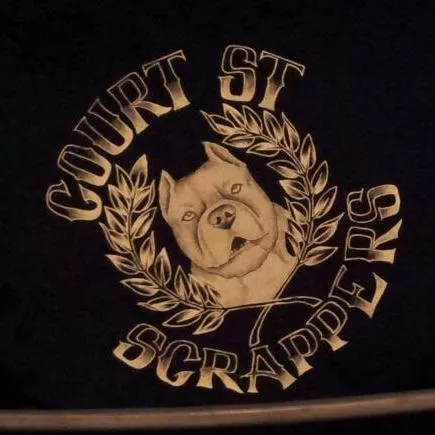 Court Street Scrappers Saturday, September 21, 9 p.m. w/ Better Days, Scene of Irony, A Death and a Promise, True North @ Fubar - $7-$10 By Jimmy Eberle From "The Best St. Louis Punk/Hardcore Shows: September 2013": Oi! Come get your skinhead fix at Fubar. The line-up for this show sounds like a Punk-o-Rama compilation. Court Street Scrappers bring the street punk. A Death and a Promise will show you how tough they are musically and otherwise, once you lose your whiskey money in a game of craps behind the building. Scene Of Irony are still together. True North play catchy pop-punk in the vein of something you'd hear over the PA at Lemmons while being yelled at by one of the staff about said band's levels of "hella good catchiness."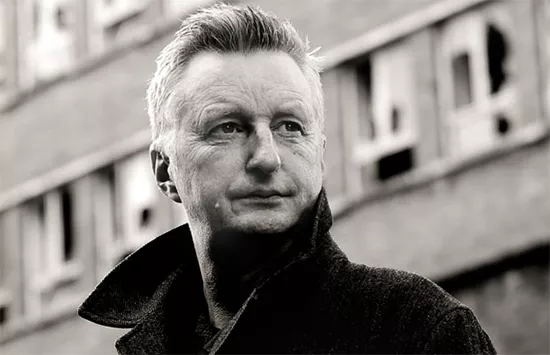 Billy Bragg Sunday, September 22, 8 p.m. w/ Joe Purdy @ Old Rock House - $27/$30 By Christian Schaeffer For an album called Tooth & Nail, Billy Bragg's latest LP starts out uncharacteristically with a hush, his inimitable voice lilting along in "January Song." A songwriter who staked his claim as both post-punk's poet laureate and its placard-waving protest singer, Bragg has continually juggled both ideology and sexuality, to borrow two of his song titles. He could radicalize you with his politics or break your heart with a tale of busted love, and one side never outbalances the other. At this stage in his career, 30 years after his debut, he's got little left to prove, except maybe to himself and his adherence to blurring the lines between folk and punk.
Note: Though we wish we could, we can't feature every great show happening in town in just one measly post. Look for plenty more recommendations this Friday in our weekend shows post, and peruse the St. Louis concert calendar for more ideas any time. Let everyone know what else you're looking forward to seeing this week in the comments below, and send show tips any time to clubs@riverfronttimes.com to be considered for inclusion on these lists.
See Also: - The Top Ten Douchiest Guitar Players of All Time - The Top Ten Douchiest Drummers of All Time - The 15 Most Ridiculous Band Promo Photos
Follow RFT Music on Twitter or Facebook. Follow RFT Music editor Daniel Hill on Twitter too, if you are into that sort of thing.