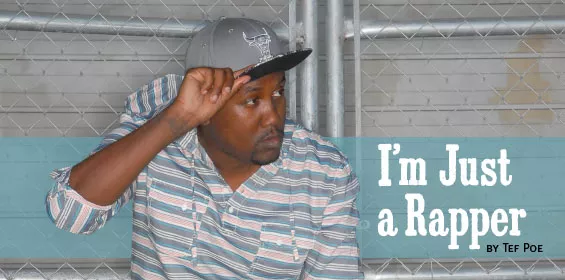 Editor: Tef Poe is an artist from St. Louis city. Through powerful imagery and complicated honesty, he has earned a reputation as one of the best rappers telling the story of St. Louis, which is about much more than one place. Poe has been featured in music publications such as XXL and Urb Magazine. His project The Hero Killer was released on January 21 and will be followed up by a full-length with DJ Burn One entitled Cheer For the Villain. Follow him on twitter @tefpoe. Get The Hero Killer here.
Tech Supreme and I had a late night session Wednesday evening, which isn't typically uncommon when we're in the studio working. We started at 10 p.m. with the simple process of playing a bunch of tracks and trying to figure out where we wanted to go with our creative energies. Lately we've been collaborating a lot with a very talented singer we met on tour this year by the name of Sarah Michelle. She has a unique voice and very specific style of her own. You'll definitely hear more about her in the future when we start releasing these new records.
See Also: Our complete LouFest Coverage
When I arrived at Tech's spot, Sarah was there waiting and Corey Black was also pulling up. I recorded a freestyle over St.Louis area-based rapper Pretty Tony's instrumental for his single "Retire Me A Stripper" and then we proceeded to work on one of Tech's tracks. We recorded a song I happen to like a lot, so needless to say I'm in a great mood at the moment. I'm also currently on two gianormous Adderal pills, so I can't go to sleep. It's currently 6:34 a.m., so my insanity levels are super raging. The later I stay up, the more out of control the things I say in this column typically are.
I was about to prep myself to finish the original blog I started writing this week, slandering the black church for being a ghost of its former greatness, but I decided this week to press pause and actually process a few things concerning my very own life. My crew and I are fresh off the heels of our performance at LouFest. We had the time of our lives and it was an experience I shall remember for life. We've had the honor of rocking some pretty large shows, but I wanted to totally take advantage of this opportunity since the bulk of the responsibility for our performance would be on my shoulders.
Last year we probably weren't anywhere near being but this year we rocked the stage and created quite a moment for ourselves and our fans. We all felt good about being there and our energy levels were extremely positive. Hip-hop of my nature usually doesn't get a shot at LouFest but we unapologetically outworked all of you bastards. A few of the city's smartest tastemakers took notice and here we are. I knew once I was booked for this show I'd need some help and I am so grateful the universe and (B.Money) connected me with a band I've always been a fan of by the name of DOWNSTEREO.
These guys embraced me like a brother and welcomed me into their world with ease. We rehearsed for this gig for weeks upon weeks at a time because we wanted to exceed expectations. My music has never been interpreted by a band with the exception of my song "Showstealers," which was played live by a marching band at a News Year Eve party at the Pageant a few years ago.
The premise of my column on this blog is based on honesty. People read this column because they know I'm telling the absolute, unadulterated truth about how I feel in relation to whatever topic we are discussing. So the truth is, prior to my performance at LouFest I was battling a bout with depression. I'm a musician, I'm a artist --- it comes and goes and throughout my life I've had to learn to manage it. I love making music and I intend on recording music until I die, even if it ceases to be my career of choice.
But the business side of this occupation is harsh and unforgiving. I'm learning to man up and deal with it as we grow in this industry, but for a artist that is so focused on his craft like I am, the business supplies me with daily reasons to jump off of a bridge. If I do decide to finally kill myself one day, please believe it will be so dramatic folks will talk about it for a few decades in this city. I'm not ready to die though, so everyone is safe for now.
I probably don't share the same perspective as the average person when it comes to the science of life and death, so I apologize if this seems incredibly morbid. I just want to win and I'm overflowing with hunger. I know what I'm capable of when placed in a comfortable studio setting, yet sometimes I'm stressed out for days upon days at a time. I think after a certain point the feeling of overcoming obstacles becomes addictive. Losing sucks and everyone wants to win. I want to win all the time, everyday, all day. I pride myself on making a way for myself and the team when there are no clear options in my immediate sight. The depression sucks because I have a fairly decent life outside of this.
Lex Poe is solid and holds me down without fail. I couldn't ask for a more brilliant co-pilot. My personal assistant, Justin, treats Tef Poe music initiatives like they are his. I'd probably be confused and misguided without help from him and Stretch on a personal level. My friends are all talented human beings and they are very supportive of my goals despite the fact that they have their own. I have written more rap lyrics than I can imagine. I have performed all over the country; sometimes it's not glamorous but I've been blessed to see things people from my walk of life typically aren't blessed enough to see. I could never live a life rooted in slaving for another persons goals and aspirations. I just can't do it, and if I am working for someone else please believe I'm plotting a way to make the work I'm doing apply itself toward one of my own goals.
So here we are: I'm battling weeks of depression and I'm rehearsing for LouFest at the same damn time. I'm trying my best to make the company I'm signed to proud of my efforts. If I didn't have this gig this month I probably would've pulled my hair out because I have pretty much boxed myself into a corner. I hate the actual music business -- I can't say that enough. I spent most of my free time last month completely stressed and searching for an out. If I don't have a massive goal to work toward with a clear and concise road to victory, I feel trapped.
This LouFest booking actually helped me in more ways than I even realized at the time. This industry is massive; my crew has been blessed with a vast amount of opportunities and I feel honored to be here. The problem is we're not finished yet and the finish line is often blurred. I'm from Missouri and the rest of the world knows very little about my city.The rest of the world doesn't care about our problems.
I had a talk with my guy Jay Stretch briefly over the phone before we started recording and he stressed to me the importance of rediscovering the energy I had in me prior to the moment when the slope became slippery and our wheels started moving. At LouFest I was surrounded by all of my closest friends for a day. We woke up and ate breakfast at Majestic's in the Central West End and then we proceeded to the festival grounds for our 11 a.m. load in. The Doorway homies decided to go back to Belleville until about 2:15 pm.We were scheduled to hit the stage at 3:30pm. Our set was slated for an hour, so I thought it would be a wise move to allow my crew members to open the show with one song apiece. So I paced around for a brief spell until Rockwell Knuckles, the Doorway Crew and Family Affair were all accounted for and present. My band DOWNSTEREO showed up a few hours afterwards as well but spent a huge portion of their time prior to us getting onstage prepping their gear. I observed my crony DJ Grynd Tyme abusing the bar far too early in the morning, but this was his first time backstage at an event like this so I smiled and decided to let him live.
It was shaping up to be great day and I wanted everyone to enjoy it. Lex Poe worried about the possibility of rain early in the morning, but I told her whatever was destined to happen would happen regardless, so I wasn't worried.
I called upon my very close friend MCK from the Gramophone to be our sound guy for this gig. There's not a sound man on this planet that handles a "Tef Poe and friends" performance with the level of quality and understanding of our music that he brings to the table. I like to hear my voice onstage or else things can get hectic. MCK knows this and also knows how to properly blend my vocals with the music to keep me from having to over exert myself and scream over the instrumentation. He's best sound man in the city. It's safe to say wherever we go, he follows. This isn't the first time we called upon him to be our sound guy at an important gig of this nature. He brings a comfort to the situation I can't find elsewhere. He's actually childhood/lifelong friends with the members of DOWNSTEREO and he's the sole reason I became a fan of there's some time ago.
Long story not so short, I am backstage at LouFest and I'm surrounded by nothing but positive people from my inner circle. A few of my close friends were missing, but for the most part everyone that has some form of a job within our organization was present and it felt good. My older brother Black Spade didn't make it down to the show and we certainly felt the absence of his random sense of humor. Nato Caliph came to mind a few times as I ran around the festival grounds handling business prior to the show, but I reassured myself internally that I'd call him sometime this week and just talk to him for the sake of borrowing some of his wisdom.
The day was long and exhausting. I love to put on a energetic show, and prior to touching the stage I was worried we'd actually come off too energetic or chaotic for this type of festival. It was extremely hot, and when we took to the stage the sun decided to beat all of us up pretty badly. I was very concerned about the audio the fans would hear as my guys hype-manned my performance. I knew DOWNSTEREO would sound lovely because we spent weeks working on the song selections, but I was nervous about my hypemen because a few of them weren't present for every rehearsal performance. But lo and behold, the homies are just as hungry as me and I think this is why we work well together.
We all prayed on the side of the stage prior to the show, even though we all don't believe in the same form of God. The crew comedian S.D. (from Doorway) led us in prayer and it was actually quite refreshing due to the slight anxiety I was feeling at the moment. Right before I get onstage it's mandatory that I isolate myself. I can't really be around people or talk to folks because I take myself to a zone that only comes out of me prior to getting onstage. I think this is my way of dealing with the nervous energy that comes with being a performer. I am seldom nervous to perform, but I realized a while ago I need to be completely focused by the time I touch the stage. I can't joke around and horseplay or hold random conversations right before I get onstage or else the intensity I use to jump around onstage will find a way to bite me in the anus. Everyone around me is used to this, so when I start pacing the ground like a psycho and not talking to them they know what time it is.
My crew is compiled of multiple crews that joined forces in the name of supporting each other and sharing resources. Over the course of time we have all become really close and our union is more so a brotherhood than a business venture. Although there is always some form of business involved with what we do, we have all managed to form sincere relationships with each other and we honor these relationships above anything else. Some of us grew up together and some of us didn't. We haven't always been a unit of unity; for example Rockwell Knuckles is my partner in rhyme but he comes from a totally different rap crew by the name of Pangea. I was a young member of Soul Tyde. In Saint Louis underground hip-hop these were once two different universes. This is all something to think about because at the current date in time, Rocky is my best friend in the world of rap. We could've easily decided to be douches toward each other but we decided to outsmart the fox and work together. We've been friends long before we actually decided to make Tef Poe and Rockwell Knuckles an actual rap group. He's mentioned or featured on every solo project I've released. I don't release music without his involvement; his talents are a part of my formula.
My friends in Family Affair are twin brothers and I knew of them from my neighborhood growing up, but we didn't become friends until they moved into a home myself and their cousin Serroge rented on the north side of St. Louis a few years ago. Prior to this we really didn't have much of a history together. Rockwell Knuckles didn't actually live in this house but he was there daily, to the point that it actually felt awkward around the house when he wasn't. We were all a pack of young, misguided kids trying to raise ourselves and make music at the same time. Myself and Reprezent from Family Affair (twin with the braids) actually bumped heads a lot a few years ago. I find this to be weird because he's now one of the only members of my musical family that I hang out with every day.
I became friends with the Doorway crew through their extremely talented frontman Nick Menn (aka Whiteout). Nick is one of my favorite rappers and also one of my closest friends. His talent level amazes me daily. If it wasn't for him and his family I would've been stranded in St. Louis a few of the weeks I was scheduled to be in New York City for the filming of 106th & Park. Nick messaged me a few years ago and booked Corey Black and I for a show in the middle of Southern Illinois. I had no idea who he was and I thought the show would be a total waste of time besides the fact that myself and Corey were both getting paid to be there. This random show was actually one of the best things that has ever happened to me; we crossed the bridge and Nick introduced us to a ton of Tef Poe fans we never knew existed. We in return did the same exact thing for his crew on this side of the river. I still think it's funny sometimes to see him running with us because I remember he called me in the early stages of us getting to know each other and said, "Man, I wanna be down with the Force; I'm trying to be down y'all." The Force, for all intents and purposes doesn't quite exist in the same capacity which it did at the time we met, but hip-hop fans in Saint Louis pretty much consider Doorway to be members of the Force collective family tree.
Nick introduced me to his crony RT-Faq who is also my drummer when I'm not gigging with the band DOWNSTEREO. RT-Faq (pronounced Artifact) is probably the most talented man I've ever met.This year he released a very solid EP documenting the birth of his son conceptually through music. I think it might be one of the best St. Louis rap projects I've ever heard. He can do anything, literally. He has the most random list of talents and he's oddly great at them all.
I don't have enough time in this blog to tell you how all these above relationships have heightened my quality of life. My favorite photographer Amy Harris was on deck snapping photos. We were prepared to handle biz today.
I talk to Corey Black daily. He's the person that puts the gas in the engine when I'm forming some diabolical plan to apply to the grind. Without these guys I'd probably run into the center of traffic and lay down in the middle of the street. In these types of situations I feel an obligation to honor my manager Jay Stretch and not let him down, but I feel an even stronger obligation to do everything I can to make sure the world gets to bear witness to the music we all have created together as a family.
The picture I just painted for you doesn't sound like I have much room to complain about anything. For some reason I still find myself drastically unsatisfied with my life. Life is about choices and decisions and your ability to summon the strength required to deal with the bullshit. I have the nerve to be worried about my desire to have a rap career when there are children in Syria eating bullets for breakfast. When music is involved I am a very self-centered person. When I think about how ridiculous it is for me to allow myself to be depressed about something as petty as rap music, I feel ashamed.
Like I said before, I have a fairly decent life. I mean I'm backstage at LouFest chilling in the afterparty with Chris Long from the St. Louis Rams and he was unbelievably down to earth, and also a serious music lover. Me and Chris talked for a spell and he revealed during the course of our conversation that he was a huge Kendrick Lamar fan. The first five minutes I was there in the backstage area during our load-in timeframe, a random guy from the Rams front office asked me if I was Tef Poe. I nervously said yes and he replied "a few guys in the locker room told me you are the must-see show of this weekend". This is the type of random beauty my life consists of, and I have the nerve to sit on my soapbox and shed tears about the things I simply have no control over. I have the nerve to grab a shovel and dig myself a premature grave of pity and self doubt.
I'm just not worthy of sympathy on any level. I'm an american male with functioning limbs and plenty of fresh car-polluted tainted-oxygen for me to inhale along with more than enough chemically induced clean water for me to swallow and urinate in at free will. People in Sudan don't have water and need pipelines to be ran underground simply so they can have access to clean water once a day. I, however, sit on the toilet for over fifteen minutes a day while scrolling through my Twitter feed, taking a dump in a small pond of fresh clean water. There's absolutely nothing wrong with the water in my toilet bowl. It's as drinkable as the water in my refrigerator. I just choose to use this water to catch my poop. People in other places on this planet would die for this clean toilet water. The water in my toilet could possibly save their life. I don't care and honestly after I type my final sentence in this blog I'm going to walk into the next room and relieve myself by taking a leak.
This very same arrogance has me thinking that I have the right to be depressed over something as ridiculous as the struggle attached to my desire to be a world-famous rap star. I am a ridiculous being and this is just flat out pathetic. The truth is I know this isn't right, but I have told the Universe several times, I must be allowed to live my life to the fullest extent because once this happens I'll use my powers for the greater good of as many people as possible. My friends are all equally as insane as I am so I'm sure they go through these boxing matches with depression on and off as well. The reality of it all is you can't control the cards you were dealt. Life is a game of Uno; the wild cards and draw fours land wherever they wish. We do have a few cheaters in our society, but on some level you can't be too upset with these people for outsmarting Karma. We all have our own idea of what morality actually means.
I read about the Kansas City reporter/writer that killeded himself a few weeks ago. Everything I read about him seemed to indicate that he had fairly high spirits about his life circumstances. He said he wasn't depressed or mentally insane. He said he wasn't going through any form of financial trouble. It looks like he just found a suitable place to call it quits. He was indeed a bit theatrical with his method of departure from this realm of existence, but I feel like we should honor his bizarre list of wishes since this is all very much documented as the way he wanted to be remembered.
When my insanity kicks in I tell myself I want to be remembered through the music and I haven't made the proper body of music to summarize my life experiences and the many complicated perspectives of my often abnormal worldview. I'm a complex person to deal with. I start arguments with the people closest to me because I have perspective issues. I see the world differently than most and I expect everyone around me to bow down and see it my way. I am truly a egotistical maniac; I am aware of this and yet I refuse to do something about it. This same exact element of my personality is where I gather the energy to keep going and knock down barriers in my career.
Insanity breeds greatness when music and art are involved. I don't desire to live in your safe ass bubble of restricted opinions. I don't hide my real thoughts and intentions from my psyche in hopes that I can fool myself into thinking I am hiding them from God. I refuse to play that game. I am who I am, and as an artist it's my responsibility to embrace these aspects of my personality. I go through the same mess you go through, but my mistakes are broadcast are a big screen TV for you to read about or witness with your own eyes.
I needed this LouFest show this weekend for a lot of reasons. I get so plugged in to the everyday hustle of the music business and the madness attached to it that I forget to slow down and enjoy moments such as this weekend. All of my closest friends will tell you I seldom get excited about anything we accomplish. The truth is I should be happy. I'm a wild pitch of a rapper to be in this position. I talk about politics and racism on the regular and then I turn right around and cut records that are either too difficult for stupid people to understand or too simplistic for smart people to completely enjoy. I throw a ton of confusing signals to the general public, yet I'm embraced by a core group of music lovers that are as crazy as I am. I am a hybrid mix of everything and in a city like St. Louis it's not normal to be embraced by the public to this degree when there is no gimmick attached to your presentation.
Next time I find myself acting like a silver spoon birthed moron I will direct myself to the nearest gallon of bleach and pour myself a glass of it. I have no room to complain about anything, ever. I am blessed; today I didn't wake up in the middle of Lebanon with bombs dropping on my mothers head. I'll probably go to the studio tonight and cut some more records. I don't have to sleep in a studio apartment with an alcoholic family member that beats and rapes me every night. I have good friends and I enjoy what I do for a living. I write words for a living. I write songs, you listen to them, and I often get a check or cash money placed into my hands for performing them. This is a ridiculous notion when you really think about it.
That said, music is still the driving passion of my life. I have wonderful friends and a stable support structure of people I consider nothing short of genius. Today someone was born in Antarctica unfortunately, and they will sleep inside of a Igloo and spend their entire life eating raw fish and rotten seal meat for nourishment. I am not them. I must constantly find new ways to force myself to be mindful of this. I spent the weekend performing, doing interviews talking about myself, kicking it with my bandmates, drinking free booze nonstop, meeting new lovers of my music, taking pictures with people I've only seen on TV or heard on Z107 and chatting with world famous athletes about music. I did not spend the weekend trapped in an abandoned building smoking crack and biting my fingernails while I combat a horrid drug addiction.
Next week I'll be kicking it with one of my favorite hip hop producers (Alchemist) and performing on the same stage as one of my favorite groups, Mobb Deep. There was a point in my life where if you told me I'd even be in the running to meet Alchemist I'd do backflips, let alone be in a position to hangout with him for an entire day. And yet even with all this ranting being displayed on my computer screen, the week after this show I'll probably return to my depression stupor and act like I've been sentenced to 99 years in a Mississippi federal penitentiary in the '60s. It's a cruel and vicious cycle.
See Also: - The Top Ten Ways to Piss Off Your Bartender at a Music Venue - Ten Bands You Never Would Have Thought Used to Be Good - The Top 15 Things That Annoy the Crap Out of Your Local Sound Guy
Follow RFT Music on Twitter or Facebook. Follow RFT Music editor Daniel Hill on Twitter too, if you are into that sort of thing.