Theo Welling
The Killers at LouFest
It's hard to believe that the Killers has been around for a decade. It's one of those bands that perpetually feels like a young whipper-snapper that should get off our lawn -- that is, until we hear "A Dustland Fairytale" on the radio and realize that Brandon Flowers and the gang have produced a gazillion singles.
So when the Killers closed out day two of LouFest -- and the entire festival -- the band had a huge arsenal of songs to rock the massive St. Louis crowd. The boys excelled on that front, but the performance reminded us that while they do put on an entertaining show, the Killers is not an experimental band. You are basically going to hear album versions of everything, with little variation. And maybe that's OK, as long as you know what you're getting into.
See Also: Our Complete LouFest 2013 Coverage
Before the show began, the audience cheered as crew members removed the giant LouFest banners from the towering stage speakers to allow for maximum sound. Concert-goers weren't happy, though, when the 8:30 p.m. start time came and went, and they were constantly teased by warm-up songs (though the crowd did enjoy singing off-key to the Police's "Roxanne"). RFT Music had the privilege of listening to conversations about triathlon training, portable toilet etiquette and unironic adoration for Nickelback. Longest. Wait. Ever.
See Also: "I Didn't Get Any Sex" - Things Overheard at LouFest
Finally the Killers emerged, and more than a few people welcomed the group by waving the "It's all good between these legs" panties found earlier in the day at the STL Style booth. Without any introductory chatter, the band launched into "Mr. Brightside," a popular energetic single from 2004 debut album Hot Fuss. Almost the entire audience euphorically pogoed until they ran out of breath (or remembered that jumping around after consuming ten overpriced beers on a humid day doesn't feel that great).
"What's up, St. Louis? You're all looking well," Flowers told the crowd after a few songs. "The Killers are closing out LouFest and the Rams are undefeated. I've got a good feeling about tonight." We've learned not to stay too hopeful when it comes to the Rams, Brandon, but sure, you go on being an optimist.
Flowers was in great form, enthusiastically showing off his strong voice all night. Sporting slicked-back hair and clad in a black leather jacket and what might have been a blue button-down shirt with clouds on it (We were too far away to get a good look, but we happily imagined it to be a relic from Parker Lewis' awesome closet), Flowers clearly has honed his rock star persona over the last ten-plus years. As he stood atop the monitors and paid attention enough to pose during camera-worthy lighting, it was obvious that he's leveled up in icon power.
And what bigger musical icon to emulate than U2? During "Spaceman," Flowers yanked opened his jacket in poses reminiscent of Bono during U2's Elevation tour and 2002 Super Bowl performance. And that wasn't the only obvious U2 link -- Flowers also pulled out Bono's high-kick pose from the original Popmart tour VHS packaging, and to introduce the Killers' version of "I Think We're Alone Now" (established by Tommy James and the Shondells and later covered by Tiffany), he amended the Irish One's "We're stealing it back" intro that U2 had used for "Helter Skelter" during its Rattle & Hum documentary. Flowers has clearly said "I'll take 'Rock Star Messiahs' for $500, Alex" over the past decade.
Flowers didn't hog LouFest's center stage all night, though; he came up with ways to feature his bandmates, who otherwise seemed content to remain in the background while their lead singer did his thing. Sitting behind a very elevated drum kit, percussionist Ronnie Vannucci Jr. found himself literally in the spotlight to begin "The Way It Was." "Let's count this one off together, now!" Flowers shouted before letting Vannucci do his thing.
Flowers made another love connection between the audience and individual band members later. "I know it's Sunday night, St. Louis, but you've got your dancin' shoes on, right? I know I've got mine," Flowers said before walking over to each of his friends, asking about their own footwear and encouraging face-melting solos. Vannucci again showed his bandmates up with a spectacular solo that would have brought tears to Neal Peart's eyes. Knowing he nailed that bitch, Vannucci stood and triumphantly threw his arms into the air before flinging his sticks into the crowd.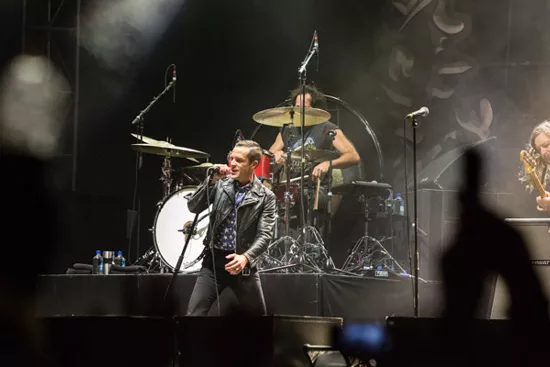 Theo Welling
The Killers at LouFest
Posturing aside, the Killers' set was heavy on singles -- a bit of a change from Wilco, which closed the previous night by including quite a few gems and long-lost fan favorites in its setlist. The recognizable tunes worked out well for the fist-pumping audience, whose demographics seemed a bit more broad than for most shows. "Wow! We obviously don't come here enough!" Flowers told the audience after "From Here on Out."
And while the band sounded as strong as ever, they played pretty faithfully to the album versions of their songs. Flowers threw in a few extra call-and-response segments or a new run of notes every once in a while, but when we closed our eyes, we generally felt like we were listening to CDs while dancing with 20,000 of our sweaty best friends. That's not necessarily a bad thing, but we expected a little more variation or experimentation during the show.
But what the Killers did, they nailed. The military stage decor was centered around Battle Born -- the name of the band's 2012 album and recording studio as well as the phrase found on the flag for Nevada, which the Killers call home. Visually, the set was stunning, with an arresting light show that worked perfectly with individual songs and a lightning bolt-shaped keyboard stand for Flowers that changed colors throughout the night. With a spectacular curtain of pyrotechnics and sparks, the Killers closed the show with "When You Were Young" from 2006's Sam's Town.
Sure, Flowers and the gang seemed to deliver the LouFest audience to heaven, but we can't help but think that a few musical surprises would have sent the festival's end further into the stratosphere.
SETLIST
Mr. Brightside Spaceman The Way It Was Smile Like You Mean It Shadowplay Miss Atomic Bomb Human Somebody Told Me I Think We're Alone Now For Reasons Unknown From Here on Out A Dustland Fairytale Read My Mind Runaways All These Things That I've Done When You Were Young
CRITIC'S NOTEBOOK
Hairy situation - Dear girl-with-the-long-thick-braid-that-kept-going-into-our-mouth-or-slapping-us-in-the-face-every-time-you-jumped: CONTAIN THAT SHIT!
Potty time - According to the older guys behind us, concertgoers should warn people if they plan to poop in the portable toilets. Um, ok.
Shiny - Flowers told us that Las Vegas, from where the band hails, is called "the Jewel of the Mojave." #TheMoreYouKnow
See Also: - "I Didn't Get Any Sex" - Things Overheard During the National's Set at LouFest - Wilco Creates Thunder at LouFest, Dedicates Song to Bob Reuter: Review, Photos and Setlist - Alabama Shakes' Commanding and Powerful LouFest Set Belied Its Youth
Follow RFT Music on Twitter or Facebook. Follow RFT Music editor Daniel Hill on Twitter too, if you are into that sort of thing.