Michelle LeBeau
LouFest: Kid friendly? Only one way to find out!.
Last summer, I had one of the most unforgettable experiences of my life at Bonnaroo. As my chums and I limped off the premises I vowed to make attending a music festival an annual event. Besides just being a great time and an efficient way to pack in many shows in a short period of time, it is an excellent way for this middle-aged sore-hipped hipster to observe the youth of America in its natural habitat. Coachella came and went, I wasn't motivated by the headliners at Bonnaroo (with all due and appropriate respect to Sir Paul McCartney) and I managed to resist the urge to acquaint myself with the Juggalos so LouFest was the obvious fit.
This time, I made the bold (insane?) move of taking the whole family, including my wife Gisele and my three daughters: ten-year old Hermione, eight-year old Jasmine and five-year old Buttercup. The names may be altered to protect the innocent, but their actions and dialogue below are as unfiltered as the savory wheat beer from the Schlafly truck.
See Also: Our Complete LouFest 2013 Coverage
12:15: Jukebox the Ghost and Kentucky Knife Fight simultaneously open the festival. This reporter is watching St. Peters vs. Sacred Heart in third grade girls' soccer. What, do you think they just hand me all these Father of the Year trophies?
2:45: We arrive on the grounds, which are two or three degrees cooler than the surface of the sun. We meet up with a group of friends, including my reliable music source Baron and his fiancée the Baroness. On the Bud Light stage, something called Trampled by Turtles seems to be staging a contest for who can play their instrument the fastest.
Me: "What's the deal with these guys?" Baron: "They're a less talented, less interesting version of Mumford and Sons, who I can't stand."
Well, then.
2:46: Buttercup: "Daddy...I'm hot." Uh-oh.
4:12: Ra Ra Riot's solid set is highlighted by "Dying Is Fine," inspiring a pseudo mosh pit in the first several rows. I just hope those crazy kids are well-hydrated.
4:39: The aptly-named Fitz and the Tantrums may not be a band I listen to a lot in my car, but I sure would love to have them play at my birthday party. The large band played with boundless energy and dared the audience not to dance - an absolutely perfect festival act.
4:54: "Bring up the fucking tempo!" Easy, Fitz, there's kids here! How about an "earmuffs" warning?
5:00: Hey, free beer in the media tent!
3:15 a.m.: Whoa, what happened? Nah, just kidding.
5:45: We spend the better part of an hour negotiating the food concession area, only to end up getting slices of cheese pizza for the kids. I guess both a musical and culinary adventure would have been too much for one day.
5:53: What little we saw of Toro y Moi was enjoyable - an electronic solo act with a nod toward disco. Fun fact: Toro y Moi is Spanish for "Toro and Moi".
6:31: Easily my favorite band appearing over the two days, the National strolls onto the main stage with the confidence that they have earned it. For my money, they are one of the three most consistent bands going today, along with TV on the Radio and Arcade Fire.
See Also: "I Didn't Get Any Sex" - Things Overheard During the National's Set at LouFest
6:51: With Jasmine perched upon my shoulders, the National launches into "Afraid of Everyone", which repeats the line "with my kid on my shoulders, I try not to hurt anybody I like." I got more than a few smiles from neighbors who appreciated life resembling art.
7:01: Thinking about asking any of these neighbors if they have the number of a good chiropractor.
7:18: One of my favorite festival pastimes is finding the funniest t-shirt. Here is today's winner:
7:25: We abandon our seating area to hightail it over to the BMI stage for Wild Belle, a recent favorite in our household. In coercing our friends to eschew the talented but uninspring (without his My Morning Jacket mates) Jim James, I describe Wild Belle as a mix of synth-pop and reggae with a heavy dose of saxophone and a lead singer who is the vocal doppelganger of Macy Gray. It sounded as ridiculous then as it reads now, but I'm sure that chocolate and peanut butter together once sounded like an odd combination too.
7:46: A couple songs into a thoroughly entertaining set, a man of at least 60 years wearing a yellow "100% Weed" t-shirt begins dancing with the fervor and aimlessness of an octopus on acid. Buttercup is also wildly dancing (more typical behavior for a five-year old than a 60-year old) and the crazy old man tries to engage her in the oddest dance-off in recorded history. Buttercup quickly retreats, clearly afraid. Me: "We're all a little afraid right now, honey."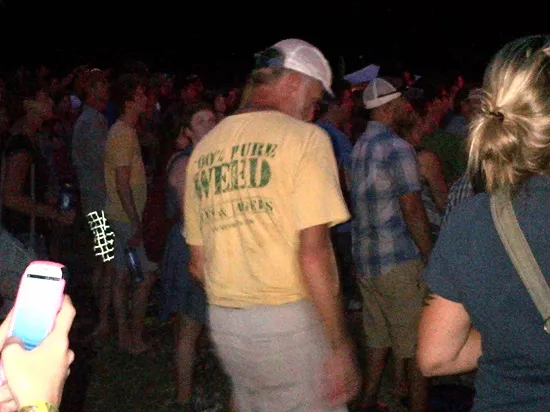 Dave Geeting
100% pure dance fury, too.
8:25: After Wild Belle closes with hit "Keep You", daughter Jasmine is apoplectic that they didn't play her favorite song "Shine" - an odd omission as the band only has one album to its name and it is arguably the best track on it. I tell her that bands don't always play their best songs in concert. Jasmine's reply: "Well, that's just dumb." I have no response to that.
8:30: Wow! It's Neil Young!! What a stunning cameo!!! Wait, no, sorry - it's Jeff Tweedy of Wilco, who apparently will not be replacing Andre 3000 on those facial hair trimmer ads anytime soon.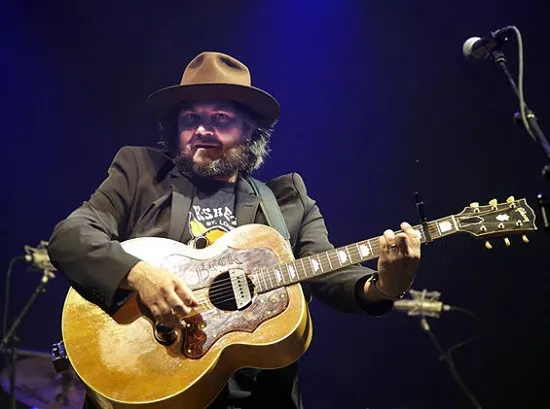 Steve Truesdell
Lookin' scraggly there, Jeff.
9:41: Wilco calls the National back on the stage for a fantastic joint performance of "California Stars," Gisele's favorite song. Baron comments that the only way that it could have been improved is with a hologram version of song author Woody Guthrie, similar to that of Tupac Shakur at Coachella 2012. Baron: always full of great ideas.
See Also: Wilco Creates Thunder at LouFest, Dedicates Song to Bob Reuter: Review, Photos and Setlist
9:52: No St. Louis Wilco show would be complete without "Casino Queen," and the weary festival-goers roar in approval. I have been very disappointed with Wilco's last two albums and was approaching this concert with more trepidation than excitement, not knowing quite what to expect from Tweedy and company. However, I have seen this band at least a dozen times and cannot recall a more enjoyable setlist than this one. They played three songs from their 1994 debut album A.M. (the aforementioned "Casino Queen," "Box Full of Letters" and boozy sing-a-long "Passenger Side"), two from the Mermaid Avenue Billy Bragg collaboration ("California Stars" and set closer "Hoodoo Voodoo") and many others from "Being There" and "Yankee Hotel Foxtrot." The real surprise, however, was that Tweedy played two songs from the Uncle Tupelo catalog, "Give Back the Key to My Heart" and "New Madrid." The former was an especially interesting choice, as it is a song penned by former bandmate Jay Farrar and featured him on vocals as well. Was this a sign of the softening of the hard feelings between the two? Dare we dream of an Uncle Tupelo reunion tour someday? How about at next year's LouFest? [Correction: "Give Back the Keys to My Heart", is a cover, written by Doug Sahm. I guess we'll just keep holding our breath for that reunion.]
9:58: Gambling correctly that "Hoodoo Voodoo" will be the last song of the night, we pack up and start on the interminable walk to the car. One of my goals as a father who cares deeply about music is to provide my children with great experiences that will hopefully foster a similar passion within them. Thank you, LouFest: Mission accomplished.
You can (and should) follow Dave on Twitter @thegeeter
See Also: - "I Didn't Get Any Sex" - Things Overheard During the National's Set at LouFest - Wilco Creates Thunder at LouFest, Dedicates Song to Bob Reuter: Review, Photos and Setlist - Slideshow LouFest 2013: Wilco Closes Out Day 1
Follow RFT Music on Twitter or Facebook. Follow RFT Music editor Daniel Hill on Twitter too, if you are into that sort of thing.