When legendary local musician, writer and photographer Bob Reuter died suddenly last month, friends and loved ones were grief-stricken. Reuter played in and documented the south city scene for decades, leaving behind a vast amount of artistic work and no shortage of fans and admirers. Last night his bandmates, collaborators and friends came together at the Casa Loma Ballroom to pay tribute to Reuter's life and work.
See Also: Remembering Bob Reuter: St. Louis Speaks
The list of participating musicians was long and impressive, pulling from both Reuter's deep past and current projects. Between performances of his songs, friends were on hand to read his poetry and discuss his various art projects.
The event also offered items up for auction, with proceeds to benefit the Cowboy Angel Foundation, a fund set up to continue and secure Reuter's legacy and provide funds to disadvantaged musicians.
We documented the entire event in a photo diary. As a tribute to Reuter's work in black and white photography, we did our best to present the photos in a manner as close to his signature style as possible and to capture the scenes that he would have wanted to witness.
It is our sincere hope that these photographs relay the love, energy and talent that was in the room. Reuter couldn't have been given a better tribute than what we witnessed last night.
Casa Loma Ballroom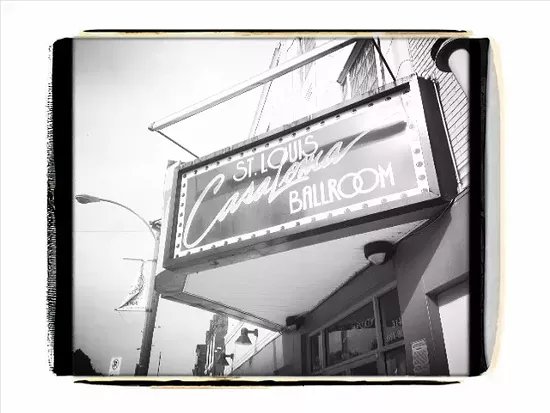 Load-in
Ryan Koenig (Pokey LaFarge, Rum Drum Ramblers) and Matt Wilson ("Doormat," also of http://www.bigmuddyrecords.com/artists/rumdrum/) practice backstage
Maysam Attaran ("Bass Amp," Alley Ghost, Sex Robots) soundchecks
Casa Loma floor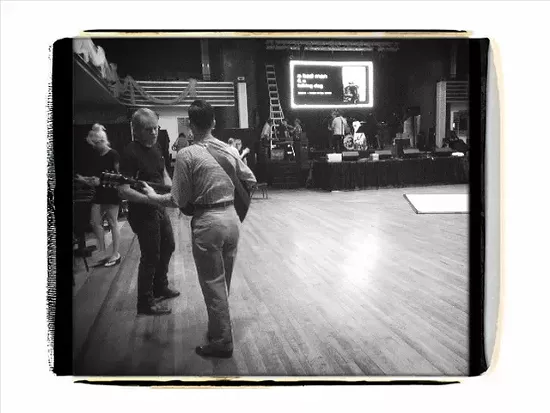 Some of the art up for auction
In the back room
Johnny "Vegas" Moynihan readies the ticket booth
Pokey LaFarge rehearsing
At door time, the line wrapped around the block and extended far down Cherokee Street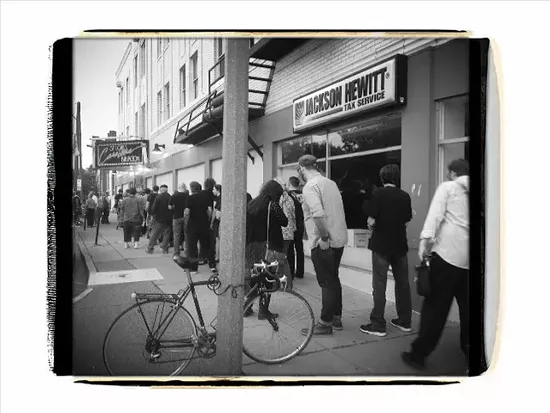 Quiet work backstage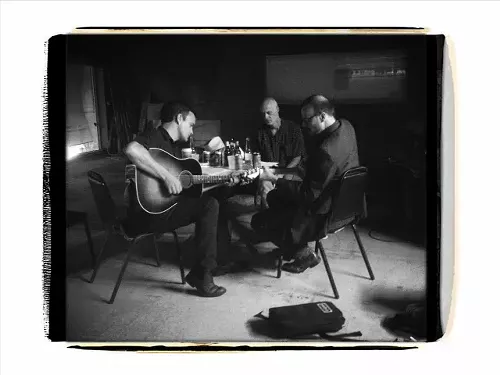 Ashley Hohman (of Doom Town) plays Bob's scratchy records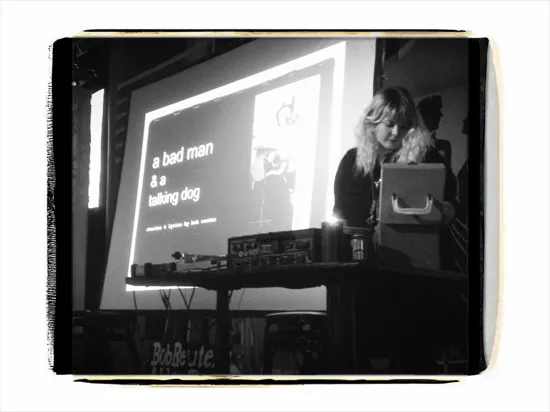 Erin Wiles does a reading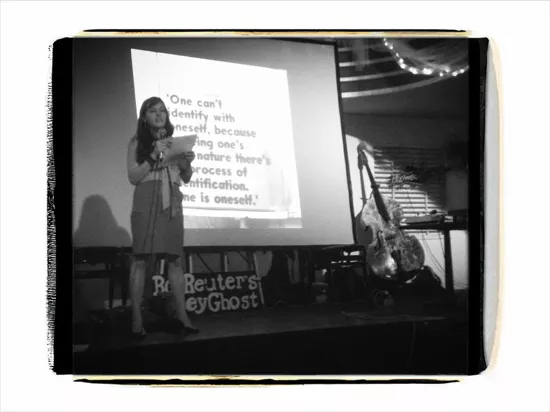 Guest singer Ryne Watts (right) of the Hobosexuals
Guitarist John Horton of the Bottle Rockets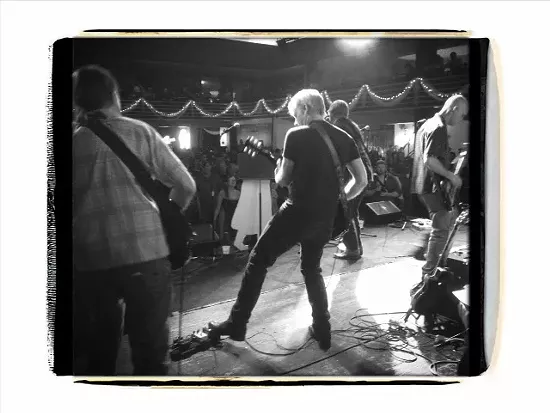 Ellen Herget and Anne Tkach of the Skekses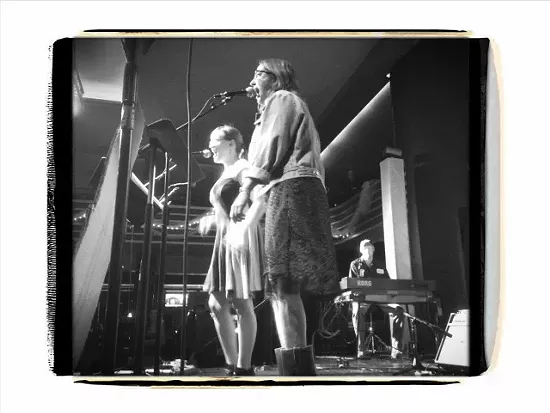 Chris Grabau (of Magnolia Summer) and Jason Hutto warm up in the hallway behind the stage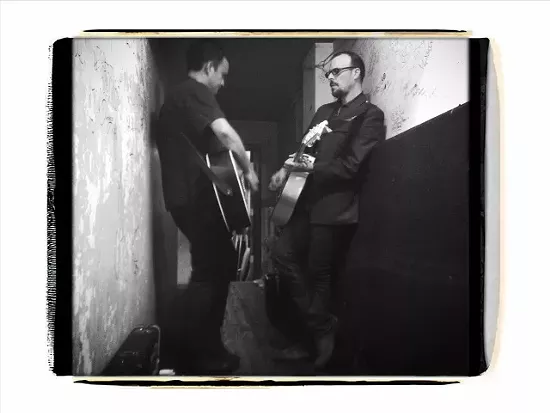 Guest singer Johnny Walker (of Soledad Brothers) with Alley Ghost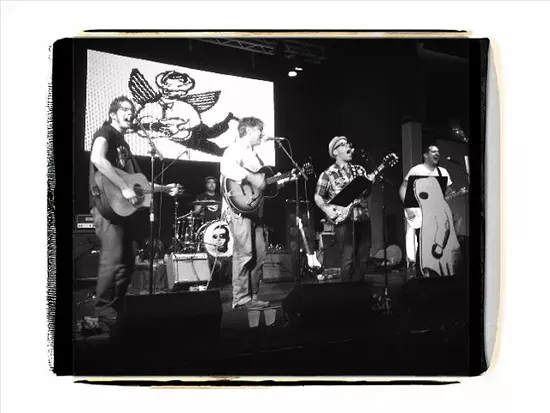 Mark Stephens (of Accelerando) on vocals
A young Bob Reuter fan
Daniel Lawless of Alley Ghost and Bass Amp and Dan-O
Kevin Buckley of Grace Basement on vocals (center)
Brice Baricevic of Alley Ghost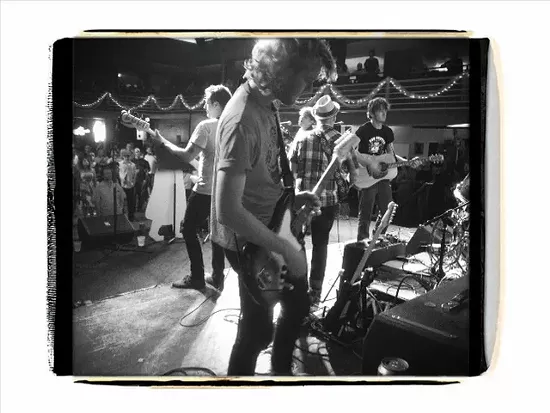 Guest singer Pokey LaFarge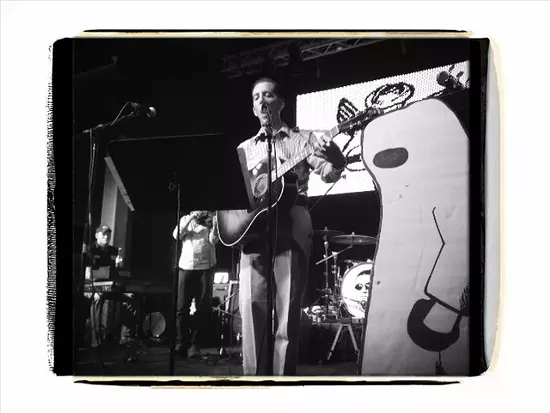 LaFarge and crowd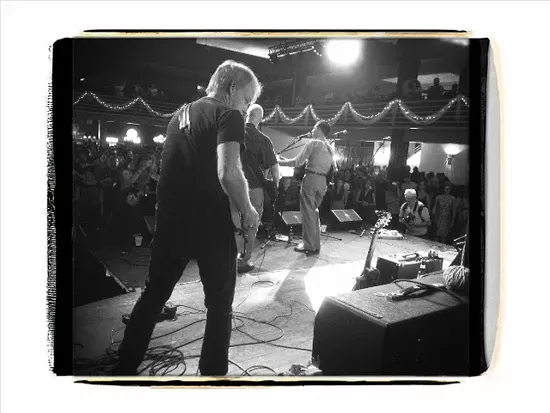 A couple dancing in the crowd
Jack Grelle at the microphone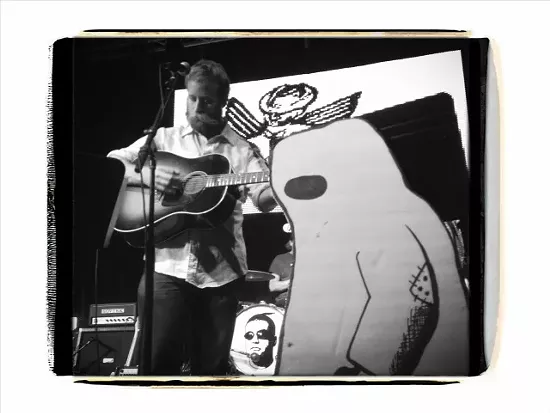 Hutto and Grabau up front
Maysam Attaran and Chris Baricevic of Alley Ghost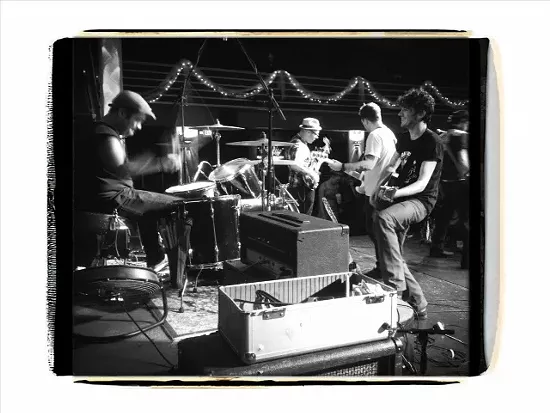 Poetry reading by Brett Underwood, Joe Sulier, Joe Wetteroth and Mathieu Paul (left to right)
Rachel Fenton and Matt Wilson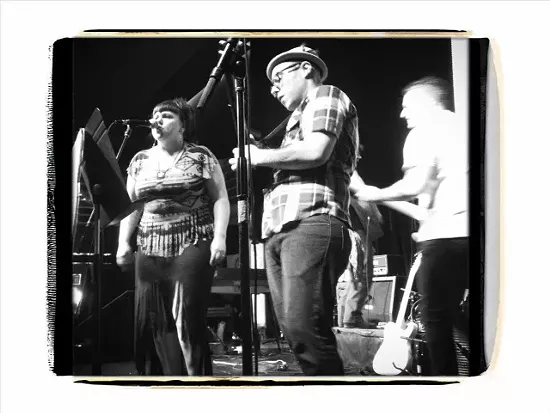 Ryan Koenig on vocals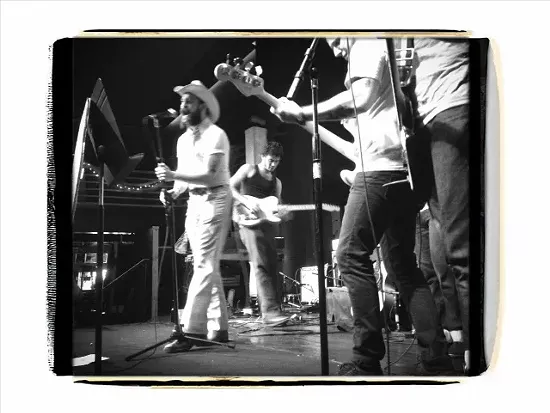 Matt Bug (of the Ded Bugs) on vocals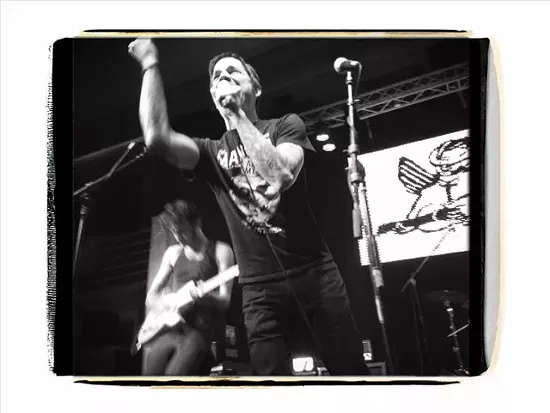 Shanna Kiel (formerly of Sullen) sings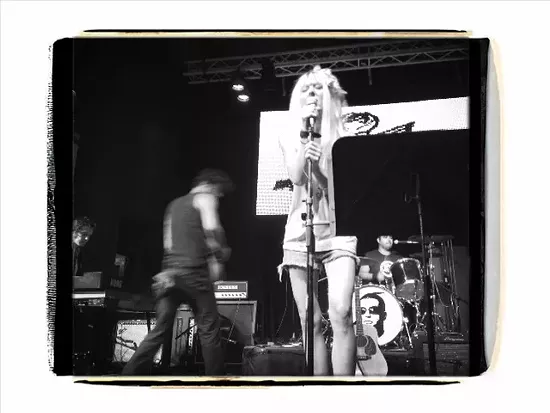 Ryan Koenig, Matt Harnish of Bunnygrunt and Nick Zengerling ("Zeng") watch from behind the stage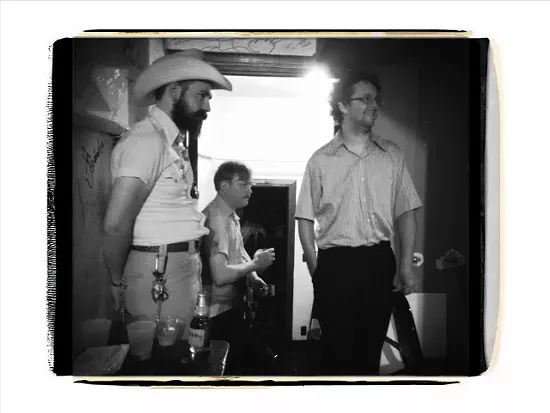 Nick Zengerling (of Maximum Effort) on the microphone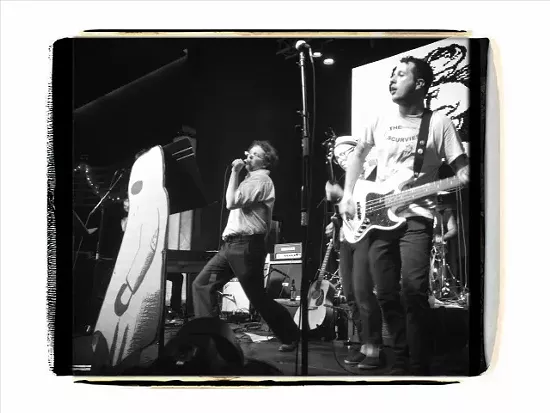 Paul Rose (of Serious Journalism) faces the audience with Alley Ghost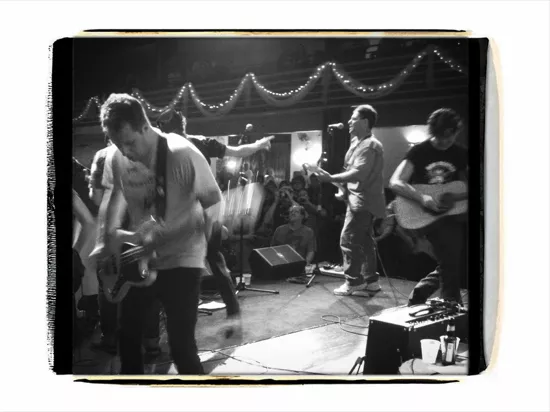 Matt Harnish (of Bunnygrunt) and crowd
The show from above
Don Beasley talks about Reuter's art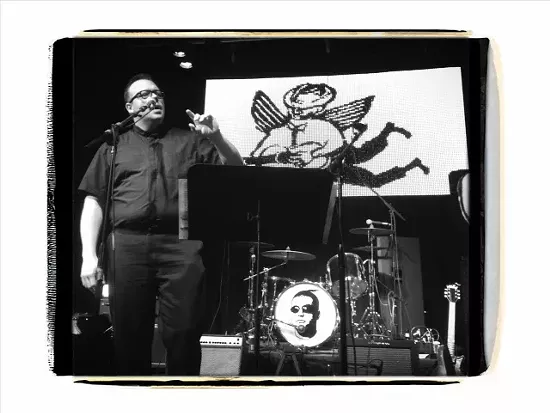 Ryan Koenig and Rachel Fenton peek through the stage curtain
Mark Willey (of Bad Dates) brings it
Guest singer Ashley Hohman and gents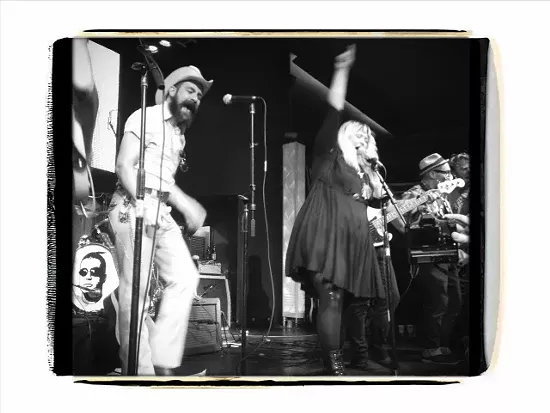 Mike Leahy of 7 Shot Screamers up front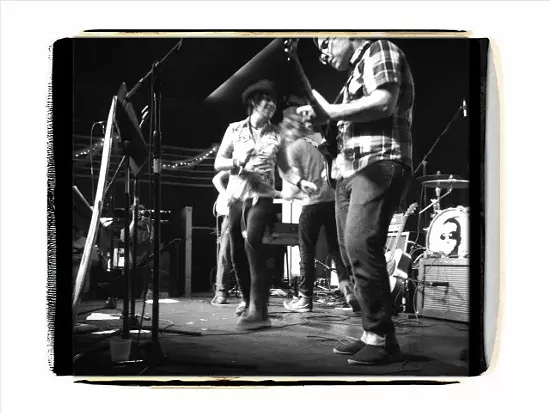 Last song
Finale (plus kiddo)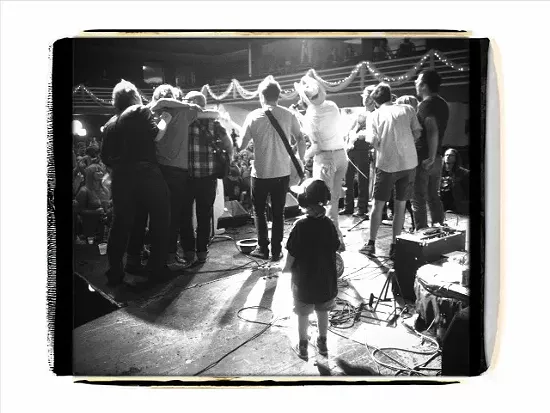 See Also: - Remembering Bob Reuter: St. Louis Speaks - An Official Statement From Bob Reuter's Band, Alley Ghost
Follow RFT Music on Twitter or Facebook. Follow RFT Music editor Daniel Hill on Twitter too, if you are into that sort of thing.