Press Photo | Manny Hinkson
Steddy P & DJ Mahf CD Release - Saturday, September 7 @ The Demo
LouFest is nigh! Scratch that -- it's not near, it's here! Besides that annual shindig, plenty of shows provide options for entertainment this weekend, including lots of free picks. Read on for our recommendations, including No Coast skate shop's two-year anniversary and a new release from DJ Mahf and Steddy P.
Friday (September 6):
Fancytramp w/ Bruiser Queen, Burrowss @ Livery Company 10 p.m. | free Nashville's Fancytramp expertly delivers some catchy, female-fronted psych-pop. Don't take my word for it though, check the band out for yourself! (DH)
Read all about LouFest in this week's music feature, and refer to our Out Every Night post from earlier this week to learn about shows on this evening from Miranda Lambert and Prairie Rehab.
Saturday (September 7):
No Coast 2-Year Anniversary w/ Young Mega, Mr. Wrong, Rocket Ren and the Drama Squad, 431, Better Days, White Suspect Van Band @ No Coast Skateboards 2 p.m. | free No Coast celebrates its second birthday with hot dogs, music and afternoon skate contests! (MS)
Steddy P & DJ Mahf CD Release w/ Brett Gretzky, BC But Not, Allen Gates, Joey Cool @ The Demo 9:30 p.m. | $8-$10 Pick up the latest from dynamic hip-hop duo Steddy P and DJ Mahf. Indyground all day! (DH)
Slobberbone w/ Old Capital Square Dance Club, Money For Guns @ Off Broadway 8:30 p.m. | $12-$18 Denton, Texas' Slobberbone plays American alt-country with style and panache. Stephen King-approved! (DH)
The Cell Phones w/ Popular Mechanics, Accelerando @ Schlafly Tap Room 9 p.m. | free Chicago's the Cell Phones plays fun-filled "post punk funk-a-dunk" (their terminology, not ours). See what they mean by checking out recordings on Bandcamp. (MS)
Bunnygrunt w/ Eureka California @ Lemmons 12:30 a.m. | free The 'grunt generously volunteers its rock prowess in this self-dubbed "Official After Party for EVERYTHING!" The show starts late and the beer flows 'til 3 a.m. (MS)
Also for your consideration on Saturday evening, check out the Little Big Bangs' debut album release and Dread Zeppelin. Click the links to learn more.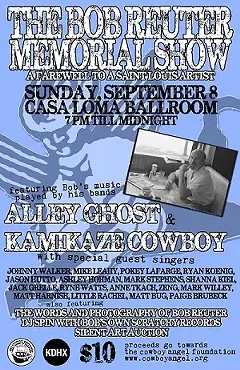 Sunday (September 8):
The Bob Reuter Memorial Show: A Farewell to a St. Louis Artist @ Casa Loma Ballroom 7 p.m. | $10 Celebrate the life of the late, great Scratchy Bob with hundreds of his closest friends. Click here to get the full details on the event including a schedule of performances. (MS)
Iron Maiden w/ Megadeth @ Verizon Wireless Ampitheater St. Louis 7 p.m | $46-$495 Maiden, with Megadeth! A metalhead's dream. Bang your head until it falls off! (DH)
Peter Rowan Bluegrass Band w/ The Lodge Brothers @ Old Rock House 8 p.m. | $20 Elder statesman Peter Rowan has been playing bluegrass for nearly 50 years. Show some respect, young punks. (DH)
Pat Travers Band w/ The Micki Free Electric Blues Experience @ Blueberry Hill 8 p.m | $20 Guitarslinger Productions presents "Rock the Troops!," a benefit to support the Wounded Warrior Project, providing programs and services to injured service members. Canadian rock guitarist Pat Travers contributes his rock expertise to the cause. (MS)
Also on Sunday, check out Calvin Johnson at Apop Records.
Note: Though we wish we could, we can't feature every great show happening in town in just one measly post. Peruse the St. Louis concert calendar for more ideas any time. Let everyone know what else you're looking forward to seeing this weekend in the comments below, and send show tips to clubs@riverfronttimes.com to be considered for inclusion on these lists.
See Also: - The Top Ten Ways to Piss Off Your Bartender at a Music Venue - Ten Bands You Never Would Have Thought Used to Be Good - The Top 15 Things That Annoy the Crap Out of Your Local Sound Guy
Follow RFT Music on Twitter or Facebook. Follow RFT Music editor Daniel Hill on Twitter too, if you are into that sort of thing.