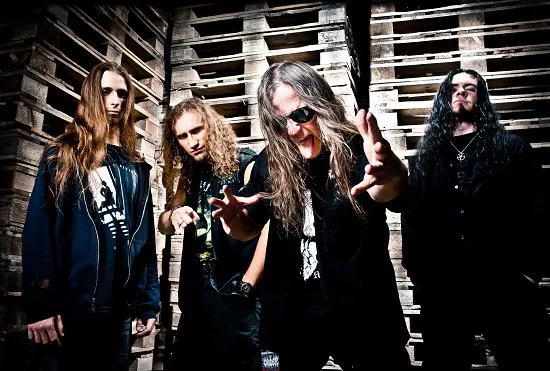 Press Photo
Vader
Looking for a good place to see flashy and exciting music played at high volume, have your mind blown by dark and powerful sounds, or just stomp around like a drunken goon with your shirt off? Then a heavy metal concert might be just the place for you. Each month I'll be offering my top picks of the upcoming metal shows in town that I think shouldn't be missed. All the shows this month happen to be in the same week, so might as well just stay good and drunk and tell work you caught something from a toilet seat.
Vader, Vital Remains, Sacrificial Slaughter, Execration and more at Fubar September 14 6 p.m. | $20
Truth be told, I'm too big of a Star Wars nerd to not like a band called Vader. The name could have been taken by goddamn Smashmouth back in the day and I'd probably sing about being a rockstar and getting shows on with enthusiasm. Luckily, the name was claimed long ago by an excellent death metal band from Poland instead of some fat guys in surf shorts. Dating back to 1983, Vader is celebrating its 30th anniversary with an extensive tour of the US before the release of its tenth studio album early next year.
Along on the run is Vital Remains from Rhode Island, who has been splitting ear drums with its lightning fast death metal since 1988. Also on the show are four more bands with really, really hard to read logos. Fubar has been courteous enough to post set times, (with Vital Remains starting at 9:50 and Vader an hour later) for those of us not brutal enough for six death metal bands in a row.
Thou, Cloud Rat, False, Fister at Fubar September 15 8 p.m. | $10
Most of you probably have no idea who Thou, Cloud Rat or False is, and that's something you really need to straighten out. Three of the most important and interesting DIY metal bands currently recording and touring in the underground scene will return to St. Louis as a package, infecting this city with dark sounds as the Lord is resting for the day. This Sunday visit also finds the bands upgrading from the literally underground usual basement show to an elevation of some twelve inches above sea level on Fubar's lounge side stage. Nothing against basement shows, but I've got to admit I'm excited to hear these bands through a real PA system in a place that smells only slightly like old beer and piss.
So let's get to the crucial bits... Thou is from Baton Rouge, plays sludgy doom metal, and put out as many as six different releases a year. Cloud Rat is from Michigan and plays violent grindcore motivated by women's rights issues and veganism. False is from Minneapolis, plays crusty black metal, and is by far the most intense female fronted black metal band you'll ever hear. Local support comes from Fister, opening the show with slow simmering doom and bringing the evening to a perfectly ugly boil.
Intronaut, Vattnet Viskar, the Gorge and White Fire at the Firebird September 18 7 p.m. | $13
Southern California's Intronaut is one of those all-too-rare bands that although hard to categorize, still has a little something for everyone. Technical but not without groove, heavy but melodic, progressive but straight forward, conceptual but direct; the band expertly plays on its many strong points. This expansive sound has earned Intronaut tours with bands as varying as Helmet, Cynic, Mastodon, Animals as Leaders and even a run with Tool last year.
Also on the bill is the blackened doom of New Hampshire's Vattnet Viskar and locals White Fire and the Gorge; the latter of which will be kicking off some tour dates throughout the Midwest beginning tonight. Come check out a great show and pick up the Gorge's excellent new EP and help these boys put some gas in the tank and tacos in the belly.
See Also: - The Top Ten Ways to Piss Off Your Bartender at a Music Venue - Ten Bands You Never Would Have Thought Used to Be Good - The Top 15 Things That Annoy the Crap Out of Your Local Sound Guy
Follow RFT Music on Twitter or Facebook. Follow RFT Music editor Daniel Hill on Twitter too, if you are into that sort of thing.