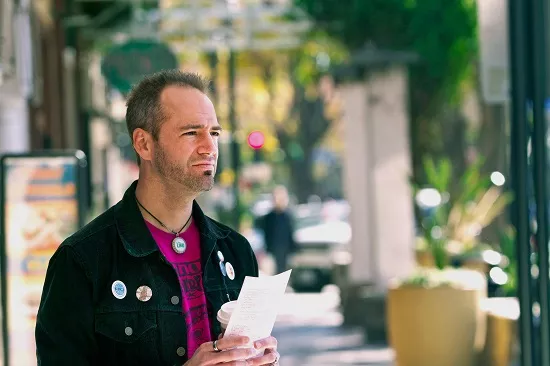 Jeremy Essig has hit the top of St. Louis. After a productive nine-year run in our city, the Zanesville, Ohio, native is taking his mixture of self-deprecation and acerbic wit to the comedy scene in New York. Essig has become a fixture in St. Louis during his stay here, headlining at places ranging from traditional comedy clubs like the Funny Bone to rock venues like the Firebird and answering the call to open for major comedians such as Jim Jefferies at the Pageant.
See Also: Jeremy Essig is About to Get Raw & Personal
No less an authority than veteran stand-up Brian Posehn believes Essig will succeed. "Jeremy's got really funny stuff, and he would get totally picked up in a second if he moved to LA, and would get immediately on Conan," Posehn has said in a recent video Q&A session with Essig. Posehn, famous from his stints on Mr. Show and the Sarah Silverman Program, likes Essig enough to regularly tour with him and believes relocating to a bigger market is the right move. "The main thing is to move to a place where you can get seen," he says.
See Also: A Conversation With A Metal Nerd: Brian Posehn
But before Essig takes his crack at the Big Apple he's throwing a weeklong series of farewell shows. His Wednesday and Friday headlining slots at the Dubliner sandwich a Thursday extravaganza at Foam that will feature at least six other comics on the stage. Hardcore fans should note that Essig plans to perform different material at each show. They should also know that he still plans to hit St. Louis once a month in his capacity as cohost of his live game show, Loser.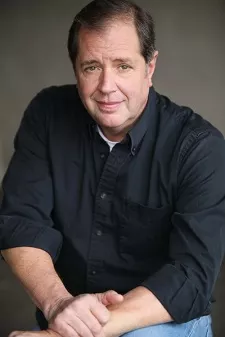 Press Photo
Dan Chopin, fellow STL comedian.
We caught up with Essig by phone while he was in Syracuse, New York, for a weekend of shows. For good measure we put him on speakerphone at the house of Dan Chopin, another veteran St. Louis comedian who is opening for at least one of the Dubliner farewell shows, so that we could pick the brains of two experienced St. Louis comedians about the scene and Essig's departure.
RFT Music: So why are you leaving?
Essig: There are more opportunities, there's more people to see you there and it's more of a challenge. You've got a lot more comics pushing you. If I don't have a lot of people around me pushing me, I can get lazy. The people that I kind of came up with in St. Louis, Tommy Johnagin, Nikki Glaser, Greg Warren -- they all moved. I've also been in St. Louis for nine years, which is a long time for me to live in wherever. So it's time to shake it up, maybe.
How would you gauge the comedy scene in St. Louis right now?
Essig: There was a period where you could just go up to an open-mic on Tuesday at the Funny Bone and it was Greg Warren, Nikki Glaser, Tommy Johnagin, Dan O'Sullivan, Joe Marlotti would show up occasionally, myself, Matt Conty. It was a crazy, crazy show. A lot of those people have moved on. There's a lot of people developing now that maybe in two years a lot of people will have heard of. But I think also what's great about St. Louis now -- that wasn't like this even three years ago, four years ago -- is there's a ton of shows popping up everywhere where you can get onstage like six, seven nights a week. For a while there was just the Funny Bone. But now there's Fitz's, Dan has his show, there's a show at Foam. This is just a great place right now to just be onstage. There's a ton of local stage time.
Chopin: Yeah, what he just said. It's a great place to cut your teeth early.
Can someone quote-unquote "make it" as a comedian in St. Louis?
Chopin: You can make it to the extent of doing what you like to do. If you're aspiring to be on television and the movies and Letterman and Leno, no, you can't make it in St. Louis. You gotta be on the coast. To maintain my level of success, yes, you can make it in St. Louis. I'm doing that. But I have to leave St. Louis to make it a living. I'm doing the clubs, I'm doing some cruise ships, I'm doing some corporate gigs, and it all evens out. If I were Jeremy's age, I'd be moving to New York, where he's going. I think it's a great move. I think, Jeremy, you picked the right coast for you. You seem more like a New York guy than an LA guy.
See Also: - The Top Ten Ways to Piss Off Your Bartender at a Music Venue - Ten Bands You Never Would Have Thought Used to Be Good - The Top 15 Things That Annoy the Crap Out of Your Local Sound Guy
Follow RFT Music on Twitter or Facebook. Follow RFT Music editor Daniel Hill on Twitter too, if you are into that sort of thing.