Sarah Bollinger Both/And sarahbollinger.bandcamp.com
If you're unfamiliar with Sarah Bollinger, perhaps it's because the St. Louis native has been busy jet-setting in some picturesque locale. She has done humanitarian work in Mozambique and performed with jazz combos in Portugal as recently as last month. But for her debut LP, the singer and pianist recorded in St. Louis with local players, and the collection is marked with a kind of urbane, styled soul that showcases Bollinger's strong and expressive voice.
See Also: Local Soul Singer Sarah Bollinger Releases Debut Solo Album, Both/And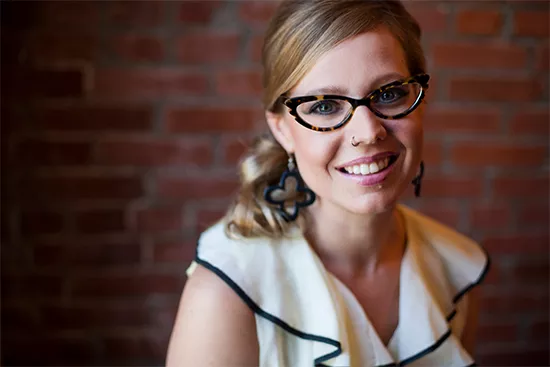 The organ-fired "Ain't Workin'" finds Bollinger pushing her vocals from both the front and the back: She serves as her own girl-group chorus and wails, with perfect pitch, on a sweaty extended coda. Both/And tends toward a ramped-up version of rhythm & blues, but she shows identical range on the ballads as well, particularly on the emotive set-closer "Call Me Home." Even world travelers get homesick, it seems.
Bollinger recorded her debut at Shock City Studio with Tony Esterly, and she keeps good company in choosing her instrumental partners. The venerable and ubiquitous Funky Butt horns are almost a given on a project like this, but the horn charts (penned by both Bollinger and Esterly) suit each song, especially the nu-soul groove on opener "Paper, Rock, Scissors."
Guitarists Tom Maloney and Dave Black add varying shades of jazz and funk, and the Feed's Kevin Bowers keeps strict time with his foot on the gas pedal; he pushes "Maybe I'm Crazy" from a slow-burn into a grease fire. Were St. Louis to have its own version of L.A.'s famed Wrecking Crew, these guys would be first-call players.
The songs read as soul numbers in theme and arrangement, but Esterly's production is pretty pop-friendly; Both/And is a pop record in the same way that Bonnie Raitt and Sheryl Crow, two gifted stylists and interpreters, can add twang and soul to FM radio while retaining a pop sheen. With a record titled Both/And, it's clear that Bollinger isn't especially worried about what gets thrown into the pot.
Listen to the new album below:
Want your CD to be considered for a review in this space? Send music c/o Riverfront Times, Attn: Homespun, 6358 Delmar Boulevard, Suite 200, St. Louis, Missouri, 63130. Email music@riverfronttimes.com for more information.
See also: -Crotching Whiskey at the Justin Bieber Concert and Getting Thrown Out: A Review -The 15 Most Ridiculous Band Promo Photos Ever -The Ten Worst Music Tattoos Ever
Follow RFT Music on Twitter or Facebook. Follow RFT Music editor Daniel Hill on Twitter too, if you are into that sort of thing.