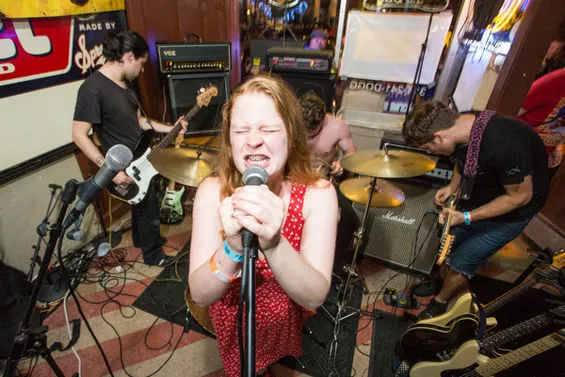 Steve Truesdell
Little Big Bangs
The Little Big Bangs' Drew Gowran, Lucy Dougherty, Ryan Macias, and Eric Boschen wade into Shaw's Coffee at different intervals. First, drummer Drew Gowran mosies in, peering hesitantly around the corner for someone familiar. Dougherty, sans guitar but still vocal, bounces in with a mass of strawberry blonde curls sashaying on top her head. The band's second guitarist, Ryan Macias, strolls in silence. His taciturn demeanor evacuates Shaw's during the interview, but for now his presence creates a tremor of tranquility. Last to arrive is Eric Boschen, LBB's final guitarist and singer. The amiable Boschen sits down with a large Americano and a cup of water and murmurs something indecipherable about a hangover. He begins to rehash his night at Dougherty's apartment. About two sentences in, the image of a beer doused apartment springs to consciousness and Dougherty's laughter clouds out whatever visuals are remaining to be seen.
See Also: Little Big Bangs Release Debut Album
The members of the Little Big Bangs have a palpable comfort with one another. All four describe themselves as "creative" types who met at different stages in their lives under very different circumstances. Boschen and Macias have been friends for years. Dougherty met Boschen when he was squatting in an anarchism class at Webster. After forming in 2009 with Macias, the band courted Gowran in 2011, only after he blanched due to his schedule, "We wanted a drummer, and we auditioned a couple people," begins Boschen. "Then we saw Drew play with Cackling Hen at Cranky Yellow. I said, 'We have to get Drew.' We asked him, and he said, 'Well, I'm already in five bands.' Then he said he was in the next day."
Gowran adds, "It felt natural to jump in. Lucy, Ryan and Eric are so creative."
Little Big Bangs performing "Armada" for Lo Fi Cherokee
Prior to Gowran's presence, Dougherty, Boschen and Macias traded off percussion duties with Dougherty at the helm most often. During the writing process for the band's recorded debut, the Easter Egg Demo, the band etched out songs without a beat. "We were learning to write songs then. They weren't tight songs because they were written without a drummer," explains Boschen of the demo. "They were more guitar-orientated songs with jam parts."
Prior to recording its full-length debut with local engineer Jason Hutto, Little Big Bangs wrote with Gowran at Boschen's home. "We're in a tiny, cramped basement with broken equipment, yelling at each other over feedback. Somehow there is usually a song that comes out of that," says Gowran.
"Sometimes someone comes to the table with a chorus or verse and then show it to the band and we elaborate on it, says Boschen. "Sometimes we just write songs by jamming in the basement."
Macias' solo style is more influenced by the surf sounds of the Beach Boys and the laconic buzz of R. Stevie Moore. "I do a lot of stuff on my own, too. Eric and I will sometimes write together then show it to the band. I think it's important to always write. Always having songs to choose from. Even if 90% of it sucks you are bound to find something you like."
The songs that float around Boschen's basement become staples of Little Big Bangs' live show. Eventually those tracks were categorized into different aural zones and recorded for Little Big Bangs. "Before we went in we decided how many songs we wanted to do and we just practiced those songs over and over again before we went into the studio. We made sure we could do them really quick," explains Boschen, "There are different types of songs -- we tried to pick songs that were poppier songs, noisier songs, short ones, long ones, just trying to make an album that doesn't sound like one thing the whole time through."
Courtesy of facebook.com/littlebigbangs
Dougherty adds that her desire for a more proper-sounding album was heard loud and clear by Hutto at Smoking Baby Studios. "We did [the demo] to give people something. I was always wishing I could flesh it out, but that was not the demo's purpose. This LP has that purpose. This time was the time to do that...even though we did it in two days."
"We spent a lot of time on overdubs, but we had eighteen songs in two days. A day and a half, really. But that was all rhythm. Just drum and bass," says Macias.
"All of that was done live. One takes, two takes. And then we went back and put an extra guitar in," adds Boschen, a little perkier now that his hangover left in the wake of an espresso wave.
The decision to record with Jason Hutto was born out of Hutto's comprehension of Little Big Bangs' agenda. "Jason loves rock & roll; it was a really good fit," says Dougherty between bites of quiche. "He doesn't order you around. He knew what he wanted to do and we knew what we wanted to do. It was just so easy." Little Big Bangs hustled through two days of live recording to collect twelve songs for the LP.
The finished product has a sound reminiscent of the band's riotous live show. "The energy of rock & roll, the energy of punk. Music you move to," is Boschen's description of the LP. For Dougherty, the LP is a chance for listeners to comprehend the lyrics the band writes, "When we play it is so loud that vocals are the first thing to get drowned out. As far as lyrics go, I'm excited to have people listen to them. That's one of the first things we lose in the live mix."
Macias expounds on this. "You get used to turning up your PAs so everything becomes distorted. You can't ever hear the vocals through the monitors. It's such a rock & roll thing."
When playing live, the lyrics are even lost to Gowran. The LP is his first chance to listen to what Dougherty, Macias and Boschen have to say. "I'm just learning all the lyrics. I'm reading them and saying, 'Oh, yeah. This shit is pretty awesome,' because all I can do is hit drums and listen to feedback. I'm into it."
The band will celebrate the release of the LP with a show at Plush. Along for the ride will be the Corrigan Bros., Skarekrauradio and Union Electric. Gowran's arid delivery zaps moisture from the air as he describes playing for an audience as a member of Little Big Bangs. "I like to think of us as a huge brick wall tumbling on top of you, and you better be careful because we might hurt you with our equipment if you get in the way." He pauses long enough to straighten up on his backless cushion and forces a smile. "Especially my drums. I will hit your face if you come near it."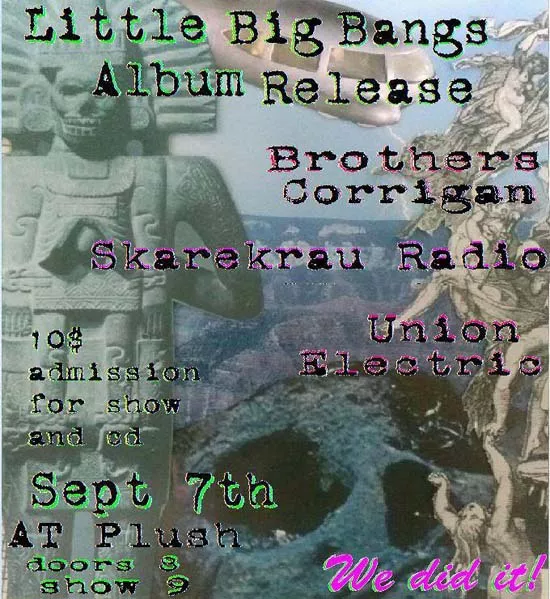 Little Big Bangs Saturday, September 7, 8 p.m. W/ Union Electric, Corrigan Brothers, Skarekrau Radio @ Plush $10
Follow RFT Music on Twitter or Facebook. Follow RFT Music editor Daniel Hill on Twitter too, if you are into that sort of thing.