Press Photo | Erica Shires
Amanda Shires - Tuesday, September 3 @ Off Broadway
You're probably all still hungover from partying too hard this weekend, so we'll spare you the prolonged intro this week. When you're ready to get out of bed again, consider checking out some concerts! Calvin Johnson, Amanda Shires and Dread Zeppelin are but a few of the touring acts making stops into town. Read on for this week's recommendations, and stay tuned for more picks for the weekend -- it'll be here before you know it.
Amanda Shires Tuesday, September 3, 8 p.m. w/ John Henry @ Off Broadway - $8-$13 By Roy Kasten Whether or not this year's surprise breakthrough of Kacey Musgraves will clear enough space in the mainstream for a country-folk songwriter like Amanda Shires is an open question, though it really shouldn't be. As well-known for her dazzling fiddle work as her febrile and lonesome voice, Shires has just released Down Fell the Doves, a ruminative suite of songs that recalls the early work of Lucinda Williams and Tift Merritt, with a contemporary polish that would sound great on the radio next to Musgraves or Lady Antebellum. She's got the same spunk and soul, and her catchiest song is about the gift of a tiger claw.
Rich McDonough Wednesday, September 4, 7 p.m. @ BB's Jazz, Blues & Soups - $5 By Timothy Lane From this 2005 show preview: The bandleader and lead guitar player is demonstrating some of the most virtuous and beautiful blues variations I've ever heard performed live before -- jump blues, I think. Rich McDonough. My brain lights up in disbelief over what it's hearing. You'd think he was born with some pre-existing knowledge of how to work that guitar, or maybe he's just touched in the best possible way. Or maybe this is just one of those nights when everything he knows comes rolling together like magic and he's not even thinking about it, not even trying. Maybe he doesn't have to anymore. His band follows along with equal virtuosity. I don't know anything technical about music and don't have the heart to pretend. I'm just glad I'm here and so is my brain. Outside a freight train pulls a long line of Pullmans slowly across the railroad bridge over Broadway. Out on the street you can hear them sneezing into the night, glistening in the shallow pockets of light, and everything's all right in the universe, or at least on Broadway, if only for a couple more sets.
Everything Went Black EP Release Thursday, September 5, 8:30 p.m. w/ The Lion's Daughter, Jack Buck, White Fire, Choir Vandals, Matt Questionmark @ The Firebird - $7 By Mabel Suen From "Everything Went Black Releases EP, Mosenthein: Hear a Track Now:" With a west coast tour as well as continual writing and recording on the horizon, EWB maintains a steady forward-driving momentum. On Sept. 5, EWB will hold a release show for its new three-song EP titled Mosenthein, the first recording with its newest members Josh Van Hoorebeke and Chris Stanton. Everything Went Black casts a stark, moody intensity that's impossible to shake and merciless to the core. Guitars lurch forward with commanding heavy metal influence, entangled with gritty hardcore demeanor. Meanwhile, militant, deliberate drumming hits like a machine gun full of blanks to the chest. When faced with Hoffman's aggressive, stark vocals, one can't help but feel affected.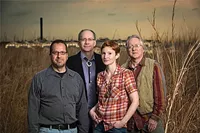 Miranda Lambert Friday, September 6, 7 p.m. w/ Dierks Bentley @ Verizon Wireless Ampitheater - $20-$600 By Michael Gallucci From this 2011 show preview: Miranda Lambert has come a long way since torching her ex on her 2005 breakthrough hit, "Kerosene." In November, 2009's Revolution won the Country Music Association's Album of the Year award, although a bigger honor was yet to come. She also capped awards season with a Grammy for Best Female Country Vocal Performance for "The House That Built Me," one of her more sentimental songs. But Lambert (who used to scare Nashville shitless) is at her best stirring up trouble, whether proudly declaring herself a Crazy Ex-Girlfriend (the title of her third album) or poking political party lines on Revolution's terrific "Only Prettier."
Prairie Rehab Friday, September 6, 9 p.m. w/ Old Capital Square Dance Club @ Schlafly Tap Room - free By Christian Schaeffer From "Prairie Rehab's Weights & Measures:" Read Our Homespun Review and Listen: The fateful Craigslist ad that brought songwriter and guitarist Lacie Mangels into the company of ex-Linemen Scott Swartz (guitar), Greg Lamb (bass) and John Baldus (drums) continues to pay dividends. After the appropriately titled Philology was released in 2011, careful listeners heard the grace in how Mangels' intricate turns of phrase and unblemished, plain-faced vocals lie atop gentle, melodic roots rock. With Weights & Measures, Prairie Rehab takes both more experimental and more conventional detours while maintaining an easy, steady sway.
Little Big Bangs Album Release Saturday, September 7, 8 p.m. w/ Corrigan Brothers, Skarekrau Radio, The Union Electric @ Plush - $10 By Joseph Hess From "Little Big Bangs Release Debut Album:" Little Big Bangs barely lets a week go by without tearing through some St. Louis basement or dive bar with its crackling grunge rock mess. The band first cut its teeth on south city streets as a trio in 2010. Shows felt like a punk rock game of musical chairs while each member hopped between instruments. Nowadays, drummer Drew Gowran rounds out the quartet by making damn well sure you hear him through that noisy wall of guitars. After nearly three years of musty basements, broken bottles and cigarette butts, Little Big Bangs laid down several songs with local stalwart engineer Jason Hutto...Surf rock riffs from Ryan Macias jive with vocalist Lucy Dougherty and her snotty screaming. Eric Boschen screams with fervor, pinning essential words on not-so-subtle songs that are deeply personal, political and mostly naked. Parts aren't drenched in needless effects, nor are the drums particularly busy.
Dread Zeppelin Saturday, September 7, 9 p.m. @ Blueberry Hill - $17.50/$20 By Michael Dauphin From this 2012 show preview: Back in 1989, before any of us had heard of mashups, Dread Zeppelin formed to play Led Zeppelin's music as reggae songs sung by an Elvis impersonator. What on paper seems plain ridiculous is in practice sublimely ridiculous. Inventive arrangements, great guitar tones and superior musicianship help the group transcend the novelty of clever combinations like "Heartbreaker (at the End of Lonely Street)." No less of an authority than Robert Plant has said he prefers Dread's version of "Your Time Is Gonna Come" to his own band's. Dread Zeppelin has since expanded its repertoire to include original songs and music from other genres (see "Brick Houses of the Holy"), but its original formula is still potent.
[image-9]
Calvin Johnson Sunday, September 8, 8 p.m. w/ Raglani, Jake Leech @ Apop Records - $5 By Mike Appelstein Trends come and go, but Calvin Johnson and his label, K Records, keep plugging away, following their own idiosyncratic path and occasionally intersecting with the public at large. For more than three decades, Johnson has fronted bands as diverse as Beat Happening, the Go Team, Halo Benders and Hive Dwellers. His solo material, as captured on albums like What Was Me and Before The Dream Faded, tends to be somber and doomy, often consisting of just his distinctive baritone and basic acoustic guitar backing. His solo performances include lots of storytelling and commentary and a lack of hip-shaking moves. Johnson rarely plays St. Louis -- this show will mark his third local appearance in the past decade, and his first-ever solo performance.
Note: Though we wish we could, we can't feature every great show happening in town in just one measly post. Look for plenty more recommendations this Friday in our weekend shows post, and peruse the St. Louis concert calendar for more ideas any time. Let everyone know what else you're looking forward to seeing this week in the comments below, and send show tips any time to clubs@riverfronttimes.com to be considered for inclusion on these lists.
Follow RFT Music on Twitter or Facebook. Follow RFT Music editor Daniel Hill on Twitter too, if you are into that sort of thing.