Steve Truesdell
Black Panties at the 2013 RFT Music Showcase.
Meet Black Panties, the snot-nosed rock & roll brat of south city. Luc Michalski, an otherwise mild-mannered fella, dons a leather jacket and transforms into a foul-mouthed, politically incorrect caricature of adolescent angst. To put it simple, he spits what some are truly thinking, but are too afraid to say. For better and worse, Black Panties draws from Michalski's throat, coughing up real trashy and guttural punk rock from the chest. The band's first album, Dead and Gone, delivers with ten tracks of fuzzy, nihilist rock. Own it and see the band live this Sunday at Blank Space (2847 Cherokee Street; 314-458-9472).
Black Panties really exists in two forms. In the past, Michalski has multi-tracked each instrument himself, laying down beats and overlapping them with guitar, bass and vocals. The result is a fuzzed-out wall that's sure to filter out snobs and suckers. Listen through, and catchy riffs crawl out from the mess, giving proof of the songs hidden within.
Apparently RFT readers agree, because you all voted Black Panties as "Best Punk" in our 2013 RFT Music Awards. Don't let Michalski know though, he'll scoff at you. Here, a lyric from an actual Black Panties song:
I won't play this game anymore All I want is rock & roll You're all just a bunch of cunts I don't care about the punx
Ooooh, poor baby. Did somebody hurt your feelings?
See also: Punk: Meet the 2013 RFT Music Award Nominees
Black Panties shows were once a rare sighting. Michalski would hit the stage (or basement) solo and play against a harsh backing tape. Now, Black Panties is comprised of Michalski himself and a pile of scabs, often drawn from local punk and hardcore pools. Black Panties has borrowed members from Shaved Women, Lumpy and The Dumpers and Bad Dates, among others.
Theo Welling
Luc Michalski, the brains behind Black Panties.
Rather than use hired hands to cut a clean record, Michalski dialed back to his solo days, laying down each piece himself. Instead of using his own four track, Michalski worked with engineer Jason Hutto (Tower Groove Records) to bring out the best in Black Panties. "It was all recorded in 16 hours by Jason Hutto. Jason's easily my favorite guy in town for recording. He does pretty incredible work while still being one of the coolest guys in town," says Michalski.
We caught Michalski polishing a cheap set of plastic black sunglasses and blackmailed him into answering some questions about Dead and Gone and the upcoming Black Panties tour with Iowa City's Slut River.
RFT Music: Although your early gigs featured live guitar and vocals over lo-fi backing tracks, recent shows have included area artists playing the parts of a backing band. What was the original goal behind the Blank Panties live show? How has that evolved over time?
Luc Michalski: Well at first, since I was the only one writing and recording, and that process ended up being pretty rewarding and freeing, I thought it'd be most fitting (or controlling) to just play it all myself live. It always sounded like shit and I was always super nervous and played poorly. I liked the songs, but one half didn't fit the other, plus everything always sounded like shit so I decided to turn it into a character, go full speed with it and try a live band.
Over time there's been no set line-up, all scabs all the time, but it's been a completely all-star cast every show. Lots of guys way more talented than I am, that are in some of my favorite bands, have played with Black Panties. It's pretty flattering. The character has taken off, too, and taken me over live. Black is a fuckin' prick and a total prima donna. The only goal I have when I play live is to have a blast, spit a lot and get rowdy.
Click through for more with Luc Michalski.
Is the new record a solo endeavor, or did you lay down tracks with a full band? Why did you choose to go that route?
I did all the recording myself because I have OCD. It would have sounded better if I let the other guys do it, but I wanted it to be all me. Now, if something is shitty on my record, it's my fault. Plus, I torture those guys enough for the live shows, I don't need to lock them in a basement for two days and make them play it perfect.
Going in to record, what were your goals with these songs? How do you feel about what was laid down?
All the old recordings I did myself, they're all super blown out, they're... they're not even lo-fi, they're just terrible. Quality wise. When I listen to them, I know the song, I know what's supposed to be happening, I know what's buried in there, so it sounds cool to me. I love the way they sound. But nobody else knows what the fuck is going on, so with this recording I wanted to make the songs loud and clear so other people could hear it. It's also nice to have a proper recording of some of these songs that I've carried around for three and four years. I have boxes full of tapes of me doing it wrong, it's pretty nice to have somebody polish all my turds for me. I think it sounds great. It's a nice balance, capturing the live attitude while actually getting the riffs across.
As Black Panties you play a crass front-man, but behind-the-scenes your work in booking punk shows and running a local blog suggest you might care a little more than the music's "don't care" attitude. Tell us more about your endeavors and how they relate to you as a musician.
Well I started Gateway Drug a few years ago as a way to help connect all of St. Louis' little pockets of DIY music that I didn't see communicating that much, as well as bringing in all the people that were interested in what we did but didn't know how to get there. I wanted something that could talk about the shit that the other publications only THOUGHT they were touching.
If the RFT, Eleven, St. Louis Magazine, whatever, was writing about "best punk" or our noise community, it was usually just embarrassing. Also if there's one nice, little blurb about a genuinely hard working, honest band in the middle of a bunch of garble about bullshit soon-to-be pop artists posing like they give a fuck, it feels wrong and insulting. I wanted something run in St. Louis DIY and for it.
And booking shows is just something I enjoy, and I think it's really important to put work into it and make sure things are done well. If a band comes to St. Louis (and doesn't skip us for once) I want to make sure they have a hell of a time. Promote like crazy, take 'em to City Museum, feed them, pay them well, et cetera. Then, next time they're on tour they'll come back and so will their other bands, their friends' bands, all that. That's how to put a city on the map and we have a lot of really fuckin' hard-working people booking shows in town these days that are making people elsewhere realize that St. Louis is not only worth a damn, but it's pretty fuckin cool. I take great pride in being a part of that.
Not to mention, if you're playing in bands in town, you should be doing everything you can to support the other bands, the venues and the community altogether or you all sink, in my opinion. But rant aside, to answer about the difference between the two, I book, promote in real life, and Black Panties helps me get all my uglies out when I'm playing dress up.
Rumor is you're hitting the road post-release show to spread the good Black Panties word. Can you tell us more about the upcoming trip and any future plans for travel?
I'll be releasing this album on tape on September 1 at Blank Space. It's also Doom Town's split 7" (with No More Art) US release show and a visit from Slut River, who we'll be hitting the road with. It's only four dates because it's hard for all of us to get out for very long, financially and otherwise, but I'm excited for it. It's the first time this act will be in any other town and it's gonna be a disaster.
I have quite the crew coming, too, so not only will I get to hang out with the Slut River cats for four days, but I get Gabe from Bad Dates, Mike from Kisser, Andy from Demonlover, Scott from Shittybuttz and my favorite human mic stand all in the van too. There are plans in the future of more releases, or even the same release in a different format, but nothing concrete enough to mention here. The next album is already laid out in my head, I just have to finish writing it and get back in the studio. Regardless of that, I plan on taking it back out for a more extensive tour come Winter/Spring.
Click through for more on Black Panties' upcoming release show.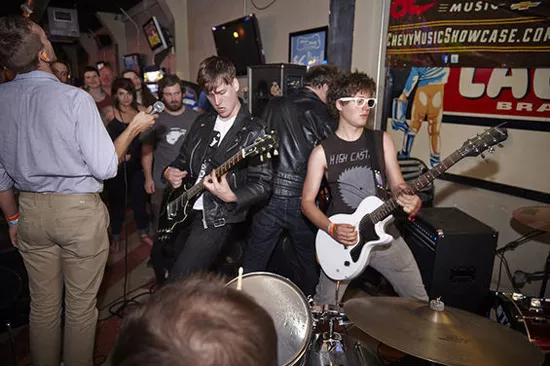 Steve Truesdell
Black Panties at the 2013 RFT Music Showcase.
Black Panties (Album release) w/ Slut River (IA), Doom Town (EP release) Sunday, September 1 Blank Space 2847 Cherokee Street St. Louis, MO 63118 314-458-9472 9 p.m. $5
You can follow Black Panties on Facebook and listen to the band through Bandcamp.
Visit Gateway Drug, Luc Michalski's personal blog on St. Louis music and guide on upcoming shows.
See also: -The Best St. Louis Punk/Hardcore Shows in August -Doom Town to Release Two Slabs of New Vinyl
Follow RFT Music on Twitter or Facebook. Follow RFT Music editor Daniel Hill on Twitter too, if you are into that sort of thing.