Getting your celebrity gossip from "TMZ" is soooooo 2009, dude. Each Thursday in "Twitter Litter," RFT Music rounds up the week's best meltdowns, ego battles and WTFness from rockers, rappers and DJs who aren't afraid of a little hashtag action. It's time to take out the trash.
An issue of worldwide consideration and great magnitude happened this week. No, not Syria; don't be silly. Something much more important has been dominating the intense minds of musicians: Has Miley Cyrus elevated twerking into a true art form, or has she shoved it into the gutter forever?
If you're not familiar with the most talked-about performance in MTV Video Music Awards history (except for, you know, Madonna's "boy toy" romp, Nirvana's performance-stopping headache and Kanye vs. TayTay), here's a little refresher about the most pressing issue on the planet:
No matter what anyone thinks, Cyrus (@mileycyrus) is pretty damn happy that she rubbed elbows -- and tongues and sexyparts -- with Robin Thicke and a bunch of furries: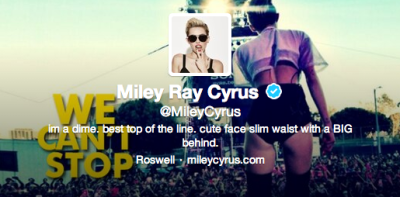 Nice to see that Miley, her fans and her daddy are pleased that Hannah Montana is all grown up now. Richard Marx (@richardmarx) and Ed Droste (@edwarddroste) don't necessarily take that view, though:
Musicians like Ryan Adams (@theryanadams) and Courtney Love (@courtney) are supporting Smiley Miley:
Miley, if Courtney Love has your back, you might want to examine the path you're traveling. Because, sweetie, we just don't know what's happening here:
Hard to believe, but some musicians actually are paying attention to non-Miley events. On the 50th anniversary of Martin Luther King Jr's "I have a dream..." speech, Tom Morello (@tmorello) highlights the government's scrutinization of King:
And Ted Nugent (@tednugent) says something that we can sort of appreciate, for once: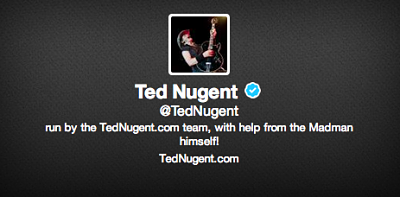 You know, The Nuge isn't expressing himself all that eloquently, but we kind of get it.
In happier news, John Stamos (@johnstamos) celebrates a birthday! Good old Uncle Jesse throws himself a party and invites everyone he knows: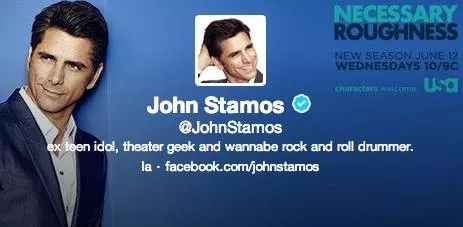 Oh, Stamos, we'll love you no matter how old you get. Like, forever:
Lady Gaga (@ladygaga) is playing the iTunes festival across the pond this weekend, and she's dubbed the event #SWINEFEST. Don't know what to wear to such a glorious gala? She's got some tips:
We have those in the RFT Music closet! #SWINEFEST, HERE WE COME!
Finally, St. Louis' favorite homefry Murphy Lee changes his Twitter handle from @murphyderrty to @murphylee. Perhaps he had a change of heart after Miley's debauchery? At any rate, Murph has a few adventures of the dental kind:
The dental work inspires him to serenade us from his not-so-secret video location:
See also: -Crotching Whiskey at the Justin Bieber Concert and Getting Thrown Out: A Review -The 15 Most Ridiculous Band Promo Photos Ever -The Ten Worst Music Tattoos Ever
Follow RFT Music on Twitter or Facebook. Follow RFT Music editor Daniel Hill on Twitter too, if you are into that sort of thing.