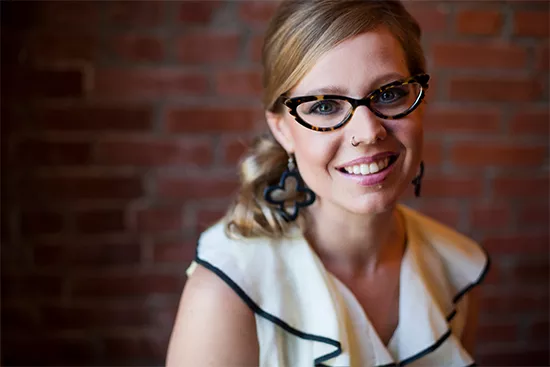 In this weekly column, RFT Music gets to know local creatives, musicians and their missions. Get a slice of the local scene, complete with a snippet of sound and info about upcoming releases and shows. Stick around to see what St. Louis artists have to say whenever they Fill in in the Blank.
While studying language in southern Portugal to aid professional humanitarian work this summer, soul singer Sarah Bollinger found herself at a small club immediately bonding with the local musicians. Bollinger quickly put her Portuguese-speaking chops to the test, appearing in the area's media to preview an impromptu performance with her newfound European friends, a quartet named Low Tech Groove. A couple weeks later, she's back in the states and properly warmed up to release of her debut solo album, Both/And, this Friday, August 30 at the Gramophone.
Bollinger developed her love affair with music at a very young age, watching her mother, a professional gospel musician, play the piano. She later went on to study jazz performance at Webster University and gigged around town every chance she could get -- in jazz combos, at church, with wedding/party bands and in her first original group, Sarah Speaks Easy. Today, members of the group still act as iterations of her backing band on various stages around town.
Sarah Bollinger's blue-eyed soul fuses elements of influence from a lifetime of listening to vocal greats like Aretha Franklin, Eva Cassidy, Stevie Wonder and Billie Holliday. Her big voice and even bigger heart comes through in each of her smooth, jazz-tinged ballads, which contemplate the complicated juxtapositions of love and life. Her songs showcase a squeaky clean clarity occasionally sprinkled with what she fondly refers to as "St. Louis grit," emphasized by dreamy piano playing and sassy, precise horn pops thanks to members of the Funky Butt Brass Band.
Bollinger recorded her album, which dropped on August 27, with producer Tony Esterle at Shock City Studios, Listen to the ten-track album, Both/And, below and pick up a physical copy this weekend.
We invited Sarah to fill in the blanks ahead of her album release show this weekend Read on to see what she had to say, check out a video and get info on upcoming performances.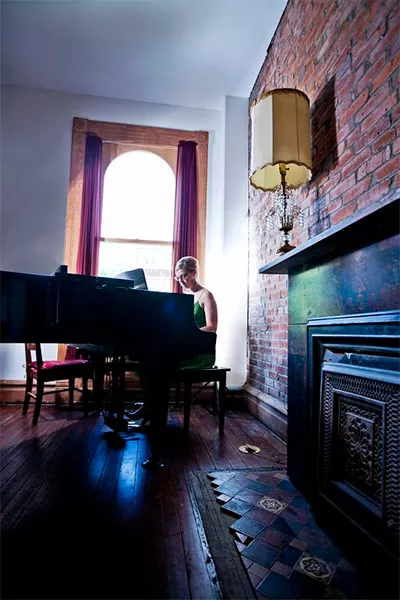 What I like most about St. Louis is... Sarah Bollinger: our city's heritage of jazz and blues. We have a really rich musical history in St. Louis, which makes me feel like I'm part of a larger musical legacy. Living here and playing music here makes me feel like I'm walking in the footsteps of some of the greatest artists of all time and living into something bigger than myself. I also love that St. Louis has a big city vibe while still maintaining a small town feel. I love that I can both pack out a show at a big venue like The Pageant and also run into three people I know at the grocery store on the same day. It's a great big city where I also know all of my neighbors. I'm super proud to be a St. Louis girl!
I make music because... I am compelled to. Because I can't help but sing! I've been singing and playing piano ever since I can remember, and I just can't imagine doing anything else. I wake up singing and I go to bed singing. It's part of me. Music is ingrained in who I am.
I'm most inspired by... authenticity. I most appreciate artists who are real and raw. It's obvious when musicians are genuine and these are the kinds of people who inspire me to write, play and sing.
My most memorable show was... at Off Broadway when I saw Mumford and Sons. Off Broadway is a small, intimate venue here in south city, and I had the privileged of seeing Mumford and Sons here right before they went big. It was an amazing show and a packed house. The atmosphere was so great and the whole crowd was singing along. I felt like I was in on a beautiful secret right before it was shared with the rest of the world.
The best post-show food in St. Louis is... South City Diner, of course.
Five current artists worth listening to are... This is a tough question! There are so many! I've really been digging ZZ Ward recently, she has an amazing voice. The Alabama Shakes. I adore everything by Ben Folds because he can play piano like nobody else alive. Emeli Sande has a killer voice. I also can't get Macklemore and Ryan Lewis out of my stereo.
The most difficult lesson I've learned while playing music is... that unfortunately, some people don't always have my best interests in mind. As a musician, the challenge is to remain open to beauty while simultaneously being unshakable. You have to be both vulnerable and resolved, accessible and edgy, impressionable and tenacious. It's a tough line to walk. It's a both/and.
Sarah Bollinger Album Release Friday, August 30, 9 p.m. @ The Gramophone - $10
Follow Sarah Bollinger via her official website, Facebook and Twitter.
Do you know a project or band that should be considered for this series? Drop a line to fillintheblank@riverfronttimes.com.
Previously from our Fill in the Blank series: - Little Big Bangs - Everything Went Black - Lions Eat Grass - Kevin Harris - Laika - Heavy Horse - Barely Free Partial Prisoners - The Defeated County - Lizzie Weber - Kenshiro's - B.E.L.L.A. - Superfun Yeah Yeah Rocketship - Humdrum - The Blind Eyes
Follow RFT Music on Twitter or Facebook. But go with Twitter. Facebook blows.