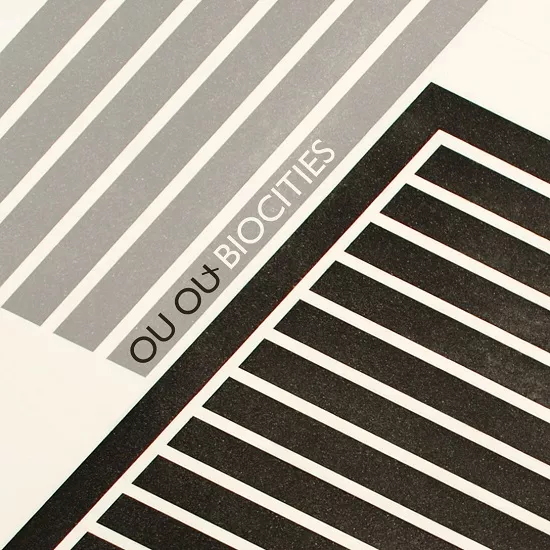 Ou Où Biocities ouou.bandcamp.com
Spend enough time with instrumental ambient duo Ou Où and you'll begin to uncover the twin desires that push and pull at Travis Bursik and Patrick Weston's music. While experimental drone music is at the core of the pair's sound, the songs often have a sneaky way of incorporating traces of electro-pop -- it's almost as if they want you to dance, not just nod along like a goon.
This year's Geocities played with that tension, where slow-building tones rubbed shoulders with the occasional four-on-the-floor beat. For Biocities, the band has invited artists from across St. Louis, including many affiliated with the FarFetched collective, to remix each of Geocities' five songs. You don't need to know the original EP (fine though it is) to dig into this stitched-together digital sampler, but it will be impossible not to be taken aback by each remixer's gifts and their ability to obliterate genre.
By offering up Ou Où's typically rich and amorphous soundscapes, each remixer is able to both honor the source material while letting their own personality and musical concerns shine through. So it's initially jarring to hear acoustic sounds on such proudly electronic compositions; even the glockenspiel pings on CaveofswordS's reworking of "Magnus" serve as a little nod to Kevin and Sunyatta McDermott's own sonic arsenal.
Mikey Wehling's take on the track is both mellow and psychedelic, with his acoustic guitar and effected vocals serving as the most rock-centric revision of these tracks (though the remixes by Golden Curls and Corpse Pose also hammer home the idea that a badass guitarist would be welcome in Ou Où, regardless of how that messes with the duo's sampler-driven m.o.). Eric Hall's take on "Magnus" wins as the set's best mash-up: He ramps up the song's instrumental pulses and pairs them with a sped-up verse care of 18&Counting's Stan Chisholm. That's a lot of differently styled St. Louis music cohabitating on one track.
As the 30-minute mix reaches its halfway point, the beats hit a little harder. Ryan Wasoba doubles the length of "Ant Spiral" and turns the originally pneumatic track into an industrial/hip-hop hybrid that's both jazzy and math-y at the same time. LooseScrewz keeps the tension high on "Kanya (Elektrip)," with dubby sonic booms, buzzy synths and verses from Thelonious Kryptonite. And with Ou Où providing the common thread, these trips through psych and metal and hip-hop don't sound remotely disjointed; here, it's all part of the same tapestry.
Even with one listen through Biocities, it becomes evident that Ou Où has done something tricky and ultimately self-effacing with what could be seen as a vanity project: Weston and Bursik offered up their impressionistic source material as an invitation to each artist. It's a place where JJ Hamon can be both John Fahey and Garth Hudson while staying (mostly) true to the tapes.
Want your CD to be considered for a review in this space? Send music c/o Riverfront Times, Attn: Homespun, 6358 Delmar Boulevard, Suite 200, St. Louis, Missouri, 63130. Email music@riverfronttimes.com for more information.
Follow RFT Music on Twitter or Facebook. Follow RFT Music editor Daniel Hill on Twitter too, if you are into that sort of thing.