Courtesy of the National Blues Museum
An artist rendering of the National Blues Museum
The National Blues Musuem (601 Washington Avenue) sets its sights on an opening in late 2014, which seems awfully far away -- far away enough to induce a melancholy tune, wouldn't you say? Luckily, eager music fans won't have to wait to get schooled on the blues thanks to a special free film and lecture series that begins tonight and runs through October. The series provides a taste of what's to come from NBM, featuring prominent historians and musicians who all share the common goal of educating the public about the impact of blues music throughout American history.
"This lecture series provides an important, adult-oriented education component about a foundational art form, the Blues, presented in a fun and accessible way," says Rob Endicott, chairman of the board of directors for the National Blues Museum. "One of the goals of the lecture series is to demonstrate interconnectedness of the blues to other related music styles, and the continuing direct influence and relevance to today's seminal music and artists."
For its debut event on Tuesday, August 27, guest speaker Dr. Lauren Onkey, PhD, who currently serves as the vice president of Education and Public Programs at the Rock and Roll Hall of Fame and Museum, presents "You Can't Get There By Yourself: Bruce Springsteen's Soul Roots." The lecture begins at 7 p.m. and takes place in the Central Library (1415 Olive Street; 314-241-0478) auditorium.
"Onkey is a great music educator. She's going to explain how important soul music as well as R&B were to Bruce Springsteen's early days of being a musician, and how that comes through in his performances, which celebrate blues, rock, soul and R&B simultaneously," says Dawne Massey, the producer of the film and lecture series.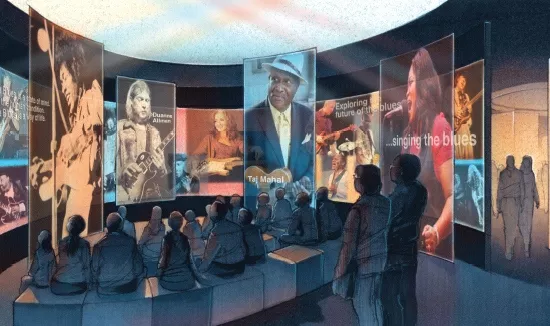 Courtesy of the National Blues Museum
The National Blues Museum will feature plenty of exhibits and public programming.
On Wednesday, September 25, at 7 p.m., music historian Robert Santelli, executive director of the GRAMMY Museum and prolific writer, presents "Rollin' and Tumblin': The Importance of Blues in American Music History" in the Midland States Bank ballroom at the Peabody Opera House (14th and Market Streets; 314-241-1888).
"This program will be a great way for people who don't like blues to hear Bob speak and learn about how important blues was to the creation of other music genres," says Massey, who says some audience members might find themselves walking out as converted blues fans. Check out a video of Santelli presenting a blues workshop to music students at the White House in the video below.
Last but not least in the series, National Blues Museum welcomes legendary songwriter and soul musician David Porter, who along with Isaac Hayes, has composed more than 200 songs for Stax Records recording artists and more in the 1960s. Do Sam and Dave's "Soul Man" and "Hold On, I'm Comin'" sound familiar to you? Get a chance to meet the man behind the music in an onstage Q&A session. The event takes place at 7 p.m. on Tuesday, October 29, in the Central Library auditorium.
For more information on these events as well as the museum itself, visit the National Blues Museum website and follow it on Facebook for updates.
See Also: - The 10 Greatest Alt-Country Bands Ever - Sixteen Songs Forever Ruined By Their Commercial Parodies - Nine Unintentionally Funny Lyrics in Well-Known Songs
Follow RFT Music on Twitter or Facebook. Follow RFT Music editor Daniel Hill on Twitter too, if you are into that sort of thing.