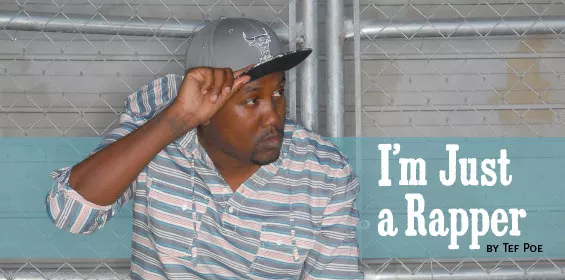 Editor: Tef Poe is an artist from St. Louis city. Through powerful imagery and complicated honesty, he has earned a reputation as one of the best rappers telling the story of St. Louis, which is about much more than one place. Poe has been featured in music publications such as XXL and Urb Magazine. His project The Hero Killer was released on January 21 and will be followed up by a full-length with DJ Burn One entitled Cheer For the Villain. Follow him on twitter @tefpoe. Get The Hero Killer here.
Last week you had to be sleeping under a rock to escape the majesty of Kendrick Lamar's critically acclaimed and confrontational verse on Big Sean's record "Control." The players on this one look great on paper -- we all know any real hip-hop head would jump at the opportunity to hear K.Dot on a track with Jay Electronica and Big Sean. Kendrick spit a verse calling out the top rappers in the industry at the current moment.
See Also: Kendrick Lamar's Debut is One of the Most Important Hip-Hop Albums of Our Era
He caught everyone completely off guard and showcased a level of skill and hunger that hasn't been seen on a high profiled hip-hop collaboration of this level since the early days of the initial Slaughterhouse collabo's. Very few moments in hip-hop share space with this one in my mind. I think about when I first heard Jay Z's Blueprint album and his diss record toward Nas and Mobb Deep. I think about when I heard Nas' response and the entire planet froze.
I knew these moments were historical. When I heard Kendrick's verse I called my manager at five in the morning. We both knew this was historical. My high school friend Rated R knows he can expect a phone call from me anytime anything of this magnitude happens in hip-hop. We've always stopped whatever we're doing to discuss things like this when they take place. I called him right after the phone call with my manager and he answered the phone instantly. I didn't even have to explain to him why. He already knew, and we spent the first two minutes of the conversation laughing and talking about how awesome Kendrick's verse was. From there we predicted who would respond first. We predicted none of the names mentioned in the verse would jump into the water.
On paper the names listed as the features on this track instantly make jaws drop and almost force you to listen to the song. The fact that No I.D. produced the track actually makes me smile because he's oddly slept on for some reason, even though many consider him one of the best hip-hop producers alive. His beats breed classics and this scenario was no different. It's an excellent set up for what would be a ground-shaking collaboration.
The problem with hip-hop collaborations today resides in the fact that they aren't really unique and emcee's often don't try to chew each others' heads off like they did in the days of old. So the listeners are left with a lackluster version of "We Are The World" as the emcee's taunt us about how marvelous their lifestyle is. Jay-Z and Biggie Smallz understood the science of approaching high-profiled collaborations. The motive is simple: Lyrically speaking, it's kill or be killed. But this notion died when collaborating with emcees became more about joining powers to molest Ascap and suck the life out of any type of radio BDS in the land of Clear Channel. So basically now it's all about collabing for the sake of getting a hit a record.
Everyone claims to be the best but no one wants to put their skill set on the line and actually prove it. I was at the studio working late last week when Sean released this track. Tech Supreme played it right before our session ended and I told him we just heard one of the best verses of all times. Even if the bars in this verse were lackluster, the audacity represents a new generation checking in on the age-old feud for the West coast to reclaim its warranted position as leaders of the culture. A kid from Compton had one of the top selling albums of the year. He also claimed to be the "King of New York" on a track. People like Nas, Biggie, Jay-Z, Raekwon and Method Man fought with vigilance to protect this title. Snoop Dogg and his crew Dogg Pound made a classic video knocking over the buildings of NYC in the 90's. Jay-Z has a famous punchline referencing the situation many years after the fact when tensions died down: "While y'all player hate we in the upper millions / Whats the dealings? / It's like New York's been soft ever since Snoop came through and crushed the buildings." These bars are still controversial in certain barber shop hip-hop conversations.
And now, many moons later the world is kicked onto its axis when a young kid from Compton comes through and shouts out one of the original Dogg Pound members Kurupt and claims to be the King of NYC. In today's hip hop climate east coast hip hop is thought to be on its last leg. The young breed of emcees that were supposed to restore the feeling have cranked out a few hit records, but haven't quite cashed in on the assumption that they would be the return of east coast lyricism. There is healthy crop of new breed emcees bracing themselves to be the most influential people of the culture for the next ten years.
The culture is evolving and the new schoolers are all influenced by the 90's era. Kendrick spit a verse challenging all of his current classmates, dissing east coast hip hop and comparing himself to the cultural gods Nas and Jay Z. This is one of the most ballsy maneuvers ever. He also made the world forget that Jay Electronica, one of the best lyricists alive, is also on the same track. In my head when I listen to this track I see people in California doing backflips and high-fiving each other. I see Tupac and Eazy E in Heaven high-fiving each other. I see Ice Cube sitting on the beach with his legs crossed, sipping a tall glass of lemonade.
The problem is, all the east coast responders were rappers we all predicted we would hear from. Jay-Z and Nas are sitting this one out because it's not their plight. They were involved in the Tupac war. They have their scars already applied from defending the coast even though neither one of them replied to Makaveli while he was alive. So here we are in a world where the West is positioning itself to take the crown back and the south is currently on a creative decline outside of the likes of Killer Mike. Unless Eminem drops a classic the midwest really isn't even in this conversation. So Kendrick basically said "the West Coast is back and we're going at everyone's head." And the world went into a frenzy.
Some people understood what was going on and others didn't but couldn't help but take heed. The last time I can think of a song shaking up the pillars to this degree was "Triumph" from Wu Tang Clan. I'm talking about a moment where you knew for a fact that this verse would change everything. Rap music suddenly turned into the war of the worlds as everyone in the galaxy decided it was time to cue in on the conversation and make their version of a response to Mr.Lamar. Kendrick even landed himself on the cover of USA Today. The world completely erupted and everyone scrambled to get in on the actions. The first responder that I noticed was Joel Ortiz. I knew he would come in for NYC because he's one of the only current New York rappers that still has some dignity. Tons of other rappers have weighed in; the most critically acclaimed response at the moment seems to be Joe Budden's. Wishful thinkers like the response from Papoose but I'm not a fan of it, even though it probably is one of the best responses thus far. Lupe Fiasco's "SLR 2" was amazing in my opinion. Cassidy also gave us a decent attempt to hold it down.
Last week was probably the most entertaining week in the history of hip hop. For an entire week there were no rules. Joe Budden said via video "Five years ago no one would've dared to try anything like this." I myself have been a fan of Kendrick and his TDE crew since the days of old and they've actually always thrown shots at other emcees in the industry.
If you don't believe me listen to Ab-Soul's "Hell Yeah" and take notes during the last verse. Hip-hop heads are always looking for a definitive moment in which the culture will finally say we're done with the bling-bling era; it's officially dead. A few people unfortunately overhyped K.Dot's verse on "Control" as a watershed moment that would change everything. Sadly it's not, and now we're back to the norm a week later. Anytime anything overly hip-hopish touches the mainstream people act like it's the second coming of Jesus. This was a very entertaining and historical moment for hip-hop and Kendrick Lamar. But this was not the battle of Lexington and Concord. Suddenly everyone feels inspired and wants to write their most lyrical raps possible. People all of a sudden are rushing to the studio to crank out something special. Reality is we're back to normal starting today and it'll be this way until some one else does something unique and shakes the pillars up again.
People acted like this when Eminem's 8 Mile movie dropped. Suddenly everyone gives a damn about the purity of hip-hop and wants to do their part to add some goodness to the culture. Everyone suddenly feels inspired and is throwing stones at the fence of lyrical greatness. Last week was entertaining. It was amazing; I've always wanted to see what would happen if we lifted the chains of restriction and let every emcee in the world go at it. This may possibly be round one in the new east versus west lyrical war. If it is I think we all agree the west won this round. Aside from this, no, record labels are not scrambling and searching for the most lyrical rappers alive. No, your radio station is not about to reformat itself and stop playing the music they were playing prior to this moment. Are people more open to hearing lyricism on a higher plateau? Yes and no. Some people care more now and some people don't. We're back to normal even though last week everything was chaotic and exciting. This happens all the time, just in different forms and fashions, but now we're back plugged into the matrix until someone else comes along and unplugs us again.
I've never witnessed a rap verse do to the world what this verse did but nevertheless the hype is pretty much over now and we're back on schedule.
See Also: - The Top Ten Ways to Piss Off Your Bartender at a Music Venue - Ten Bands You Never Would Have Thought Used to Be Good - The Top 15 Things That Annoy the Crap Out of Your Local Sound Guy
Follow RFT Music on Twitter or Facebook. Follow RFT Music editor Daniel Hill on Twitter too, if you are into that sort of thing.