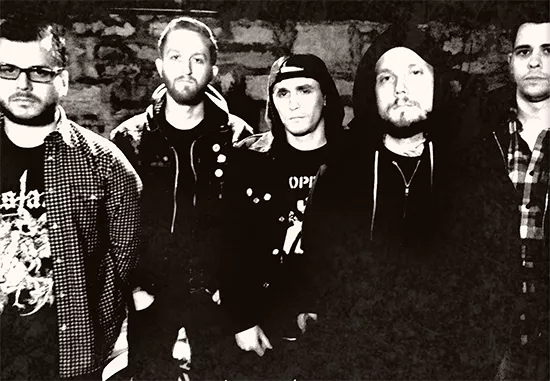 In this weekly column, RFT Music gets to know local creatives, musicians and their missions. Get a slice of the local scene, complete with a snippet of sound and info about upcoming releases and shows. Stick around to see what St. Louis artists have to say whenever they Fill in in the Blank.
Four years ago, metallic hardcore group Everything Went Black played its first show alongside a DIY release based on four songs written by frontman Brandon Hoffman. Since then, the group's been through a lot: the loss of co-founder and friend Shagy Kennedy, a record deal with Prosthetic Records and several tours including stints with hardcore legends, Ringworm.
With a west coast tour as well as continual writing and recording on the horizon, EWB maintains a steady forward-driving momentum. On Sept. 5, EWB will hold a release show for its new three-song EP titled Mosenthein, the first recording with its newest members Josh Van Hoorebeke and Chris Stanton.
See also: - Everything Went Black to Embark on Tour With Ringworm - Everything Went Black Signs To Prosthetic Records
Everything Went Black casts a stark, moody intensity that's impossible to shake and merciless to the core. Guitars lurch forward with commanding heavy metal influence, entangled with gritty hardcore demeanor. Meanwhile, militant, deliberate drumming hits like a machine gun full of blanks to the chest. When faced with Hoffman's aggressive, stark vocals, one can't help but feel affected.
"I write a lot about failure, overcoming situations, religion, anxiety, living and dying. I write stories. I don't believe anyone could sit down and make sense out of any of it. I write for relief. It's not anything that anyone could relate to. It is mostly subliminal," says Hoffman, citing musical influences like Black Flag, Entombed and Neurosis.
EWB released its first full-length, Cycles of Light, on Prosthetic Records in January 2012. Mosenthein, a new EP recorded by Matt Amelung and mastered by Brad Boatright, officially drops on August 27 through Encapsulated Records. The three-song EP features two new tracks as well as a segue featuring the spoken word of Matt Questionmark and manipulated instrumentation by Gina Eygenhuysen of Indian Blanket.
Listen to the track, The Chouteau, below, and look for a physical release on audio cassette, complete with digital downloads of EWB's three other releases.
We invited vocalist Brandon Hoffman to fill in the blanks ahead of EWB's EP Release. Read on to see what he had to say, check out some EWB videos and get info on upcoming performances.
I named my band Everything Went Black because... Brandon Hoffman: Well, I owe a lot to Black Flag. They were one of the reasons I got into any of this. A friend let me borrow Wasted Again by Black Flag freshman year as well as Static Age by The Misfits. Without sounding too corny, I often wonder where I would be, what I would be doing with my life or what kind of people I would be surrounding myself with if I hadn't discovered hardcore. I have had friends come and go, been though some of the most difficult situations in life, and for some reason I feel like one of the only things that stuck was music. The band had a major impact on my life, the name had a ring to it, fair enough.
I make music because... I was never really into anything else growing up. It keeps me sane.
I've learned the most from... working in music venues and being a promoter. Here is my advice to bands: Stay humble, be respectful. Don't ask stupid questions, and if you can't draw over 20 people you don't have any room to bitch about anything.
The most memorable show I've ever played was... I sang for an old punk band from St. Louis called Very Metal when I was 18. We played a show in Tampa, Florida with some goth bands and some nu-metal bands. We obviously did not fit in. The bar wouldn't let me in except to play and then I had to leave immediately after our set. Everyone else in the band was way older than I was.
I sat in our van and got drunk before our set because I was mad about whatever. During the first song in our set I fell back and split my arm open on my drummers ride cymbal. I started bleeding everywhere. The crowd kept giving me dirty looks, so I started smearing blood all over myself and somehow managed to break a microphone during our set. The sound guy wouldn't pay us because of the mic so something probably happened to his windshield before we left. I was drunk though, so..
The St. Louis music scene could use... good vibes? I don't know. I don't have any complaints about our music scene. We have a ton great bands and musicians in St. Louis. I think if anything, people should attend more shows. The local bands here should do some traveling.
Five current artists worth listening to are... Deafheaven, Black Mask, Bastard, White Fire, The Lion's Daughter.
The most difficult lesson I've learned while playing music is... being in a band is really expensive.
Everything Went Black EP Release Thursday, September 5, 8:30 p.m. w/ The Lion's Daughter, Jack Buck, White Fire, Choir Vandals, Matt Questionmark @ The Firebird - $7
Everything Went Black Wednesday, September 18, 8 p.m. w/ Twitching Tongues, Angel Du$t, Resolute @ Fubar - $12-$15
Follow Everything Went Black via Twitter, Facebook and Instagram.
Do you know a project or band that should be considered for this series? Drop a line to fillintheblank@riverfronttimes.com.
Previously from our Fill in the Blank series: - Lions Eat Grass - Kevin Harris - Laika - Heavy Horse - Barely Free Partial Prisoners - The Defeated County - Lizzie Weber - Kenshiro's - B.E.L.L.A. - Superfun Yeah Yeah Rocketship - Humdrum - The Blind Eyes
Follow RFT Music on Twitter or Facebook. But go with Twitter. Facebook blows.