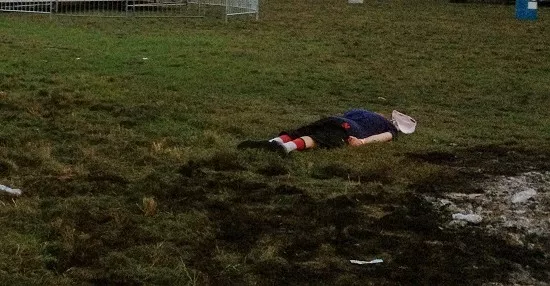 I worked as a garbage man for a few months back in North Carolina during a dark period of my life. It was awful. I'd get in a pick-up truck every day at 9 a.m. and watch my boss drink beer and smoke weed on the way to being immersed in disgusting waste. In retrospect, if he had been younger, my boss probably would've been a Juggalo because, holy hell, these people are surrounded by an impossible amount of garbage. Although a sad reminder of how we've wrecked the planet just for fun, we've decided to make you feel better about the time you threw away those plastic Chinese food containers instead of saving them.
See Also: - Our Complete Gathering Coverage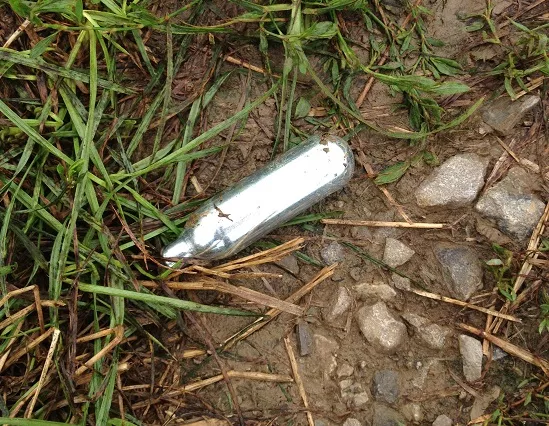 Whip-It Canisters and Balloons
One of the most common things consumed on the grounds was probably nitrous oxide. Balloons and canisters everywhere. While we've mentioned the plethora of drugs available at the gathering, the consumption of nitrous oxide is particularly unfortunate because of how terrible the stuff is for you. I beg of you, Juggalos, listen to me: This is a cruel and awful world. You need all the brain cells you can get.
A Whip
We found a whip in a small clearing toward the river. It was sitting next to some bushes and a pair of dumpy clown pants. We didn't see any lions at the Dark Carnival, so that rules that out that explanation. I have a feeling I'm going to have the term "dumpy clown pants" in my head for the next year now.
Jesus Literature
"Yo, man, there's some Jesus freaks at the entrance giving out free food. You just gotta go talk to them."
Then you just throw their pamphlets on the ground, simple as that. These guys appeared toward the end of the festival. I definitely caught a girl in a black-metal T-shirt weeping while holding hands and praying with two other guys. I have to admit, "From Juggalo to Jesus Freak" is a pretty decent tag line for an organization.
Empty Drug Bags
Empty drug bags were scattered about everywhere. It was just kind of an accepted thing; when we sat on a bench and talked to a guy who was running the festival, a bunch of drug bags were just sitting there. No big whoop-whoop.
Full Drug Bags
Someone decided they had too many drugs so they did what they do when they have too many Moon Pie wrappers and Hot Cheetos bags: They threw them on the ground.
Shoes
There were just a bunch of goddamned shoes on the ground. Not just flip-flops, either. Boots, tennis shoes, heels -- all sorts of decent footwear that you absolutely don't want around when you are on a ton of acid and want your feet to stop twirling around in circles.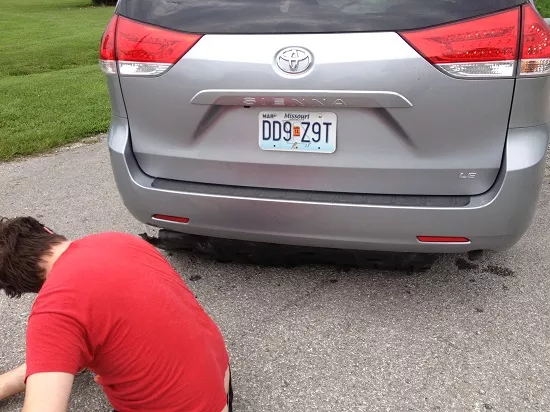 Part Of Our Car
We were driving away from the festival after Daniel got a seat-belt ticket from a cop named "D. Money." He broke cop-mode for one minute to ask us if we were Soulfly fans, a precursor to a few minutes of nerding out about Sepultura with an officer of the law. We got to the main road and had a guy flash his headlights at us. Assuming he was just expressing clown love, we then ran over a ladder. Part of the Narc Van fell off. I slept on it later. We weren't the only people who lost part of our transportation apparently -- we also found a wheel of some sort.
Juggalos
In the interest of performing the most thorough and mentally excruciating coverage of the event, Daniel Hill and I typically stayed awake throughout the entire evening and into the morning. While examining the ground for objects of interest, we found passed-out partiers laying nearly everywhere while the festival crew swept trash around them. Most impressive is the kid who managed to make his way on the landing that held all the audio gear, giving him a flat surface to provide support to his back, neck, and shoulders. Bravo, young man.
Me
I fell asleep twice the first evening of the Gathering. My rookie reporter body protesting as hard as it could, I first fell asleep in a field and lost my phone for a bit. Later, we made our way to a beautiful clearing that almost made us forget about the horrors only 50 feet behind us. I slept on a bunch of rocks, prying my eyes open occasionally to watch the sunrise over the river. Then someone yelled at us for being back there.
See Also: - Ten Must-Have Items When Camping with Juggalos - Gathering of the Juggalos: Misconceptions and First Impressions - Death Reported at Gathering of the Juggalos; Drug Bridge Closed - Ten Things You Do Not Need When Camping With Juggalos - Behold the Waking Nightmare of Juggalo Port-a-Potties - The Gathering of the Juggalos' Best Overheard Quotations - Death at the Gathering of the Juggalos: "Four Dudes That Had Been Sleeping With a Corpse." - Juggalo Eats and the Quest for the Mystical Burrito Man - Here Are the Things That Happen After 5 a.m. at the Gathering of the Juggalos - This Incredible Make-A-Wish Teenager Went to the Gathering of the Juggalos, Got a Lap Dance (NSFW)
Follow RFT Music on Twitter or Facebook. Follow RFT Music editor Daniel Hill on Twitter too, if you are into that sort of thing.