[image-10]
This week, catch the Appleseed Cast, Sin Motivo, Father Figures, Chuck Prophet and more. Chuck Berry also plays his monthly show this Wednesday -- it's sold out, but take that as a reminder that you should purchase tickets to see him next time around while you can! More recommendations on what to see this week follow.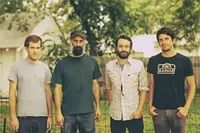 The Appleseed Cast Monday, August 12, 7 p.m. w/ Des Ark, Heartscape Landbreak @ Off Broadway - $10-$15 By Roy Kasten On this year's Illumination Ritual, the Appleseed Cast crafts some of the prettiest and tautest instrumental passages of neo-progressive rock heard since the heyday of Built to Spill. And then the Lawrence, Kansas band jams the bejeezus out of them -- melodic as Moby Grape, mathy as Slint, while never turning its collective back on the simple saving grace of actual song form. Singer (and sole original member) Christopher Crisci may be anxious about emo tendencies -- he prefers to submerse his vocals in squalls, scribbles, chimes and lively drum solos that aren't quite drum solos. And "loud" doesn't even begin to describe what the Cast can do live.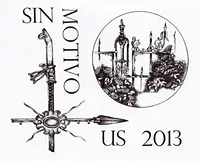 Sin Motivo Tuesday, August 13, 9 p.m. w/ Times Beach, Ruz @ Black Space - $5 By Jimmy Eberle From "The Best St. Louis Punk/Hardcore Shows in August:" Denton's Sin Motivo will be coming through to tel us our mexican food isn't cool. The band has a sound eerily similar to their hometown hype heroes Wiccans, referring to fast, catchy-as-all-hell hardcore punk that can fall apart into a chaotic mess at the drop of a hat. Times Beach got a write up in MRR comparing them to Total Control, so I'm sure they'll give themselves backhanded compliments for that. Seriously, band is about to blow up. Rüz is fast, new, and dumb. Hide your bandanas, hide your knives.
Chuck Berry Wednesday, August 14, 9 p.m. @ Blueberry Hill - $35 By Jaime Lees From "Why You Should Go See Chuck Berry As Soon As Humanly Possible:" As residents of this city, it's hard to get perspective on just how amazing it is that Chuck Berry, the dude who probably invented rock and roll, plays here monthly. And that tickets-- while they need to be bought in advance-- are mega cheap, relatively. We don't want you to miss out on this opportunity so let's go over some of the reasons that you, St. Louisan, shouldn't wait any longer to go see the legend in action.... People from all over the world save up for years, spend their life savings or dip into their retirement funds just for the opportunity to travel to the States once to see Chuck Berry play. Each show is full of international travelers and usually more than one celebrity attendee.
Father Figures Thursday, August 15, 8 p.m. w/ Animal Children, Brotherfather @ Foam - $8 By Mabel Suen Father Figures, comprised of members of other performing projects including Man Man and Matthew Dear, categorizes itself as "zombie jazz." True, the majority of its tunes tend to lurk in minor keys, but there's no way the undead could sound this lively. The quintet's parts move flawlessly throughout each other, with two tenor saxophones and a set of keys expertly dancing intricate lines of melody around a frenetic rhythm section comprised of drums and upright bass. Based around jazz modalities and beats yet wandering into the depths of progressive post rock, the group's compositions feel tightly composed with just enough slack for subtle experimentation.
Excision Friday, August 16, 8 p.m. w/ Brillz, Torro Torro @ The Pageant - $25/$30 By Evan C. Jones From "The Best EDM Shows in St. Louis: August 2013:" Bass heavy hitter Excision, the pride of Kelowna, British Columbia, will drop into The Pageant later this month. The DJ/producer also runs Rottun Recordings with fellow Canadian producer Downlink. His 2007 release "No Escape" (on his own label, of course) sold out and was later re-pressed due to the demand for his attacking style of dubstep. Also featured on the bill are more fellow Canadians, the duo Torro Torro, and multi-genre producer Brillz (who we recently spoke with).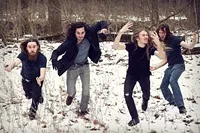 Black Fast CD Release Friday, August 16, 9 p.m. w/ The Lion's Daughter, The Gorge, Bastard @ The Firebird - $8-$10 By Rick Giordano From "The Best St. Louis Metal Shows in August 2013:" Black Fast has been on the scene in St. Louis for several years now and has never released a CD, never printed a t-shirt, never had an official website, and never really tried very hard to promote itself in any way. That said, it is also one of the hardest working bands in town. Where most bands, local or otherwise, will focus its energy on getting shot glasses and panties with their logo on it or just bugging the shit out of people on the internet, Black Fast has been doing the unthinkable: writing and rehearsing songs. Really, really good songs. Ties to early Kreator, Death, and even Voivod are easy to hear in Black Fast's music -- important and groundbreaking bands that are too often overlooked by today's generation. And although most of its members are in their early twenties, you won't find a single corny breakdown for the bros to mosh to or forced "chorus" to attract female listeners. Black Fast is simply a frantic and calculated heavy metal attack. It's been several years in the making, but finally with a recording by Smith Lee Productions and new artwork by Coby Ellison, this disc will have been well worth the wait.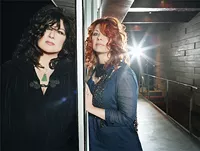 Heart Saturday, August 17, 7:30 p.m. w/ Jason Bonham's Led Zeppelin Experience @ Verizon Wireless Ampitheater St. Louis - $20-$769 By Jaime Lees Heart is well into four decades of musical success, and that success was built on the skills of Ann and Nancy Wilson. The sisters led an accidental feminist revolution by doing everything that the boys of '70s rock did, but better. The ladies of Heart didn't just keep up with their male peers, they blew them away. Ann's powerful voice and Nancy's expert guitar playing always set the band apart, and it is their irresistible combination of skilled songwriting and musicianship that has earned them well-deserved international fame. From power ballads to rock burners to sweet folk tunes, the Wilsons have done it all over the years, finding commercial hits with songs like "Crazy on You," "Magic Man" and "Barracuda."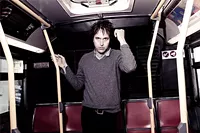 Chuck Prophet Saturday, August 17, 9 p.m. w/ The Jans Project @ Off Broadway - $12-$18 By Roy Kasten From the weird laboratory that was Southern California in the '70s and '80s, Chuck Prophet emerged as one of its greatest rock & roll test tube babies. He made an early mark in the Paisley Underground before becoming a prolific solo artist and leader of the Mission Express, a veteran touring band so light on its electrified feet it couldn't possibly play music so heavy. But they do, driven by Prophet's witty and daring wordplay, as tapped in to rockabilly and Lou Reed as Bob Dylan. Punk, blues, country, surf and soul all fuel Prophet's music. He's that rare artist who can make it all sound like him and him alone.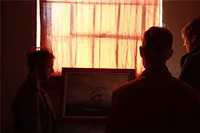 Britches Sunday, August 18, 9 p.m. w/ Frankie Teardrop @ CBGB - $5 By Joseph Hess From "Experimental: Meet the 2013 RFT Music Award Nominees:" Britches crams atonal sound into neat rhythmic boxes. Guitarist Marty Reutter belts like a twisted choir boy through processed vocals. Bryant Hoban's nasty waves of bass build under Andrew Carter's subtle but heavy percussion. Carter's beats take on minimalist melody through low toms and sharp snares. This power trio rips like a broken keyboard, smelling of burnt circuits. The whole affair repeats in zen-like fashion, breaking only to build in variations. Ever the schizophrenics, Britches break the occasional set with long squalls of static and hum. Reutter's moaning throat cuts through rumbling strings, and off-mic screams stab deep with sporadic bursts.
Note: Though we wish we could, we can't feature every great show happening in town in just one measly post. Look for plenty more recommendations this Friday in our weekend shows post, and peruse the St. Louis concert calendar for more ideas any time. Let everyone know what else you're looking forward to seeing this week in the comments below, and send show tips any time to clubs@riverfronttimes.com to be considered for inclusion on these lists.
Follow RFT Music on Twitter or Facebook. Follow RFT Music editor Daniel Hill on Twitter too, if you are into that sort of thing.