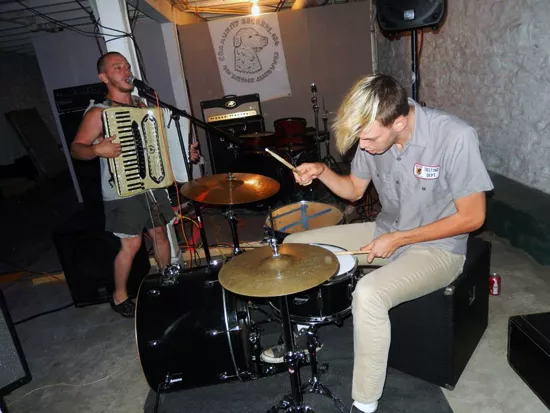 Stephen Houldsworth
Lions Eat Grass tear through a quick set at Blank Space in late June 2013.
In this biweekly column, RFT Music gets to know local creatives, musicians and their missions. Get a slice of the local scene, complete with a snippet of sound and info about upcoming releases and shows. Stick around to see what St. Louis artists have to say whenever they Fill in the Blank.
Faint melodic strains under scatter shot percussion mingle with throaty yells, birthing quirky tunes. This Illinois pop duo, armed only with voice, accordion and drums, blasts through rough-edged songs with dry lyrical humor. Lions Eat Grass might be at the top of their class, probably because they stand alone with a style no others dare to touch.
Lions Eat Grass crafts polka-meets-punk with throaty vocals that poke fun at the overblown crooning of most singers. The substance here sits with each live show, which give justice to the unhinged pieces of each swerving song. Vocalist and accordion player John Beabout even throws out an acappella piece that muses on buried insecurity.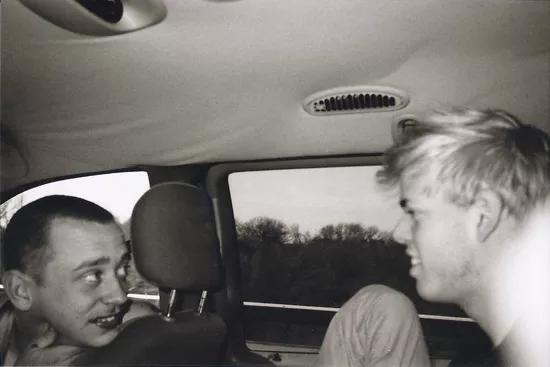 Ryan Birkner
Lions Eat Grass in the tour van on their recent west coast tour.
Based out of Lebanon, Illinois, Lions Eat Grass formed in early 2012. After hearing quick demos of Beabout's solo efforts, drummer Adam King knew he wanted to collaborate. Nearly one year later, the band released its first full length, Wednesday, on Sean Ballard's Fragile Friends label. A split with Ballard's own band Stonechat is on the way.
Lions Eat Grass hit the road in July and toured through the west coast and back. While performing their sloppy pop, both heads behind Lions Eat Grass worked as the backing band for Carte de Visite, a Belleville based group led by Ryan Birkner. Luckily, the band survived tumultuous touring, so we asked drummer Adam King to fill in some blanks about the recent trip.
Click through to see what King had to say. Our most recent tour was... a true blessing from a great deity.
The best show on tour was... a packed basement in Norman, Oklahoma with levels full throttle. People laughed out loud.
The biggest bummer about the road... was the long day off we spent driving through the desert. We stopped in Winslow, Arizona to swim at the public pool, only to find out that it was closed for lessons all day. This was extremely depressing. We ate some food and milkshakes at Sonic, and this also turned out to be insanely depressing. Thankfully and surprisingly though, the desert was actually very cool that day.
Five current artists we like... Stonechat Dan Drake Ensemble Chicago Underground Duo Sam Swinson Roy Colbertson
I've learned the most from... "The sources that produce truth" says John. "Bob Hope" says Adam.
My favorite aspect about being in a band... is the mutual strength that stems from multiple people. The giving and receiving and having and sharing. Being in a band with a good friend and making music that you care about is a stimulating and motivating experience that makes you feel better.
I make music because... the ground of my being is roused to and the voices in my head have told me to.
The St. Louis music scene could use... more weird times. No more Es and F#s.
Follow Lions Eat Grass via its Facebook Page right here.
Do you know a project or band that should be considered for this series? Drop a line to fillintheblank@riverfronttimes.com.
Previously from our Fill in the Blank series: - Kevin Harris - Heavy Horse - Barely Free Partial Prisoners - The Defeated County - Lizzie Weber - Kenshiro's - B.E.L.L.A. - Superfun Yeah Yeah Rocketship - Humdrum - The Blind Eyes
Follow RFT Music on Twitter or Facebook. But go with Twitter. Facebook blows.