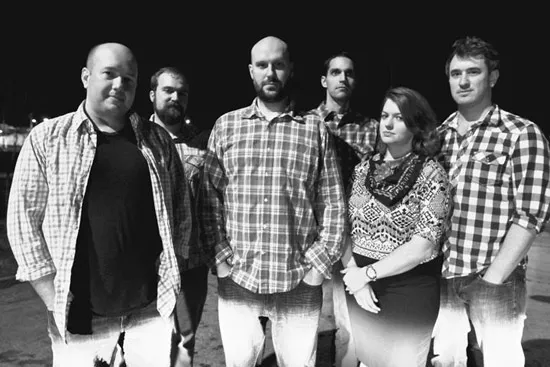 Nate Burrell
The Dive Poets
Toward the end of our interview, Eric Sargent, songwriter and lead singer of veteran St. Louis band the Dive Poets, has to take a quick break to tend to his six-month-old daughter. Along with teaching high school English, being a father is his main gig. It's not that making music isn't important; it's just that life is bigger and more demanding than being in a rock & roll band.
Married to Your Ghost is the Dive Poets' second release, an album filled with songs that shuttle between ragged but tuneful rock & roll and ruminative ballads with lush country flourishes. The songs negotiate regret and relationships, personal ghosts and the shared spirits of pure, collaborative music making. It was principally recorded with Jason McEntire at Sawhorse Studios in fits and starts over the span of three years, at time of marriages and kids and growing up, even when one thinks there's no more growing to do. The band -- Karl Eggers on guitars and vocals, Anna Drexelius on viola and vocals, Jeff York on bass, Renato Durante on drums and Christian Schaeffer (a long-time Riverfront Times contributor) on keyboards -- sounds as tight and intuitive as any band in town. And despite the long slog towards completion, the album never sounds labored or over thought. Though they've all been playing these songs for years now and are eager to move on to the next project -- apparently largely written -- the Dive Poets work together like playing rock and country and folk as well as you can still means something, because it does.
I sat down with Sargent over coffee in Maplewood to talk about his band, which is set to release Married to Your Ghost with a party at The Demo on August 10.
Roy Kasten: How do you think the record would have been different if you'd been able to finish it sooner? Three years isn't that long, but some bands might just give up on the recording, if not on being in the band altogether. Eric Sargent: It made for some interesting nights in the studios. On some songs it might have given us too much time to think, and that might have bogged us down a bit. Overall, we'd all agree that we wish this could have come out a year ago. Maybe we could have pulled that off. The next project is 85 percent written, and we've been toying around with those songs. We're anxious to get to that next level.
Do you think the sound would be different?
That's a tough question. As a band, we're evolving; Karl just keeps getting better and better; his ear is just amazing now. The next album will probably have more banjo, because he's superb at banjo now. I think that we were hitting on all cylinders, then we took a break, and we had to relearn playing with each other. Live, we're instrumentally pretty tight, and we had to work back into that, because we'd forgotten about each other.
What do you think it is about the fusion of rock & roll and country music? Why is that the sound of the Dive Poets?
I grew up listening to the Cure, the Smiths, the Lightning Seeds for crying out loud. Country music wasn't on my radar. But I learned to appreciate it, the classic stuff and the newer stuff. With writing, it became my default. I should mention these buddies of mine from San Antonio and Montana; they were coming back to town and playing Slaid Cleaves and guys like that. I thought maybe I can pull that off. I met Karl and said I'm looking to start a band; he was in an indie pop band, Wydown, that fizzled out. He's from middle Missouri, and he wanted to get back into country music, the music his parents played. It was a natural progression: I was strumming these songs on an acoustic guitar, and he just ran with it with the Telecaster leads.
What was the first dive the Dive Poets played?
We used to play this place called Dogtown Italiano. I don't know how we got hooked up with those folks. It was down by Bevo Mill. We didn't have enough songs to play, so I'd do Ryan Adams covers for the first hour. The first night, there were these guys yelling, "Play Staind! Play Staind!" I said, "Sir, I don't even know what that means." Then a fight broke out that first night, and we realized we were a good old-fashioned country band. We played Atomic Cowboy, and then Off Broadway. Once we had that under our belt we went forward.
This simplifies things more than a bit, but maybe it fits: If you think about the fusion of country and rock & roll music, there's the backwards looking aspect of country, the tradition, the past means a lot. Rock & roll is forward looking. And those things come together in your songs. The first song on the album, "My Papa's Song," is you making sense of yourself as a father by trying to make sense of your own father.
It's weird. Before I thought I needed to write country songs, with the same clichés, spinning a cliché in a new way. But lately my writing is more autobiographical. I'm forced to reflect on my own family and living here in the Midwest. And my Catholic guilt is coming back too.
The song "For Now" is dedicated to Patrick Kavanagh, the great Irish poet, right? I'm failing to make the connection in the song.
When I wrote the song, I was in a master's class, and we were reading The Great Hunger, and we came to the section where every line starts the same way: Sitting on a wooden gate, sitting on a wooden gate. I loved that repetition. The poem is about the monotony of the speaker's life. So I updated it to a guy sitting at a bar, not doing anything, listening to the jukebox, hoping that his life will change. He knows he'll never get his life together unless he gets his ass in gear.
One of the oldest songs on the album is "Cherokee Nights." I think of all the songs that could be evocative of the south St. Louis scene or milieu, that song captures it as well as anything.
I'm glad that came across. I have close friends who've heard that song, and they don't like it, and I have other people who do. I'm always wrestling with whether it's good enough. But that's what any writer is doing. You wonder if it's capturing your intention. We've gotten much mileage from that song over the years.