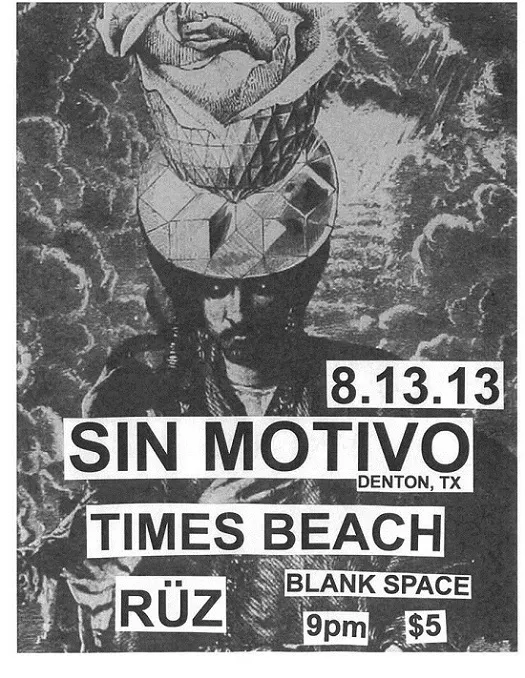 Are you sick of being responsible? Does it annoy you to have to follow rules or be pro-social? Do you like basements? Well, if you are a goofy, degenerate weirdo who doesn't quite fit in anywhere else, you might consider our city's hardcore/punk shows.Your underlying anger problems can be brought out to their fullest potential (in a positive way). These are my recommendations for great local and national bands that don't play five-minute (marathon!) songs or remind you about drink specials. General rule of thumb: If you have five bucks and can show up by 9 pm., then it's go time in the pit. One, Two, Fuck You!
See Also: - Punk's Not Dead, It's Having a Mid-Life Crisis
[Disclosure: The author of this article is in bands, some of which will be playing some the following shows. But the author of this article is in five (maybe six now? I can't keep up) local punk bands, so that is kind of an inevitability. It does not influence the choosing of these shows.]
Sin Motivo, Times Beach, & Rüz @ Blank Space: Tuesday, August 13 9 p.m./$5
Denton's Sin Motivo has a sound eerily similar to their hometown hype heroes Wiccans, meaning fast, catchy-as-all-hell hardcore punk that can fall apart into a chaotic mess at the drop of a hat. Times Beach got a write up in MRR drawing comparisons to Total Control, so I'm sure they'll give themselves backhanded compliments for that. Seriously, though this band is about to blow up.
Rational Anthem, the Humanoids, the Haddonfields and Better Days @ Fubar: Wednesday, August 14 8 p.m./$7
Darren from the Haddonfields got Rational Anthem to return to our fair city and tricked a bunch of his friends' bands into making the show longer. Together, their pop-punk trickery will attract all the most well-known local members of the wrong element to this show. Worth noting: The Humanoids will have Bob Monroe filling in second guitar duties at this show. The Haddonfields will also have a new face at, in the form of Partee Nate from Guy Morgan on guitar. Make them feel welcome.
Voight-Kampff LP release show w/ Sucked Dry, No Problem and Trauma Harness @ Ask A Punk: Saturday, August 17 9 p.m./$7
This show/homecoming party will serve as the record release for Voight-Kampff, one of Deranged Records newest signings. Friends from all over are coming to celebrate VK's recent luck in the catchy gloom department -- Sucked Dry is high-tailing it in from Kansas City to scorch through a set of powerviolence mayhem. Alberta, Canada's No Problem are making this a tour stop for its Adolescents-esque jams (also on Deranged). Trauma Harness will make sure everyone's nice and uncomfortable at the top of the night with plenty of reverb and broken equipment. What better spot for a show than a dingy basement in the city?
Parasites, Flamingo Nosebleed, Eaten Back To Life, The Haddonfields, Better Days and Typsetter @ Fubar: Friday, August 23 9 p.m./ $8/10
This particular Friday night will be jam-packed with crunchy, melodic hook-y goodness. It doesn't seem to make much sense to write the description of each of these bands when they've been covered before or cover the pop-punk territory, besides Parasites and Typesetter. They don't live here. They get a couple sentences. Parasites have been playing power-pop and touring since 1987, plain and simple. It rules. Typestetter make everyone's girlfriend boy-crazy with loud, note-y pop punk that will either drive you to drink or make you get laid.
See Also: - The Top Five Notes on My Bass Guitar - The Top 10 Rappers to Whom You Can't Tell Nothin' - The Eight Smoothest Songs of the Seventies
Follow RFT Music on Twitter or Facebook. Follow RFT Music editor Daniel Hill on Twitter too, if you are into that sort of thing.