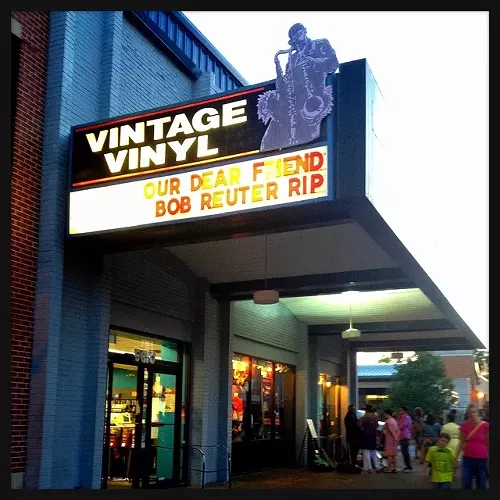 [Update 8/7: Added now are remembrances from Tom Huck, Evan Sult, and an e-mail exchange between Reuter and Andy Lashier.]
[Update 8/6: We have added two more tributes, one from Larissa Rook of Wormwood Scrubs and one from KDHX DJ Nick Acquisto. Both can be found on page 11 of this post.]
[Update: Since this article was originally published we have added tributes from Kentucky Knife Fight's Jason Holler (page 9), Joe Thebeau of Finn's Motel and local artist and musician Dana Smith (page 10). Click on the names that follow to jump to the pages with individual tributes from the original post: Randall Roberts / Erin Wiles / Steve Carosello / Shaun Morrissey / Little Rachel Fenton / Mario Viele / Ellen Herget / Matthew Frederick / Jeff Hess / Brett Underwood / a story contributed by artist Red Mouth, written by Bob Reuter.]
I got the call early, about an hour and a half before the news hit the Internet. My friend Jim was on the phone. The tone of his voice was calm and reassuring -- gentle, even. Bob Reuter, he explained, was dead. Over the next few minutes we talked each other through the shock as best we could. Then Jim offered a short list of people who would be good for a quote or two on Bob's life.
See Also: - R.I.P. Bob Reuter, St. Louis Music Legend: Man Who Fell Down Elevator Shaft Identified
What follows here is a collection of uncensored stories from many of the people -- musicians, writers, fellow KDHX deejays -- whose lives were touched by Bob Reuter throughout the years. We're working hard here at the Riverfront Times to gather your memories of Bob's work and life. It's something that we take very seriously, and we feel that his story is best told by his friends, colleagues and fans.
Many people have stories yet to share, so check back frequently. This page will updated as the contributions continue to roll in. And please, feel free to write your own story in the comments below.
Like many others, I have my own history with Bob. There are better stories to be told, so I'll keep it brief.
I met Bob in the late '90s when I was just a teenager. He circled me like a hungry wolf and asked me to come over to his house so he could take my photo. (I was his type: artistic with bleached hair, severe eyeliner, short skirts and photogenic breasts.) But I knew Stranger Danger when I saw it, and I told the old perv to get lost.
But he never disappeared and neither did I. We shared the same friends, the same venues and the same scene for years. And as time went by we came to know each other, and I (mostly) forgave him for being such a creeper back in the day.
Bob and I didn't always get along, but it never went past the general head-butting of two people who both like to be in charge and don't take any shit. It was never that serious, anyway. If anything, I think he was impressed by my frequently sassy attitude.
But at no time when I was annoyed with him did I belittle his work.
He couldn't be considered an expert at most things he did, but that wasn't the point. The point was that he did it anyway. His photos, while frequently blurry and and technically imperfect, captured the vibrancy of St. Louis and its inhabitants. In my opinion, his radio show (Bob's Scratchy Records) was the best on KDHX (88.1 FM). And his music was always great, but it became absolutely stellar when he hooked up with the geniuses at Big Muddy Records.
In one of my last private e-mail exchanges with Bob, I praised Big Muddy founder Chris Baricevic as the "biggest badass in St. Louis." He concurred, writing, "He's believed in me from the start and worked selflessly on my behalf. I owe him for a life turn-around." I spoke with Baricevic on the evening that Bob died and was relieved to learn that Bob's family, his bandmates, were all mourning together that night.
It's this kind of stuff about Bob that I choose to remember. He said lots of nice things when nobody else was listening. He often sent encouraging words out of nowhere. He inspired the younger generation, and he made connections with scores of unlikely folks. He was difficult, but he was worth it. And his music, art and tireless documentation of the city and its people will be his legacy.
Randall Roberts, former KDHX DJ, former music editor of the Riverfront Times, current pop-music critic for the Los Angeles Times:
In an interview last year with the RFT, Bob Reuter explained one reason for the volume and variety of his creative output: "I decided that when I die, I'm going to leave a ton of shit that people can look through and know about me when I'm not here."
This is the story of one piece of that shit.
During the final broadcast of my KDHX radio show, Sovereign Glory, which ended in the spring of 2007 as I was preparing to move to Los Angeles, Bob showed up carrying a black book about the size of a Bible.
I'd known Bob in the way that many did: hanging around bars, clubs and KDHX. Over my years in St. Louis I'd witnessed him play gigs both hellbent and heaven sent, watched as he blew opportunities and burned and rebuilt bridges with eyes and intentions that were sometimes hard to read, but whose presence seemed an essential ingredient of south city's creativity.
The singer/photographer/DJ, of course, wouldn't be caught dead with a Bible, and as he entered the air studio he handed it to me. The cover was handmade, featured a thick red cross glued to it along with the words "The Last Broadcast." Affixed was a cutout of a classic image from the 1950s depicting rows of moviegoers wearing 3D glasses and staring at the screen.
The book was a farewell offering, he said, a project that he'd worked on over the years while listening to Sovereign Glory. It was thick, its cover curled like it'd sat on a humid porch throughout a St. Louis summer.
Bob wished me luck on my move, I thanked him, a bit dumbfounded. I leafed through it quickly in the studio while cueing up my next record. That's all remember about the exchange, but in the six years since, "The Last Broadcast" has become an object I cherish -- and over the past 24 hours its messages have been pouring out. Once a blank-paged diary, it is filled with 300 pages of collages, the result of hours spent listening to music, cutting and pasting.
For the book's frontispiece, for example, Reuter refashioned a torn-out image of Irish Republican Army freedom fighter Bobby Sands near the end of his hunger strike, emaciated and staring blankly at the ceiling.
Below it, Bob had attached a clipped-out quote from blues singer Son House's "Preachin' the Blues."
I met the blues this morning, walking like a man I met the blues this morning, walking like a man I said, 'Good morning, blues, give me your right hand.'
Pages of collage follow, each flip revealing blasts of imagery and glimpses of Reuter's wry, cynical wit. A photo of a crack-addled woman with a glued headline, "Tomorrow, the World." Elsewhere on the page is a caption clipped from a book review: "... killing herself by penetration of the heart with knitting needles while Archer and the husband are talking in the same room."
Weird juxtapositions abound. One page features a twisted black-and-white photo of a man standing on a porch in a gnarly, hand-sewn bunny costume. The ears are cockeyed, and the bunnyman has his arm around a matronly old woman. "Mysteries of the deep," reads the cut-out caption.
There's an image of his long-time photographic muse, Shanna Kiel, holding a gun, stuck to a blurry photo of a horse-drawn stagecoach. A picture of rockabilly hero Ronnie Hawkins is accompanied by a Reuter-scribbled caption, "Adonis in Brylcreem - age 17." Lee Hazlewood with beefy mustache sitting with two kids wearing fake ones. Single-panels of Chris Ware and Charles Burns comics juxtaposed with action shots of baseball players from the 1950s.
Just as revealing are the quotes, quelled from various printed sources -- sentences and paragraphs, interview exchanges, headlines, all cut and re-contextualized: "The most beautiful thing we can experience is the mystery," reads one, stuck atop Henri Cartier-Bresson's 1931 photograph of a bowler-hatted gentleman standing in the rain, the long stem of a cigarette holder extending from his lips.
"I stayed left and they went right," accompanies a illustration of a future-boy flying through the air propelled by a backpack helicopter.
Another creepier one: "In 'Mojo Farmer,' a widowed farmer plants a garden of murdered cats and whispers secrets to a scarecrow whom he has lovingly dressed in his dead wife's clothing."
"Truth is chaos."
"Farewell is a lonely sound."
The collages jump from pages, mysterious messages only Reuter could translate but which combine to offer a kaleidoscopic look within a complicated, ever curious head. "The Last Broadcast" is one of my most cherished gifts because it not only recorded a man's creative mind, but confirmed an otherwise unknown relationship that all DJs aspire to have with listeners: To play music that connects with untold others and fuels the spirit. Too, the book is a physical manifestation of both my time spent sharing music and his time occupied receiving it. That its contents are variously surreal, inspired, profound, bitter, cynical and defeatist shouldn't be surprising to anyone who knew Bob.
The circumstance of his death -- he fell down an empty elevator shaft in downtown St. Louis -- is hard to digest. By all reports, he'd been as happy as he'd ever been. (I had only seen him a few times since moving.)
But I'd like to think that such a strange and tragic demise would have sparked a touch of giddy electricity within his creative self, especially one particular sentence written by veteran St. Louis news personality Betsey Bruce in an online report on his fall. "The access to the door was open and the individual was able to step in and felt the elevator was there and in fact it was not."
I'd like to imagine him sitting alone, lost in music, snipping that statement out of a printed report, appreciating both the irony and symbolism. Each step forward, after all, is an act of faith.
He'd glue it on an empty page, then start scouring for the next piece of the puzzle. Hopefully he'd find a weird complementary photo of Bruce from the early '80s sitting at a news desk next to Dick Ford or Don Marsh.
Reuter's puzzle is now scattered across St. Louis and America, music, art, photos and ephemera crafted by an artist on a nonstop creative quest. Now the task of honoring his work -- or, as he'd no doubt phrase it, "gathering his shit" -- begins.
-- Randall Roberts is the pop music critic for the Los Angeles Times. Follow him on Twitter at @liledit.
Erin Wiles, Reuter's editor and publisher at St. Louis Projects:
God, this is breaking my heart. Bob was supposed to bring by the last few photos this week to paste into the last six handmade hardcovers of his memoir. He was so excited to get them. We were talking on the phone about the books, then he was telling me about his new place and the renovations they were planning, and how he could walk to his studio. He was so happy -- just enthused with what life had in store for him in the coming weeks -- and you could hear it trembling in his voice, like you can with small children.
Everyone who'd ever met Bob knew he wasn't always like that. In my life, I saw him waver between two extremes -- of uncontainable excitement and this state of outright grumpiness underlied by subtle resentment. I never knew which Bob I was going to get when I met or called him. I liked them both, even though I was vaguely intimidated by the latter -- particularly so before I really met Bob. In my first exposure to him, I had only waited on him a few times at Mangia and of course, heard a few stories from coworkers and patrons. He's so gruff -- such a curmudgeon -- in person. But I'll never forget the time when he caught me leaning against the side of the building, smoking in slanting evening light. He put his hand up in front of his eye and said, "I wish I had my camera." I wonder how many hundreds of times he thought that throughout his late life, and am thankful for the hundreds of times the picture in his mind was captured in celluloid.
Editing the books for him -- one is his memoir and the other, a surprising work of stream-of-conscious poetry and lyrics -- made his life feel like my second life. I spent so much time in his amazing, wonderful, so-fucking-real and don't-give-a-shit-what-you-think stories. When we first published them, I wondered whether I would get correspondence accusing the book of being racist, or sexist, or inappropriate. There was a candor to Bob's writing that expressed the blatant attitude of the time and place he was describing. He didn't sugarcoat or pretend he didn't participate. The book is amazing because we can watch a mind grow from closed to open, and see the formation of the artist from his own point of view. He wasn't ashamed of his sins and was brutally self-aware. And most of the correspondence I got? Glowing, inspired, heart-broken, impressed, tearful (and really only a little of that other stuff I was worried about).
I'm at a loss. He was difficult and hilarious and an asshole and so inspiring. The realest motherfucker. I feel gifted to have been allowed that work. Each person who bought it is blessed to own it. Bob had asked me to keep collecting his stories so we could do another book. I promised you, man -- we have enough, and we will.
Steve Carosello, singer, The Love Experts:
For the last several years, Bob called every week or so, and we'd spend an hour or two on the phone giving support and encouragement, sharing true confessions, exclaiming "I KNOW!!" when one of us said something the other had been thinking but, mostly, cracking each other up until we were too worn out to laugh any more.
Besides being the heart and soul of North Side Past and South Side Present, he was a touchstone in my life that cannot and will not be replaced.
Here's a conversation we had when we both lived in 63116. Bob had finally won Songwriter of the Year in the RFT:
"Hey, Steve -- I won!" "I saw that, Bob, and it's about fucking time, too, but I gotta tell you: I don't even think you're the best songwriter in this zip code." "WHAT??!! .........Oh...... y'know, you're the only person I'd take that from." "Well, Bob, wouldn't you say the exact same thing to me if the situation was reversed?" "OF COURSE!!" (dissolve into raucous laughter)
Shaun Morrissey, drummer, the Humanoids:
When I worked at Vintage Vinyl Bob was my favorite person without tits to see come through the door. I felt compelled to immediately start digging through the newest of the new 45s to show him. The "still waiting to be priced" stuff. I was technically breaking protocol, but I knew that I would be rewarded with his latest off-color joke. Often it was so terrible that neither of us would laugh, and then pretend that awkward moment never existed. The best part was, I never had fear that he would cherry-pick anything I had my eye on. He either owned it twice or already knew it sucked and never needed to hear it again.
Over the years I drunkenly offered to buy Bob Reuter a beer when I would see him out at CB's or Mangia. Upwards of 30 times. Almost as much as I offered to buy Tim Jamison a beer before I ever worked at Creepy Crawl. It eventually dawned on me in both cases that steadfast yet polite decline was indicative of sobriety. Novel.
I won't sugarcoat it. I watched Bob Reuter be a humongous asshole to some of the people who loved him most and were only trying to help him. That said, he wasn't sugarcoating anything either, and he was going to make his point whether you liked it or not. Turns out, he was right about most things, and it just took the rest of us a sec to catch up.
Little Rachel Fenton, St. Louis musician:
Bob is St. Louis, through and through, and I really learned a new appreciation for this fair city from knowing him. I am a transplant to this city. St. Louis seemed harsh and unwelcoming when I arrived... especially since I was the "new girl," moving in with the respected, established St. Louis musician. Even Mat [Wilson, Rum Drum Ramblers] did not want to go out in public in St. Louis with me much when we first started dating, because he didn't want to answer all the questions, or make me feel like I had to prove myself. He was trying to protect me, but I just felt even more like an outsider... like maybe he wasn't even sure I was going to be good enough. These St. Louis musicians were a tight bunch. They were a community...and they all looked up to Bob Reuter.
Mat was an original member of Bob Reuter's band Alley Ghost at the time I moved to St. Louis. I generally don't seek approval from others, but Bob intimidated the hell out of me. Since Mat and all his friends spoke so highly of him, I knew his approval was vital to my longevity here in St. Louis. I guess it was because he was so revered by so many talented St. Louis musicians I respected. I also knew Bob was very close friends with Mat's previous girlfriend of four-plus years. I heard he could be a bit prickly, and made no attempt to spare your feelings if he didn't like you. So, I kept my distance at first. It is literally impossible for me to be a kiss ass. Even if I tried it, I am completely incapable of it. I did seek Bob's approval, but I am unable to kiss ass to be in anyone's good favor, so I just avoided saying much at all.
What I learned in very little time is that Bob Reuter had a gift for seeing what is real, and appreciating it for being real, whether it is good or bad. I did not have to say much to get the approval I sought from him, because he knew I was genuine. I appreciated it so much that he could recognize that. He never once made me feel like I had to prove myself, and to my surprise, was completely accepting of me from day one. Bob played a song from one of my CDs on his KDHX show, Bob's Scratchy Records, even though it was a "CD," not a "record." That was one of the biggest compliments I could have imagined and one of the first times I ever truly felt accepted as a St. Louis musician. Bob knew what was real, and to get the "Bob's Seal of Approval" was an honor. His acceptance made me appreciate the tight community of the St. Louis music scene and feel more welcomed as a part of it.
I still can't believe this is how the story ends for Bob Reuter. I know he has left behind a legacy of artistic work far beyond what most artists dream of putting out there. My only hope now is that he will continue to gain the recognition in death that he should have been able to enjoy in life. Thanks, Bob, for opening so many ears and eyes to the beauty of what is real, with your music and your pictures. You will be greatly missed. This is an end of an era.
Mario Viele, St. Louis musician and engineer:
We recorded Born There in two nights. We went into Firebrand Recording, set up sixteen mics and let the band rip. The plan was to get a high-quality studio record on a garage-band's budget so we treated it like the Stones would have and just HIT. Any audio messes would be cleaned up as best they could later, and however much or little that was SO BE IT. Bob was totally on a high the whole time, he didn't want to play songs more than one or two times and if anyone wanted to cut another take he would yell stuff like, "COME ON, MOTHERFUCKERS, THIS IS ROCK & ROLL!"
There were arguments, there were broken rules, there was blood and steam and sweat and fire (like when Chris's crazy voodoo incense altar almost burned down the whole joint and we laughed like madmen), and there was a whole lot of truth. Everybody worked long and hard, and in the end we got the lightning in the bottle. Born There is a real live Midwestern rock & roll band going lo-fi on hi-fi; a reckless, off-the-rails testament to the songs Bob had written. He was so giddy with excitement that Maysam and Mat had to explain to him why he couldn't play the rough mixes on the radio; he just wanted to so bad. When he heard the test pressing it was as if he might have exploded right then. It's an amazing record, and it's for everyone.
Ellen Herget, St. Louis musician, the Skekses:
I knew a man, he grew up on the north side in a house full of women, couldn't even keep a dog to his name, loved music more than he loved himself, lived on the road and a thousand places. He fell down an elevator shaft, and that's all she wrote.
Who would love that story more than Bob?
Bob Reuter was the walking gestalt of our city: all of its odd bits and sharp edges, all of its warped love and hard times -- Bob was the embodiment of it, and he was a good man. When I met him he was so hard that I wondered if he had any tenderness. But I realized the stuff in his brain was worth listening to. And in the last few years I saw a definitive change in him.
He used to hate playing during the day, and he used to be miserable around children. Both of those things changed at the same time. His oft-recalled meeting with a little boy named Dresden completely changed his life, and suddenly he accepted kids as primal little honesty-spouters, and rather interesting. Daytime shows became fun for Bob, because kids could attend. They gave him joy, because they really listened to him, and they really danced.
In the same period, the man who was glad he'd never had children found himself with caring, surrogate sons -- nephews, at least -- in the boys in his band: Maysam, the Barecevics, DoorMat, Dan-O and, more recently, Adam Hesed. During the last Alley Ghost recording, they helped him draw up his will. His band was his family, the family of men he never had.
He had never toured until the last few years. He documented it extensively in his unique words and pictures.
On a personal level, Bob was a fine friend. Other people will talk of the moments when he was difficult, but he was always kind to me. At the last Alley Ghost show I attended, two or three weeks ago at CBGB, he called me up to sing with him. I am so glad I did -- I am so glad I did. Livin' at the bottom of the top of the Dirty South.
When the news was delivered to me by his editor Erin Wiles, she was so shaken up I found myself immediately looking to the comforting words we tell ourselves and our friends when someone has passed. "It was a quick passing. He was so happy with his life. He was doing everything he wanted to do." On one level, these things sounded hollow; on another, I realized that they were utterly true.
Bob came over for a tarot reading about a month ago. We chatted for two or three hours. His voice was full of love. His heart was full of love. He was thrilled with every inch of his life, and he had built that life entirely for himself. While he accepted his roots of sorrow and struggle, he was just beginning to feel that he needn't make himself suffer any more to get the most out of this life.
He was happy.
Bob Reuter, icky boy, talking dog, self-described loser, was totally happy, in the last few years, perhaps for the first time in his life.
This is because of the beautiful work he was doing. This is also because of all of you.
He lived and breathed St. Louis, and he knew you did too. If you snap pictures, if you sing songs, if you write words, you add to the power of St. Louis. That is a power Bob worked his entire life to be a part of, and he could see what felt like a lone mission for six decades blossom into an entire community in the last few years.
I believe, for the first time in his life, Bob Reuter did not feel alone. I believe he was proud of this place, and excited to grow even prouder.
He does not want your tears -- well, not more than a few. We can't ignore that he's gone, it would certainly hurt his feelings, and you know how Bob gets when he has hurt feelings!
But he does want your songs, your words and your pictures.
It is our job now to attempt to do 1/1000th of the work he did here. It is now our job to document this place and time. He showed us how to do all of it, how to observe and document every unique moment, in the midst of violence, poverty, and the staggering sense of futility that dogs every artist in low times. He showed us how to do this.
To Bob Reuter: friend, contrarian, artist, man.
Matthew Frederick, St. Louis musician, Rats & People Motion Picture Orchestra:
Sometimes a person is described as an "open book." Bob Reuter was open volumes. Through music, photography, written word and over the airwaves, Bob shared all of himself --- every facet of his personality and every thought and emotion --- with all of us. Bob's life and work was a constant and continuing gesture of a remarkable boldness. Bob was sincere, and sincerity is a most difficult kind of courage. It's also the kind of courage vital to any kind of artistry, which is why so many of us admired and continue to admire Bob so very much. The sum of the whole of Bob's life and work is greater than the sum of the volumes. This always will be so, because Bob is so good.
Jeff Hess, KDHX DJ:
Our radio-show transitions were always a hoot. On weeks when I didn't play any vinyl, he would scowl at me then grab the plastic cover shells from the turntables and throw them violently across the room. He finally broke them outright right before his very last show this past Friday. We traded insults fairly often. My final and lasting image of Bob is him yelling at me to leave after I started making fun of a song he was playing. I'm going miss stuff like that the most.
Brett Underwood, KDHX DJ, St. Louis poet and concert booker:
I was spinning records at KDHX during the first year of seven of The No Show. I had the grand vision to play Lenny Bruce live at Carnegie Hall while I had a recording of Charlie Parker live at Carnegie Hall on the other turntable. I was on from 4 to 6 in the morning and didn't have any inhibitions or fear (besides answering the callers on the phone), just wanted to mix the shit, open some minds and let it flow. In other words, I had no idea what I was doing, but it was raw.
I think it was the next day, while I was eating lunch at Mangia Italiano, when Bob walked in and commented that he loved the set.
He often walked in amidst my show and commented that he loved the crazy shit I was spinning and that he felt like he did when he used to do drugs... or something. I don't remember. I had often walked to the station with a bag of music on my shoulder from Dogtown, had plenty of drink and waited my turn to open the mic. I was careless at the time and looked a lot like I could be living on the street: ruddy complexion, graying beard, wildish hair, boots, worn jeans and a hoodie fit for the Unabomber. Whatever. It kept the assholes away.
At some point during this time, I remember Bob shooting a picture of me at the station. I was undoubtedly stoned, maybe drunk, too, but was fueled with the intensity of spinning another episode of the show mixed with noise, comedy, Bukowski and whatever I had mixed in my unconsciousness at the time, which was fueled by the bullshit of war and politics and feeling put upon by the "man." And the hapless fucks you meet in the service industry, including yourself.
At the same time, my father was suffering from the effects of Parkinson's disease, and I was feeling further unhinged. I let the freedom of late-night radio take me in its wings... and I would see Bob during many of those nights.
What I'm saying is, we have some sort of unspoken connection. We suffer our heartbreaks and maladies. We live through them. If we are lucky, we express ourselves throughout.
Musician Eric Gebhardt, better known as Red Mouth, wanted to share a story that Bob wrote about the first time they met, as a tribute. It follows here, with minimal editing to preserve Reuter's inimitable tone:
"Me and Red Mouth: Well, I still got no money but am trying to ride loose in the saddle, so I had this cat named "Red Mouth" come in right after the radio show...let me start that over. I met this guy on Myspace -- not even sure how we became friends but he contacted me saying he was coming up here and could I maybe hook him up for a gig. Well, I couldn't but told him I could get him on the radio and then we'd see what we could do.
So I scheduled some studio time right after my show on Friday and he drove up from Springfield, Missouri, where he had played the night before. That's about a three hour drive, and he literally just gets out of the car and walks in sets up his shit and performs in front of four of us, who he don't know from Adam -- and he fucking just ruled!!! I mean he brings in this wooden platform that he sits a stool on and pounds his foot. And the platform's about four inches high -- and so it amplifies it -- so all of a sudden this six foot three kid with long stringy red hair, his eyes get real big, lines form on his face and he's all like...crazy. And this voice comes out of him that's like some seventy year old man who's possessed by the fucking devil or somethin'. It's like the devil's defiantly in the room -- like he's eaten up Harry Smith's dead body and is spewin' every mutilated confederate soldier, wound or insult the south's ever taken -- every dead mule!!
And the studio's already backed up cause it's Twangfest weekend and they've got bands stacked up like planes over Laguardia, and somebody with a stop watch is policing Red Mouth's one hour jealously... and BOOM! everybody just stops what they're doing at that moment and silently stares into the studio.
So anyway, there's this guy from fucking Alabama, and I want to buy him a meal or something, but I got no money and neither did he so I come up with this idea. And we go down to U. City and play on the sidewalk in front of Vintage Vinyl -- out on the sidewalk, the two of us. And there's all these college kids and tourists and young black kids and the whole Twangfest crowd (it was alt-country weekend and all these liberal young professionals were going to that, and that was weird cause I know a bunch of them and they were sneaking by kind of like I was embarrassing for them...) Anyway, we wound up making like $48 which we kinda split -- gave him the extra eight bucks and we took twenty a piece and then we went and bought a roasted chicken at the grocery store, and tore that apart with a little container of potato salad. And then we went down to a bar downtown, the Tap Room, and watched Magic City, Peck of Dirt and some out of town band called Slick who were nothing if not the living embodiment of Black Oak Arkansas, complete with a heavier version of Jim Dandy himself. It was kind of a warped southside anti-Twangfest celebration with all my southside rocker pals.
Then Saturday we slept half the day then ate Mexican down on Cherokee street, where I introduced him to this wonderful trash pile of a "drugstore" we got called Globe Drug, where you can buy all kinds of railroad salvage bargains for hardly anything. Red Mouth buys himself a case of energy drinks for six bucks -- he says they taste like ass but he's got to stay up twelve hours to get back to the Gulf! So we ate Mexican down there, (the street's kind of a little barrio of it's own, so there's plenty o' great places down there to tie the feedbag on) and then we went to this party that my band, Alley Ghost, was playing that night for this friend's 47th birthday.
This house is owned by this great couple named Ross and Kim, who are both unbelievable cooks/punks/hippies/really cool folks with a huge garden and about seven dogs and cats, and this wonderfully bizarre house that they moved into and forged out of the ghetto wilderness. They lived there for at least two years with no electric power or heat. Anyway, given the playing that me and Red Mouth had just done the night before we worked out a deal for me and my band to back him up -- so he did a gig after all! It was fucking great! We played in a bedroom on the third floor, filled with about thirty people in the room and bout twenty more in the room just below us downstairs. Red Mouth became the old crazy fucker again, just a-slappin' his tamborine and stompin' his foot for like two songs, and then we got up behind him and jammed on another two songs, which together went about ten minutes. And all we were doing was jammin' around a G chord on either one -- it was like some crazy-ass white boy hill country trancin' shit like ol' RL Burnsides used t'do.
Damn man, my band's the fucking best, too. I mean they hadn't ever even seen this cat before, let alone heard his music, and we were just wreckin' the room -- Red Mouth kept turnin' his head to look at me with this big shit eatin' grin on his face. "GET RIGHT CHURRRRCCCHH!!" he was a-shoutin'! Then he moved over and we kicked into our own set. Christ, the room went wild! I kept on lookin' out into the crowd and could see kids mouths movin' like they knew my words by heart -- they were singin' along, pumpin' their fists and just dancin!! Hee hee!
By the time we got done it was like 3 a.m. Red Mouth grabbed him a last beer and I went around with my hat, beggin' Red Mouth some gas money for his trip back to the Gulf. S'mazing how big drunken hearts can be -- he made enough for gas and for us to eat one more meal! It was 5 a.m. by the time we got back to my crib, and we just crashed -- he slept in my front room on a water-stained futon that took up the whole floor. We slept till noon the next day and went out to my fave natural foods restaurant (Shangrala!) to do our usual Sunday brunch (the owner has named our little group as the "hipster Algonquin round table"). Well, we ate our fill and then he hit the road back south about three in the afternoon. I'm gonna play his session on this week's radio show -- little bits of it anyway! Fuck. What a weekend. Wish they were all this good! -b"
Jason Holler, St. Louis musician, Kentucky Knife Fight
With a summertime head cold and two tall glasses of wine behind me, I would like to talk about the recent passing of Bob Reuter.
Our band owes a great debt to Bob. He was the first DJ to play us on the radio. Even though we hadn't pressed vinyl. Even though we were this young unknown band from Illinois. He would still give our CD a spin. Often times he would tastefully tuck our song between the Replacements and some rarity by Jerry Lee Lewis.
Many people knew Bob as the Friday afternoon madman, someone who documented St. Louis with his camera, a songwriter, a musician, a North side native with stories to tell, a South side curmudgeon with a wry wit and dark sense of humor, and a guy with an encyclopedic knowledge of rock n roll.
For me, Bob was all those things. It was my pleasure to be interviewed by him. It was my pleasure to be photographed by him. It was my pleasure to know him. He was a friend and constant supporter.
Bob and I admired tragedy. We would talk about it at length. We would joke about horrible things, awful things. Humor was our defense against a cruel and uncaring world. Music was our direct line to the beauty and potential of human beings.
There was one lunch in particular where I informed him that Chopin had supposedly requested to be buried without his heart due to a lifelong fear of being buried alive. Bob laughed with a mouthful of pasta. After he chewed, swallowed, and wiped his mouth he added in a low voice, "man, that's pretty twisted."
During the same lunch we listed off what we considered the most deceptively depressing songs ever recorded. I declared Lou Reed's "Perfect Day" the most deceptively depressing. I built up this five minute long case. It was fully equipped with a line by line dissection of the tune and I even emphasized my argument with wild hand gestures.
"Yeah, that's a pretty good one," Bob responded dryly, all the while not breaking stride from eating.
"What's your pick?" I asked.
"The Turtles' 'Happy Together,'" he said in between bites, while offering NO explanation. Why no explanation? BECAUSE HE DIDN'T HAVE TO!
Bob was a confidant on dark matters. He was an on-air shaman, whooping and howling around the studio. Through the lens of his camera he viewed a changing city. Among the young musicians of St. Louis he was an oracle. To his friends and radio listeners he was Scratchy Bob. Not only did he leave behind one hell of a record collection, an impressive selection of photographs, and a stack of heartfelt writings, he left behind generations of St. Louis musicians who will never meet him. That part hurts.
I sit here wondering what song was in his head when he stepped out into that elevator shaft. We'll never know.
But I bet it was a good one.
Joe Thebeau of Finn's Motel
I won't be the first person to say that what I shared with Bob Reuter was an uneasy friendship. That's because with Bob, almost nothing was easy. When I hired him to shoot promo photos for my band, he asked for money in advance to buy photo paper. So, I gave it to him. Then, when a few weeks had gone by and the photos still hadn't been printed, he said he needed more money for photo paper. What had happened to the previous payment? I didn't ask. I knew he was often living from one $20 bill to the next, so I gave him another handful. The photos did eventually materialize and they were great. But, it wasn't easy. And why should it be?
The essence of a great story is conflict. And the best art is that which makes you uncomfortable in some way. Nobody understood this better than Bob Reuter. His songs, his stories, and his photos were great, not because he was a great singer, not because he had a great command of the language, and not because his photos were perfectly in focus. His voice often cracked, he preferred to use street language, and his photos were often obscured on purpose. But, they were great because Bob was a master at recognizing, capturing, and sometimes even creating conflict. His songs often have characters whose problems go unresolved. His short stories are filled with arguments and fights, which as we know in real life, almost never end with everyone living happily ever after. The best of his photos are those where you can easily imagine the shit that must have just happened right before the shutter clicked. And a guy his age taking pictures like that of young girls, well, that made us all a little uncomfortable. But all great art does that.
We had an uneasy friendship. Though I hired him for photo shoots, went to his photo exhibits and went to his music shows and short story readings, Bob kept me at a bit of a distance. For good reason. I have a day job working for The Man, I left South City for the suburbs, and have often sacrificed my art for family life. I tend to avoid conflict. A guy like me ends up cast in the role of antagonist in a Bob Reuter story. I got nervous writing this, because I could hear his voice asking, "why did you get him to write about me?" Not to say we didn't get along. He commented favorably on a poem I wrote, calling it "epic." We talked about how Bob's dedication to live the life of an artist was something Henry Miller wrote about a lot. We had plenty of agreement. But, it's fair to say that we had differences of opinion. So, I'm sure I won't be the only person that Bob left with unresolved arguments. But, all the best stories end that way.
Dana Smith, St. Louis artist and musician
The main thing that always drew me to Bob was his photographs. Every single photo of his captures truth and honesty. His songs capture that too, of course. In 2005 I had a son and suddenly realized I was going to have to have family portraits done. The very first thought in my mind was Bob Reuter. I contacted him and he was all for it. I wanted the photos done on a specific day and would need to coordinate with Bob to make sure he was available and able to make it at some point during that day. For four years we did this annually.
Sometimes I'd have to pick him up or drive out to some specialty camera store to buy the right kind of film that he used, but any minor task like that was fully worth the effort. I'd assemble my family, with a daughter addition in 2007, and he'd snap away. We never had a plan, just think off the top of our heads -- let's sit here or go to this park and see what happens. I never told him what or how to shoot. Never asked for specific type of pictures. Never asked for specific sizes. I simply asked him what was the charge and payed him in cash. Then we'd go our separate ways.
When the photos were ready he'd contact me or I'd see him at show and we'd tentatively plan to meet up so I could get them. Each time he gave me a batch of photos, any expectations I might have had were far exceeded, and those photographs have always been the most cherished images I have of my family.
Larissa Rook, Wormwood Scrubs
The first time I met Bob Reuter he told me to shut up. It was at an open mic night at Frederick's Music Lounge. He was hosting. I was in the audience. I was young. I was on a date (with my future husband). I was too loud. He called me a singer/songwriter or Joan Baez or something equally insulting after I performed a few songs. I thought he was a crotchety old man. I had no idea who he was. Or what he was. Or that he held that stage as sacred ground.
I suppose I feared him for a while. We learned to tolerate each other and played shows together on occasion. But I still didn't get him. Then one day, maybe after I had been sick and after he had been sick, we became friends. We had seen the other side. We were fellow travelers of the edge.
"You almost die?" "Yeah, me too." "So what are you gonna do now?" "Play the blues." "Yeah, me too."
And we did. For years. Sharing the stages across St Louis. And I grew closer to understanding what he was all about. He was a man that did not compromise. He was honest to a fault. He bled every time he got on stage. It didn't matter what size venue or how many people were in the audience. He was serious about his art. And he expected you to take him serious. Even when he told a joke. I loved his jokes. I can't remember any because I have a terrible memory. But every time we met, the conversation started with a joke. They always had a long set up so you really had to pay attention. And the endings were either corny or dirty. Perfect vaudeville.
One night, I believe we were doing a show at Off Broadway soon after Bob's open heart surgery. After a good joke, we got to talking about scars. I have my share thanks to being a cancer survivor. One thing led to another. I'll show you mine if you show me yours. We wound up outside in the alley and took each other's picture. He let me use his camera. Bob Reuter let me use his camera! I never saw the photos he took of me that night. I always imagined he kept them in a box with gold teeth, photos of amputees, and broken guitar picks.
I hope he is stomping around in the afterlife with a mic in one hand and a camera in the other. And if his ghost ever comes knocking on my door, I'm going to shut up and listen.
Nick Acquisto, KDHX DJ
Bob had a drive to do something exceptional all hours of the day and more often than not, he did. I remember in 2008, when The Vultures performed live on The Space Parlour for the Live in St. Louis Series, Bob was in the hospital for triple bypass surgery and had played live on air a week before. I remember that he called at the beginning of my show just to say that he was listening. Since I knew how much The Vultures were friends and fans of Bob and how much Bob loved that band, I asked him to introduce them live over the phone on-air from his hospital bed. Of course he did. I know it meant a lot to him, because he's brought it up at least a few times since.
While he was in the hospital at that time and really needed to take it easy for the next month or two, I know there was nothing Bob wanted to do more than something like that. It was really hard for him to slow down and he didn't for long. He was back at all of his creative passions more than ever after his surgery and seemed to produce more vigorously than even before.
Tom Huck, Artist, Huck's Evil Prints
FOR BOB:
First off, let me say that this is being written with the most profound sense of hurt and loss I have ever felt. I miss my friend. This is gonna be tough.
Bob was an art warrior and not a civilian. I consider myself the same. I have not found a lot of them. By "art warrior" i mean those few folks out there who do it solely for the work, are made to create and are engineered to do nothing else. This condition can be a dangerous one, usually not for the warrior him or herself but for all those folks caught up in the wave ( family, friends, pets, etc.). I've been fortunate enough in my life to meet a few of the greats in art and music, and i'm even more fortunate to count some of them among my friends. Bob is one of them. See, the shitty thing here is that i didn't tell Bob any of this when he was alive. When you're engaged in daily trench warfare, trying to make a living in and surviving the arts, these things are rarely said. My heart is broken because of this.
I knew Bob's work for years before i met him. Then one day i was sitting outside in the Delmar loop, having a miserable, heated meeting with "colleagues" whom I taught with at a "prominent" local institution of higher learning. (Bob would later help me mentally get the fuck outta there). Anyway, I'm sitting there, dying inside, and from across the street this dude comes over and interrupts the meeting by asking loudly, "Holy Shit are YOU TOM HUCK?!"
Now, it happens sometimes that I'm recognized out and about. 99% of the time i'm delighted to talk and answer questions or let someone buy me drinks. But this day i responded to the guy "sorry man I don't have time for this right now." The guy quickly said "I'm sorry to bother you" and retreated off somewhere into the Delmar loop. I then went back to my horrible meeting with those horrible people, and thought nothing more of the encounter.
Until that evening. I arrived home and got on Facebook. In my mailbox was a message from Bob Reuter. My heart jumped with pride and i thought HOLY SHIT a message from BOB REUTER! The message read something like "sorry to bother a big shot like you but obviously don't have time for guys like me!" And i was sooooooooo embarrased, shocked, and ashamed that the guy I blew off earlier that day was BOB REUTER the legend. I immediately apologized profusely and told him what the situation had been that day, and he in turn quickly forgave me and we decided to meet up at Mangia the following night.
That night I found my greatest friend. We discussed everything that mattered. Why Patsy Cline was so great. How much we both loved Johnny Cash, the Sex Pistols, and god knows who else. We talked about record hunting, our studio work, and how much fun it was giving the middle finger to society by just surviving on your art. My heart that night was filled with new dedication to my work, and Bob just made me feel that everything was gonna be OK in the big picture. Truth and Justice in music and art always wins!
I found out from a friend later that after I blew him off that fateful day Bob immediately walked straight into Vintage Vinyl and yelled out "hey do any of you guys know Tom Huck?" After most in the store said yes he screamed out "Well that guy is a DICK!" So here I am, at my house in the country. I've been crying almost non-stop. Bob has been dead now for three days.
I don't know what to do. I miss my friend. I can work. It absolutely kills me that I'm never going to see him come into my shop to work on his stuff, play his guitar, or bitch at me about how much music sucks these days. I think that Bob was not meant to go out in a way that most mortals do: a long drawn out illness that allows the nearest and dearest to get accustomed to the idea of not having him around. NO, not BOB. Bob went out like a warrior for art, quickly, leaving us with no choice but to recognize how great he was. I am so lucky and fortunate to have had him in my life. He taught me a lot. It's going to be a really long time before i can hear his music and look deeply at his photographs again.
These warriors I speak of are few and far between. When you cross paths with one, you know it right away. Problem is, they're gone before you realize the beautiful damage they've done to your soul.
Damnit Bob, I love you so much.
With tears, Your friend, HUCK
Evan Sult, Sleepy Kitty, Eleven Magazine
Bob Reuter's voice has been in my dreams all weekend. Mostly it's the sound of him kind of chuckling his way through the middle of a story. I seem to be focused on the funny way his lips would twist into a smile. I did my best to make him laugh when I saw an opportunity.
Bob Reuter was plenty intimidating, physically, but I never actually saw the man be an asshole to anyone, though I don't doubt the testimony. The guy I talked with was a guy who seemed to be warming up to his own life, and it was dawning on him that he was, in fact, exactly the guy he set out to be. I'm sure we all worried about how the hell he was scraping by, and maybe even how the hell he was going to handle being a broke old guy. But he sure as hell wasn't a broke old guy yet -- he was a broke artist with almost a half-century of productive work to his credit, actively working on new music, new photos, new writing. Hell, he died moving into a new space where he could get more work done, get more wild -- not less.
Everyone who dies is irreplaceable. In Bob's case, though, whole formats go down in flames. There's no replacing his radio show: those crazy screams, perverse songs ("And if that's not bad enough for the guv'nor"....), dark passages, personal shout outs, screeching needles. Other folks can talk about Wolfman Jack, but that was a long time ago and happened to someone else. Bob's Scratchy Records was right now, and it happened every Friday afternoon, and it was for St. Louis, and I'd stand it right up against old Wolfman.
And there's definitely no replacing his photographs. Hell, as far as I know, no one else in this town, and probably only a handful of photographers in the entire world, still shoot ONLY on film and print only on paper, especially so prolifically. It's a medium he owned, and it's permanent now. We're lucky that it's St. Louis he shot; he summoned and perfected through his lens a wild underground civilization of grainy, sexy, broke, loud, defiant humans in a grainy, sexy, broke, loud, defiant city.
His eyes were wise. His voice, in my dreams, is talking about all the stuff he's in the middle of making.
Andy Lashier of Demonlover was kind enough to share a few Facebook messages between himself and Reuter. The first set is an exchange with Reuter and Lashier after Reuter found out that Lashier had been diagnosed with cancer. The second set is notes that they sent each other after Reuter and Lashier saw each other out at a show. It's a little inside-jokey, but these messages show both the warmth, the humor and the prickly attitude that Bob carried around every day. Both are presented without edits.
~~~
Bob Reuter hey Andy, i just heard about what you're going through and i just got to tell you that you are loved and loved plenty. I feel like a jerk for not getting to know you better - i've wanted to - always respected your music, always saw you as a good guy. God i hate that you have to deal with this...but i believe in you, that you can turn this around if you want and you always hear this but i mean it - if there's ever anything i can do to help in anyway, please just let me know. Take care of yourself will ya? - there's a lot of good people on your side! -b
Andy Lashier hey bob, sorry and i hope you didnt think i was ingorin you. that shit means a lot coming from you. honest. ive been more stand-offish with you than i like also. really miss listening to your show, always seems like i was drivin around on a friday afternoon gigglin and shit. i remember once at our friends ross and kim, you and i was sittin around the table with them and i was like "cool im finally gonna get to talk to this dude for a minute, and this drunk asshole holding a two three-foot long skewers (not me) comes up and gets in your face tellin you about how you're a living legend and you were clearly trying to gracefully accept but he was repeating himself alot and you had to excuse yourself, pretty gracefully. so lets do that again sometime! ill be back soon enough, i am doing pretty good with this stuff and i really want to play some shows, but everybody thinks im on my death bed or something. that reminds me, tell chris barecevic and those fellas i said hey and i look forward to hanging with you dudes soon. thanks again and again, bob. i'll let you know if i think of anything.
Bob Reuter sounds good pal!
~~~
Andy Lashier i have, at long last, arrived.
Bob Reuter oh shut up - ha ha ha- you have no idea...i just cant seem to drag myself out at night to hear bands,...a combo of not drinking and gettin old but that cassette of yours is great, me and Mark really dig it - you got no idea how much respect i have for you. i also respect how you came out to hear that asshole who used to front Theodore even though he's such a boring asshole - ha ha ha - him and his fucking canadian tuxedo! hee hee
Andy Lashier man, why are you so nice to me? i thought you were supposed to be some kind of asshole or something. goes to show. later, im looking pretty canadian my own self at the moment.
Bob Reuter i'm FEELING pretty canadian
Mark "Porkchop" Holder (formerly of the Black Diamond Heavies)
Due to circumstances beyond my control, I'm not from St. Louis. My first memory of Bob Reuter is as one of the three audience members at the first show The Black Diamond Heavies, my old band, played at Fred Friction's old bar in South St. Louis. He loved us and told us he'd have a crowd out if we came back. Pulled it off, too.
I didn't know about the songs then, the amazing photographs, the writing and the incandescent mind behind all the art. I just got to know my friend; a dry drunk like me, a big guy who always tried to make himself smaller. A guy who got beat-up too much as a kid and kept trying to be good enough, not in anyone's judgement but his own.
I lost what everybody else lost; a person of note, an artistic role model. I got a lot of them. I also lost one of my oldest and dearest friends. I didn't really have one to spare. May He Rest In Peace.
Jason Rook of Wormwood Scrubs
I did a lot of things with Bob, hung out, ate dinners, worked clubs and ended up recording Thee Dirty South, Lost Monkey and the first Alley Ghost record. We worked well together; I'd set it up fast, he'd start ripping and I'd just let the tape roll all night. He would come back the next day for the mix and that was that. It fit perfectly with the audio verite bent that I had been cultivating at the old Penny Studio.
Since I was also a musician, Bob and I had a guarded relationship. We respected each others' music but certainly didn't love it, and the one-upsmanship was always in full effect. He once interrupted my band as we were opening for his band because we started playing a cover of "Debris" by the Faces and he came up to the stage yelling, "I was gonna play that tonight!" He still played it though.
If one thing could encapsulate Bob to me, it was this: I got a call from him to play some weird, private party at a big estate where the owner liked to have some scrubby art types around to make the place look nice. He wanted me to come along and play lead guitar, promising me we'd play "just a bunch of songs, you'll know 'em all." We ate expensive food and played and the rich folks loved us. After we were finished, a beautiful and exotic belly dancer emerged to begin her set. She was actually a good friend of my sister-in-law, so she gave me a sly wink and a wave while walking past and I waved back since I knew she probably had three other gigs that night and we wouldn't be able to talk later. Bob turns and says "I been doing this shit 35 years, and you been doing it 10, and you get the wink and the wave!?" I told him, "Man, you play guitar, but I play LEAD guitar." I never told him the truth; he wouldn't have told me. I loved that guy. Still do.
See Also: - Bob Reuter talks about his new album, Born There - The Complete Bob Reuter Interview - A Bad Man in a Dirty Old Town: Bob Reuter's Beautiful New Book
Follow RFT Music on Twitter or Facebook. Follow RFT Music editor Daniel Hill on Twitter too, if you are into that sort of thing.