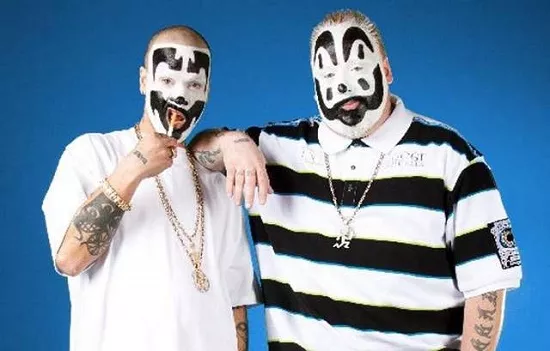 Press Photo
ICP
When I first started writing heavy metal reviews, back in the days of AOL 4.0, it was for one goal only: to someday write a list of six songs related to a Detroit rap outfit that dresses like clowns and sprays people with soda. I tried and I tried, but I never seemed to be able to convince my editors that such a list would ignite the internet into a powerful frenzy, forever immortalizing their publication. That is, until now.
In celebration of RFT Music editor Daniel Hill and I possibly being stabbed to death by swiss army knives or maybe drowned in a river of Faygo and bongwater at the Gathering of the Juggalos (which we will be attending/covering for the next five days), I am finally able to live out that dream.
6. The Gories - "Trick Bag"
Who are the Gories and why are they first on this list? Because I'm trying to set a tone to keep you reading, you pinhead. The Gories were a garage rock band that started in the '80s and featured Mick Collins, who later went on to form another excellent band, the Dirtbombs. For those of you who are hip but still clueless, maybe you will know the Dirtbombs from a three-way split with the Terrible Twos and Dan Sartain. And for those few of you who are still reading this paragraph, the record that "Trick Bag" appears on was produced by Mike E. Clark. Clark is also known for his groundbreaking work with Insane Clown Posse, Twiztid, Axe Murder Boys and a ton of other Psychopathic Records artists.
5. Twiztid - "Bagz"
Twiztid, otherwise known as Jamie Madrox and Monoxide Child, are Insane Clown Posse acolytes. All I know about Twiztid is that back when I used to hang out with this dude named Jesse in high school, he would play this song all the time while smoking pot. I once watched him eat a bunch of magic mushrooms on a McDonalds cheeseburger and we had to sit in his car for a long time before he was okay to drive again. Anyway, I've always had a soft spot for Twiztid as a result. Not to mention the lyric, "your parents hate us cuz we smell like cannabis and remind them of the incubus," is pretty sick.
4. MC Breed - "Ain't No Future In Yo Frontin'"
MC Breed was a Flint, Michigan rapper that scored an ultra memorable hit, "Ain't No Future In Yo Frontin'." He also collaborated with rappers like Tupac Shakur, Obie Trice, Too Short and Rappin' 4-Tay. MC Breed died in 2008 after releasing a record on Urban Music Zone Entertainment, a subsidiary of Psychopathic Records, and thus earns a spot on this list.
3. The Dayton Family - "Cocaine"
The Dayton Family rules. This song is great and not just because they turned the lyrics of the theme song from "Cheers" into a song about selling cocaine. The Dayton Family put out a record on Psychopathic Records' subsidiary, Hatchet House -- a label apparently designed to test out artists to the juggalo fanbase.
2. Bear Vs. Shark - "Catamaran"
Yet another act from Michigan, Bear Vs. Shark were one of my favorite bands with the ridiculous tag of "post hardcore." I caught them in Charlotte, North Carolina and watched the singer push through the crowd and fly around in all sorts of directions. Then I made the guitarist drink beer with me in my under-aged girlfriend's car until a security guard caught us and forced us to leave (for clarity, I was 22 and she was 19). A little-known fact about Bear Vs. Shark is that their drummer, Ashley Horak, played drums in ICP's former backing band, Zug Izland. Fun fact: That band's fans are known as "ZUGGALOS."
Judging from the Wikipedia page, Ashley was either known as "2 Phat" with the band and has now left or is still performing with them under the name "Lil Pig".
1. Insane Clown Posse - "Fat Sweaty Betty"
You didn't think you'd get away from this list without legitimately seeing an ICP song on here, right? Enjoy having this caught in your head for the rest of your life.
See Also: - The Top Ten Ways to Piss Off Your Bartender at a Music Venue - Ten Bands You Never Would Have Thought Used to Be Good - The Top 15 Things That Annoy the Crap Out of Your Local Sound Guy
Follow RFT Music on Twitter or Facebook. Follow RFT Music editor Daniel Hill on Twitter too, if you are into that sort of thing.