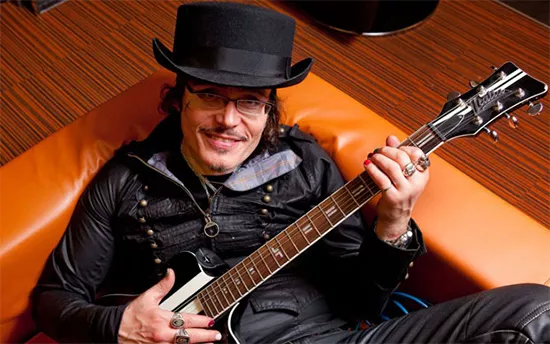 Adam Ant - Friday, August 2 @ Plush
Nelly and Backstreet Boys in the same weekend - heck, the same day? Whoa, guys. That's a bit much, don't you think? If neither of those big-time acts appeal to your tastes, plenty of other great options ranging from ground-level artists to mid-level touring musicians perform this weekend at a venue near you. Our recommendations await after the jump.
Friday (Aug. 2):
Adam Ant w/ Prima Donna @ Plush 9 p.m. | $25 The Ants first made waves in London when they performed their hit "Beat My Guest" in front of a startled audience in 1977. Decades later, post-punk icon Adam Ant's as outrageous and lively as ever. Will he still play that song for you? Definitely. (MS)
Hypo w/ Evelque, Hubble @ Blank Space 10 p.m. | $5 Blank Space's new monthly electronic event returns for its second installment. Lose yourself in the space-bending futuristic sounds. (DH)
Also, don't miss out on Dax Riggs, Middle Class Fashion's CD Release and the Kevin Harris/NNN Cook Tape Release. Click the links to learn more!
Saturday (Aug. 3):
Arch City Radio Benefit w/ Indian Blanket, Bye Bye Blackbird, Justin Johnson @ Foam 9 p.m. | $10 Arch City Radio is in the midst of raising a few grand to put together a unique mobile app for St. Louis music. See some locals play no-frills acoustic sets while pitching in for the cause. (MS)
Blue Dixie 25th Anniversary Show @ Old Rock House 8 p.m. | $10 Blue Dixie formed in Columbia, Missouri in 1988 -- that's a whole quarter-of-a-century ago! They disbanded in the mid-'90s but plan to jam their self-proclaimed freestyle rock-and-roll just like they did way back when for this one-time special reunion. (MS)
Musical Merry-Go-Round's Fifth Birthday w/ Justin Roberts and the Not Ready for Naptime Players @ Voce 12 p.m. | free-$10 KDHX's kid-friendly Musical Merry-Go-Round, hosted by "Grandfather" Paul Stark, welcomes Grammy-nominated Justin Roberts and his band, the hilariously named "Not Ready for Naptime Players." Bring the kids for some wholesome fun. For more on tunes for the young-ins, check out Allison Babka's music feature this week: "The Kids Are All Right: RFT Music experiments on children." (MS)
Killer Ray Allison w/ Mz. Peachez, Moondog J, Edo Ekic, Maurice Cade and Tre', Lady Kat, Moondog J, Edo Ekic, Sharon Foehner, Swingset @ Lemp Mansion 4 p.m. | $30/$35 This event has three B's: blues, beer and barbecue, all washed down with lots of hard lemonade. See blues artists including locals and performers from Chicago and Australia. Mention "Johnny Vegas" -- the dutiful MC for the evening -- at the door, and get five dollars off the admission price (which includes all of the above). (MS)
Second Annual World Beat Festival w/ Cut Chemist, Kreative Pandemonium, Zion and the Lion Roots Band, Ras Tree and the Roots Reggae Band, Mario Pascal, Phil Gomez Trio, Ras Tra, B-Wise, Hal Greens, MAKossa, Needles, JMO, Agile-1, Michael Kuelker, Mr. Roots, Dub Heezy, Slante, DJ Pome, Six1Nine, Scotty Mac @ Atomic Cowboy 2 p.m. | $20 For starters, this event is packed to the gills with talent both local and world-renowned. In particular, Cut Chemist used to DJ for Jurassic 5. If that isn't cred, we don't know what is. (DH)
Texas Hippie Coalition w/ Eve to Adam, Saence, Hallow Point @ The Firebird 8 p.m. | $15 Texas Hippie Coalition (or THC -- huh huh) plays what it refers to as "red dirt metal," influenced by Black Label Society, Pantera, Lynyrd Skynyrd, Molly Hatchet, ZZ Top, Corrosion of Conformity, Waylon Jennings, Willie Nelson and Johnny Cash, according to the band. So, you know, that kind of music where you drink copious amounts of whiskey and fist-fight your friends and family in the front yard! (DH)
Tory Starbuck Project w/ Willis, Ransom Note, Old Capital Square Dance Club @ The Heavy Anchor 9 p.m. | $5 A mere five bucks for a fine, all local show filled with talented St. Louis musicians! (DH)
Also on Saturday: California Wives and, of course, the one-and-only Nelly.
Sunday (Aug. 4):
Kyle Sowashes w/ Kadu Flyer, Nefertiti, Matt Harnish's Pink Guitar @ Lemmons 8 p.m. | $5 We're not positive what "Matt Harnish's Pink Guitar" is, but we're willing to bet it is damn entertaining. Also, Columbus' Kyle Sowashes is damn good, catchy rock. Check them out for yourself. (DH)
For another option, check out Bottoms Up Blues Gang with Paper Bird.
Note: Though we wish we could, we can't feature every great show happening in town in just one measly post. Peruse the St. Louis concert calendar for more ideas any time. Let everyone know what else you're looking forward to seeing this weekend in the comments below, and send show tips to clubs@riverfronttimes.com to be considered for inclusion on these lists.
See Also: - The Top Ten Ways to Piss Off Your Bartender at a Music Venue - Ten Bands You Never Would Have Thought Used to Be Good - The Top 15 Things That Annoy the Crap Out of Your Local Sound Guy
Follow RFT Music on Twitter or Facebook. Follow RFT Music editor Daniel Hill on Twitter too, if you are into that sort of thing.