Josh Levi
Kevin Harris in his former studio space, Floating Laboratories
In this column, RFT Music gets to know local creatives, musicians and their missions. Get a slice of the local scene, complete with a snippet of sound and info about upcoming releases and shows. Stick around to see what St. Louis artists have to say whenever they Fill in in the Blank.
Most people are either left brain or right brain dominant -- not both. Kevin Harris, an electrical engineer by day and an experimental artist by night, somehow manages to harness the powers of each lobe in unison, merging the lines of logic and calculation with emotion and creativity in his music and visual art.
Sitting across the table from Harris at a south city bar, I can practically see the cogs turning in his head as he enthusiastically explains the method to his intricately designed sound art madness. He speaks casually yet articulately through big-rimmed translucent glasses over a Civil Life brown ale and dons a black t-shirt with digital synth code printed on it -- the work of experimental artist Laurie Speigel. Tonight, he'll release some of his only audio recordings on a tape with another experimental mastermind in town, Nathan Cook (aka NNN Cook), via Cook's label, Close/Far.
See also: - Five Questions: Floating Labs Founder Kevin Harris
Harris grew up in Oklahoma, getting his first introduction to the world of musical texture and intricacy by frequently riding the bus to the symphony. He later went on to earn an undergraduate degree in music. In St. Louis, he performed in groups such as Airport Elementary School, Bird Leg and Half Gay. These days, he frequently collaborates with fellow musicians, performs in a duo called Lobster with Cook and curates sound art for Contemporary Art Museum St. Louis.
Harris specializes in live analog audio synthesis for his solo performances to envelop participants in complex environments of video and electronically generated sound via elaborate boutique synth patches. Typically atonal and arhythmic, sounds generated through modular synthesizers rise and fall like dancing machine ghosts, lost in time and space. Listen for unique timbres in his frequency modulations, generated from authentic noises that can sound deceptively organic. The resulting experience feels otherworldly, in that it's possible to find a different, warped dimension lurking somewhere closely behind the limitations of our physical means.
Harris' side of the split tape serves as a response to Cook's composition, an amalgam of tape manipulation, square-wave oscillators, percussive elements and homemade electronics. After recording hours and hours of synthesizer sounds, Harris pieced together elements to create a continuous track. Get a copy of the tape tonight, and check out a video of Harris performing below from last Halloween:
Video by Chizmo.tv
We invited Kevin Harris to fill in the blanks ahead of his tape release show tonight. See what he had to say on the next page.
What I like most about St. Louis is... Kevin Harris: The fact that it is a post-apocalyptic industrial wasteland playground! South city feels like some sort of giant commune where laws don't apply to the same degree as elsewhere. It is also acceptable not to care what clothes you are wearing. Someone once told me that I always look like I either just woke up or am about to go to bed - I really like this concept.
I make music and art because... I want to change the way humans think about their lives, relationships, political structures, religious deities, social constructs, and addiction to television and fashionable consumption. I like to work, and it is the only type of work that is also fun (except maybe a professional drug taker or cake eater). I have a really short attention span. My heart beats really fast with excitement when I think about tomorrow. I'm trying to prove to myself that I am not stupid. It helps me repress unpleasant thoughts. I like dealing with sounds and objects more than people.
I've learned the most from... my cat...
I'm most productive when... I get a good nights sleep.
Some of the most memorable projects and collaborations I've been a part of are... They are all memorable!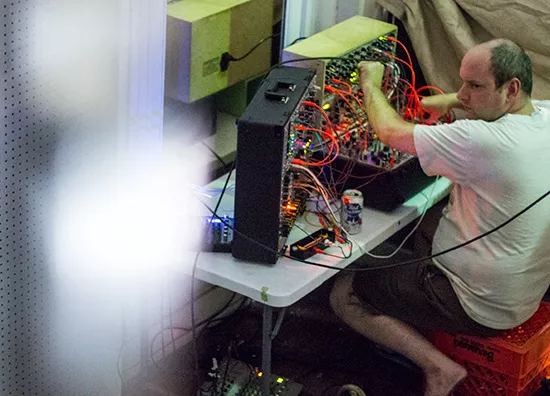 The St. Louis music scene could use... I can really only speak for a very small section of the music community, that of mostly non-traditional music (music that does not seek to utilize formulas developed within the context of historical music traditions). This type of music has had an impact on my life because of its high degree of authenticity. If music does not reference tradition, it becomes impossible to use popular models of critical examination, such as comparing music to existing forms to arrive at qualitative determinations. This necessitates the need for a unique type of appreciation - an appreciation also absent from the tradition of music appreciation. It forces the audience to be creative and truly question what it means to "like" a particular style or piece of music (mostly what people think they like is really just what they are familiar with. There have recently been studies on the way long and short term memory interact with one another when listening to music. It turns out that when musical information is stored in short term memory, it is also passing through our long term memory to reference stored musical info. The sets of information are bound together into groupings that produce satisfying feelings when musical information is familiar to us). This process teaches us that sound can be beautiful, challenging, cerebral, emotional, and an entire world of complexity when it is arranged in novel ways, and just as this process shows the importance of approaching music without preconceived notions and expectations, it can also be used to show the importance of approaching all aspects of life with an open mind.
So... what can the non-traditional music scene in St. Louis use? Good critics who understand this music and tell others why it is so appealing. This community needs a voice, representatives to tell the story and inspire people.
Five current artists worth listening to are... 1. Matt Carlson - Particle Language. This album is an amazingly refined mess of abstract synthesizer techniques, flutters of dynamic intensity, and a perfect balance of random and almost random passages. I think it came out in 2011. He has a newer record, more structured, not as good as this one - but still good. 2. Eric Lanham - Sincere Interruptions. Now this is a beautiful record. It has timbres I have never heard anywhere else and have no idea how they are made. The space between sounds is so perfect on this one. 3. Mario Verandi - Distant Shores, 2001. This is an avant garde masterpiece. It will change your life! 4. Rashad Becker - Traditional Music of Notional Species Vol. 1. This one I just heard for the first time yesterday. I don't even think it is out yet, but the tracks I heard sound amazing! I think he is known mostly for being a mastering engineer, but his tracks sound pretty incredible: 5. Because Hecker rhymes with Becker, I will mention Florian Hecker.
Kevin Harris/NNN Cook Tape Release Friday, August 2, 9 p.m. @ Schlafly Tap Room - free
Hearding Cats Collective presents: AQurld Waves w/ Kevin Harris, Mike Murphy and more Saturday, August 31, 8 p.m. @ Webster University - free
Do you know a project or band that should be considered for this series? Drop a line to fillintheblank@riverfronttimes.com.
Previously from our Fill in the Blank series: - Laika - Heavy Horse - Barely Free Partial Prisoners - The Defeated County - Lizzie Weber - Kenshiro's - B.E.L.L.A. - Superfun Yeah Yeah Rocketship - Humdrum - The Blind Eyes
Follow RFT Music on Twitter or Facebook. Follow RFT Music editor Daniel Hill on Twitter too, if you are into that sort of thing.