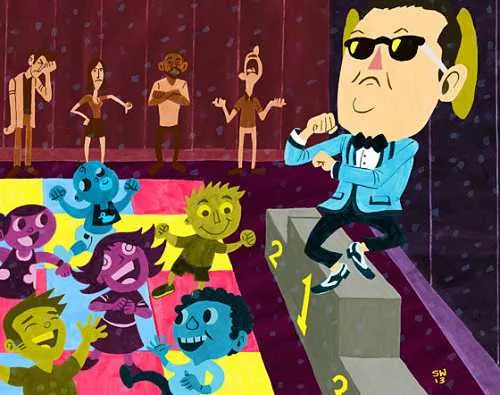 Illustration by Sam Washburn
In this week's RFT Music feature, we lock children in our conference room for an experimental musical adventure. Would they like terrible "Kidz Bop" covers? Would Raffi appeal to them? Is there any way we could make them sing along to The Clash?
The feature story answers some of those questions, and we're not going to lie -- the kids break our hearts a few times. Psy over Elvis Costello? Really? REALLY? But -- spoiler alert! -- watching them dance around like adorable crazy people does make our heart grow three sizes. Check out this clip of the kids listening to Wham; a couple of them think "Wake Me Up Before You Go-Go" is A-OK, while others can't wait for the song to be over.
The playlist for our focus group of curious kids spans traditional children's songs, kid-friendly covers, current and vintage teen pop and a few songs that make us RFT Music staffers crank the volume to 11. Got munchkins, yourself? Conduct your own experiment with our selections below, or check out our Spotify playlist.
Traditional Children's Songs
"Down by the Bay" - Raffi "Brush Your Teeth" - Raffi "Do Your Ears Hang Low?" - Lisa Loeb (link unavailable) "Everywhere We Go" - Lisa Loeb (link unavailable)
Covers Vs. Originals
"Some Nights" - fun. and "Kidz Bop" "Firework" - Katy Perry and "Kidz Bop" "I Gotta Feeling" - Black Eyed Peas and "Kidz Bop" "Ghostbusters" - Ray Parker Jr. and "Kidz Bop" "Wake Me Up Before You Go-Go" - Wham! and "Kidz Bop" "Photograph" - Nickelback and "Kidz Bop" "Are You Gonna Be My Girl?" - Jet and "Kidz Bop" "Gangnam Style" - Psy and "Kidz Bop" "Empire State of Mind" - Jay-Z and "Rockabye Baby" "Seven Nation Army" - White Stripes and "Rockabye Baby" "Stockholm Syndrome" - Muse and "Rockabye Baby"
Continue for Tay-Tay, Miley and Journey.
Teen Pop
"Mean" - Taylor Swift "Live While We're Young" - One Direction "Party in the U.S.A." - Miley Cyrus "Born This Way" - Lady Gaga "As Long as You Love Me" - Backstreet Boys "Hangin' Tough" - New Kids on the Block "Shake Your Love" - Debbie Gibson
RFT Favorites
"Rudie Can't Fail" - The Clash "Radio, Radio" - Elvis Costello and Attractions "Proud Mary" - Tina Turner "Beat It" - Michael Jackson "We Got the Beat" - The Go-Go's "Don't Stop Believin'" - Journey "Sunday Bloody Sunday" - U2
Chad Garrison
RFT Music attempts to ask kids about their feelings on Nickelback. It doesn't end well.
See Also: - The Top Ten Ways to Piss Off Your Bartender at a Music Venue - Ten Bands You Never Would Have Thought Used to Be Good - The Top 15 Things That Annoy the Crap Out of Your Local Sound Guy
Follow RFT Music on Twitter or Facebook. Follow RFT Music editor Daniel Hill on Twitter too, if you are into that sort of thing.