Booking Photo
Charles Manson
I'm like a lot of Internet-addicted losers out there, meaning that I read a lot about serial killers. Despite admitting that, I'm still not sure where I came up with this concept. Maybe it's because I'm going to the Gathering of the Juggalos for RFT Music in just over a week and I'm trying to mentally prepare myself.
See Also: - Six Perfect Songs for Getting People to Leave - Six Great Bands That Aren't Nine Inch Nails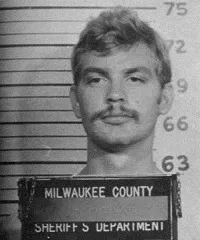 6. Jeffrey Dahmer - Black Sabbath
Jeffrey Dahmer was a man from Milwaukee who worked in a chocolate factory. He raped and murdered seventeen men over a period of thirteen years. Sometimes he disintegrated them in acid. While Dahmer was the subject of songs by metal bands such as Blood Duster and Slayer, he also spawned a concept album by the band Macabre.
Oddly enough, Dahmer himself was also a fan of heavy metal. A former barracks roommate of his in the army described him as a likeable guy -- that is, until he started drinking martinis and blasting Black Sabbath eight-tracks.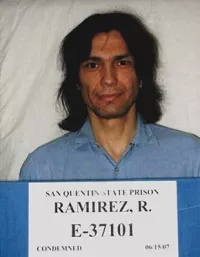 5. Richard Ramirez - AC/DC
Otherwise known as "The Night Stalker," Richard Ramirez died this year from blood cancer while on death row. Ramirez was infamous for the horrible violent rampages he committed in Southern California in the 1980s. He also claimed to be a Satanist, shouting "Hail Satan" and displaying an inverted pentagram drawn on his hand in the middle of his trial. Once, while he was being a horrible piece of shit invading people's homes and terrorizing them, he left an AC/DC baseball cap at the scene of the crime. Some speculate that his method of home invasion and murder was inspired by the AC/DC song "Night Prowler."
4. John Wayne Gacy - REO Speedwagon
John Wayne Gacy was an evil dude who dressed up like a clown. He murdered young men. He was pudgy and liked Kentucky Fried Chicken. While awaiting his execution, he replied to a survey someone sent to him and stated that he looked up to JFK, read William S. Burroughs and enjoyed REO Speedwagon.
I am not going to make a joke about how REO Speedwagon probably made him murder people.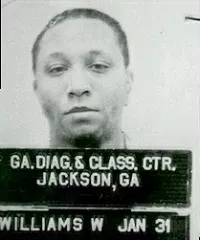 3. Wayne Williams - B.B. King & Bobby Bland
One of the most notorious child killers in history is Wayne Williams, a music promoter from Atlanta, Georgia. Williams was sent to jail for the murder of two adults; however, he was believed to have been the source of at least 23 of the 28 murders of young African Americans from 1979 to 1981.
Williams has always maintained his innocence in connection with the child murders and has insisted (along with others) that his implication was a conspiracy and that the killings were associated with the Ku Klux Klan. A DNA test in 2007 pointed further evidence linking Williams to the murder of an eleven-year-old boy named Patrick Baltazar. In 1995, Wayne Williams replied to a letter sent to him while he was in prison asking for sealed cassette tapes. First on the list was B.B. King and Bobby Bland's "I Like to Live the Love," followed by soul singer Tyrone Davis and blues singer Z.Z. Hill.
2. Arthur Shawcross - GG Allin
I really don't know what to think about this, and it seems almost too unbelievable to be true. One of the most evil serial killers ever being a fan of one of the most evil musicians around? I'm not going to go into too much detail because Arthur Shawcross' crimes are so disturbing and heinous, but you can read the tame version of them here. I'm also not going to go into too much detail about who GG Allin is, but I can sum it up for you by saying that he used to visit John Wayne Gacy in prison. Annnnnd....he ate and threw his own feces at people in the audience.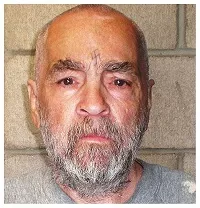 1. Charles Manson - the Beatles
Alright, suckers. We all know the Charles Manson thing, right? Yeah, he never actually killed anyone -- just commanded a bunch of followers of his to kill people. Charles Manson loved the Beatles and played the White Album to the family after believing the Beatles were trying to warn him of a race war that he had to trigger. And if things had gone ol' Charlie's way, he may have ended up meeting the Beatles before commanding freaked-out hippies to perform grisly murders. A musician himself, Manson famously palled around with Dennis Wilson from the Beach Boys (who supposedly ripped him off), the Mamas and the Papas, and once even got a motorcycle for free from Neil Young.
See Also: - The Top Ten Ways to Piss Off Your Bartender at a Music Venue - Ten Bands You Never Would Have Thought Used to Be Good - The Top 15 Things That Annoy the Crap Out of Your Local Sound Guy
Follow RFT Music on Twitter or Facebook. Follow RFT Music editor Daniel Hill on Twitter too, if you are into that sort of thing.