Getting your celebrity gossip from "TMZ" is soooooo 2009, dude. Each Thursday in "Twitter Litter," RFT Music rounds up the week's best meltdowns, ego battles and WTFness from rockers, rappers and DJs who aren't afraid of a little hashtag action. It's time to take out the trash.
Did you know that musicians read the rag mags and obsess about celebrities, too? Those crazy kids -- THEY'RE JUST LIKE US! This week, artists held their collective breath as they waited for Prince William and Kate to show off their new baby monarch and give a name to Britain's future puppetmaster. And when it all went down, boy, did our favorite tweeters have opinions.
Check out some royal baby notes from Charlie Daniels (@charliedaniels), Mark Hoppus of Blink-182 (@markhoppus) and Pete Wentz of Fall Out Boy (@petewentz):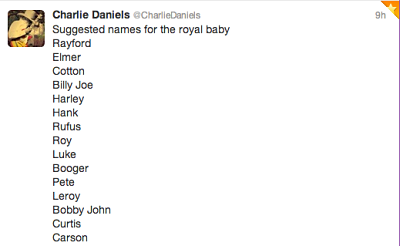 We think Dutch DJ Tiesto (@tiesto) is protesting a bit too much:

Meanwhile, Questlove (@questlove) has words for another couple with a new beh-beh:

Continue for Ryan Adams' feline love and Best Coast's thoughts on nipples.
Dear Ryan Adams (@theryanadams): We think you are a little bit crazy and a lot adorable. Please don't ever turn normal. Love: RFT Music.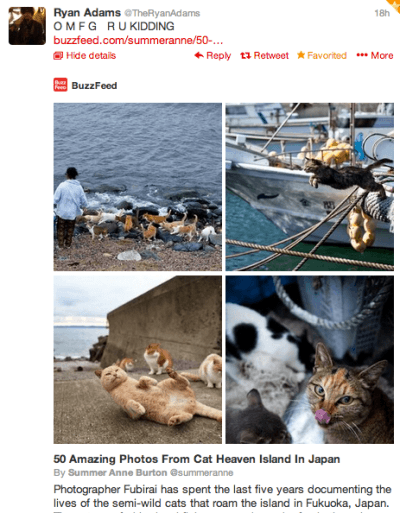 We'd actually adore this:
We love his deep thoughts on cereal: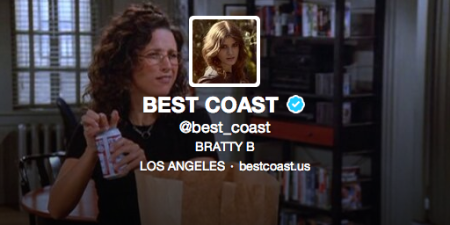 Bethany Cosentino of Best Coast (@best_coast) has strong opinions about shopping: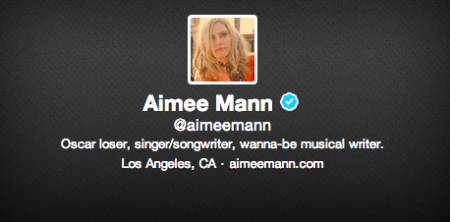 Aimee Mann (@aimeemann) and Ted Leo (@tedleo) have been making Twitter magic together for a while now (Remember when they visited the Pageant last year?). This conversation shouldn't be considered anything out of the ordinary:
It's just not "Twitter Litter" unless you have a little Murphy Lee (@murphderrty) action. Enjoy your weekly dose of Murph nuggets of wisdom!



And if you're the type who needs a little serenading in the morning, Murph's got you covered:
Got a favorite musical freak to follow on Twitter? Let us know at @rftmusic or @ambabka. Tag your tweet with #RFTtwitterlitter.
Follow RFT Music on Twitter or Facebook. Follow RFT Music editor Daniel Hill on Twitter too, if you are into that sort of thing.