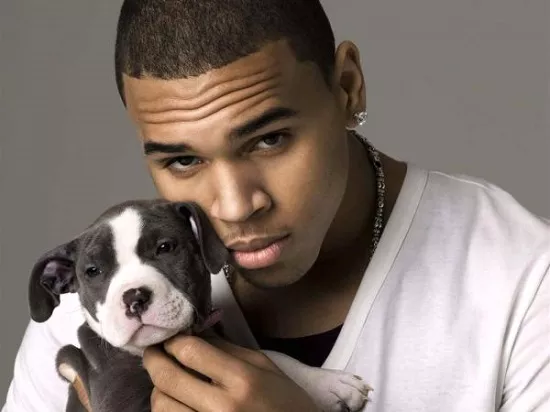 Press Photo
A misunderstood creature, often unfairly accused of violence. And then on the right, Chris Brown.
I took a class on domestic violence at the local community college earlier this year. When I wasn't listening to the kid behind me eat cheeseburgers or grimacing whenever this short girl echoed the last three words the teacher said and added "uh huh" or "yup," I was learning a lot. At one point, we watched a video of men talking to a journalist after regularly attending a domestic-violence class. It was incredible seeing a guy in a Monster Energy Drink hat and a radio-rock T-shirt talk about how patriarchal societies perpetuate violence against women.
Chris Brown went through a 52-week course in domestic violence. Supposedly.
See Also: - How Violent Idiot Chris Brown Continues to Play the Victim: A Timeline - Chris Brown Loves To Hit Women, According To A Speech Bubble Shrink-Wrapped Into His CDs
It's hard to say, given how Chris Brown has recently been asked to restart the 1,400 hours of community service he was ordered to perform. He has been accused of filing less-than-truthful paperwork, sometimes reporting he had performed community service on days he was clearly out of town.
I remember when I first saw Chris Brown. He sang that lame "Run It" song, and I thought he had a voice like a young Michael Jackson and looked like an darker-skinned version of my girlfriend at the time's ex-boyfriend.
I was impressed by Chris Brown while simultaneously wishing I could punch him in the face. And it was obvious -- the resemblance stirred up some resentment and I was upset at poor little Chris Brown, with his handsome face, nice white teeth and great vocal range. Or maybe that wasn't it.
Maybe I could just sense that Chris Brown was trouble. I remember about six years ago, my dad showed me a picture of himself as a child. He had a sarcastic smile and a bunch of freckles.
"Look at that kid," he said. "Take a good look, and tell me if you recognize what kind of little kid that is."
"I don't get it," I replied.
"That little kid is one of those troublemakers, the kind that did things wrong and lied about it all the time. Yep. A little asshole."
I felt a little bad thinking negatively about this guy I didn't know and never would even meet. But then Chris Brown beat up Rihanna and I thought, "Yeah, I knew that was going to happen." And as he kept running into problems, he seemed to get progressively dumber looking as he became more and more arrogant. He did what a lot of morons I know have done and got a bunch of tattoos at a young age and then started wearing a stupid leather jacket with thrash metal band patches on it. I've maintained a steady course on thinking that the guy is bad news.
And he is bad news, because the only time he appears in the media is to flash his award-winning smile as he's acting like a jackass. Like whining about how people aren't forgetting that he beat up his girlfriend (at least once) and making statements that he "lost everything" as he has released seventeen singles since the incident. Or getting into an altercation with Drake and subsequently writing lyrics insinuating that he's gay. And getting into a fight with Frank Ocean, a man who admitted to have been in love with a man before, and someone from Chris Brown's crew calling him "faggot" during the fight.
Or the current situation he's dealing with, facing the revocation of his probation after being accused of failing to provide his information after a fender bender.
Brown's new single, featuring previously unreleased Aaliyah vocals.
While he was smart enough not to pull a hit-and-run, the other driver states he refused to show her his driver's license. When she tried to take a picture of him and his girlfriend, Karrueche Tran, Brown allegedly snapped and started calling her names. Supposedly, Tran screamed "Don't touch her!" at her boyfriend as he attempted to grab the camera.
"Don't touch her"? Helpful words from a career concerned partner or the pleading of someone familiar with their partner's violent streak?
Meanwhile, it seems like Chris Brown and his people are behaving just as aggressively in tackling his tarnished reputation. Chris Brown sits around and tweets about God and praying. Chris Brown decides to establish something called the Unity Campaign, which he states is an effort for people of all races and sexual orientations to love each other. Chris Brown just released a song using vocals by deceased legend Aaliyah, who also wrote a song very clearly addressing domestic violence called "Never No More." Chris Brown also "helped" raise $50,000 for a domestic-violence prevention program by appearing at a fashion show.
I'm sure the list of positive and helpful things goes on, but it comes off the same way as Wal-Mart stocking organic produce, or Shell Oil claiming they're investing money in sustainable-energy solutions. It's just too easy to sit and imagine a tribunal of eight people sitting around a table saying, "How can we keep this kid making us money?"
It's hard to look at someone the same way after a domestic-assault incident. And truly, no one should be looked at the same way after such a thing. Violence begets violence. People who cause pain have nearly always suffered themselves. But the story of Chris Brown seems to ask, "How much is enough?" What exactly does Chris Brown have to do before he's no longer poised to put out hit songs while cameras follow him around?
I was talking to a co-worker of mine about Chris Brown, asking her how she felt about him. She said that she felt he was an insincere brat. I mentioned that he went through a yearlong course on domestic violence. She didn't care. So then I asked her how she felt about a controversial artist we were both fans of, Michael Jackson.
The world watched as Michael butchered his face. They watched as he became a recluse after being accused of molesting children. But Michael Jackson was never hated and scorned quite like Chris Brown has been. Whether they felt he was innocent or guilty, everyone said the same thing: "Oh, he had a really hard life growing up."
But we kept listening to him. And we kept paying attention to him. And we mourned openly when he died as a virtual sideshow attraction. But no one ever felt the need to call Michael Jackson a monster. The conclusion that my co-worker and I arrived on wasn't that Michael Jackson was a better artist and therefore was deserving of more sympathy, it was that something was obviously wrong with him before the allegations of molestation.
I met a man who worked with Michael Jackson. He said something very disturbing. While I can't remember his exact words, it went something like this: "Everybody knows that Michael Jackson molested children. But Michael Jackson made so many people so much money that no one dared to say anything."
There is something obviously wrong with Chris Brown. Whether he's the product of being a wealthy celebrity or a genuine psychopath, there needs to be a point in our society where we take a step back from someone's success and good looks and say, "OK, no more money for you -- it's time for you to take care of yourself." Unfortunately, Chris Brown isn't the only person who receives money whenever he appears on a new single, so we're likely to continue to watch Brown unravel until he's useless to the machines he's running.
See Also: - How Violent Idiot Chris Brown Continues to Play the Victim: A Timeline - Chris Brown Loves To Hit Women, According To A Speech Bubble Shrink-Wrapped Into His CDs
Follow RFT Music on Twitter or Facebook. Follow RFT Music editor Daniel Hill on Twitter too, if you are into that sort of thing.