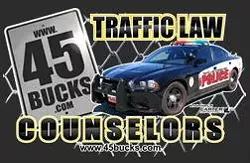 Got a bad rap? Traffic Law Counselors understands.
Quick. What time is it? What's the temperature?
You could find that information with a couple finger swipes on your smartphone or you could dial Time and Temp at 314-321-2522. The service, which provides an automated recording of -- you guessed it! -- the local time and temperature, has been around since the glory days of rotary phones, but it recently underwent a revolution of sorts.
This month attorney Mike Carter, owner of Traffic Law Counselors, began airing gangster-rap jingles on Time and Temp for his websites 45Bucks.com and DidYouBlow.com that cater to traffic scofflaws facing DUI, speeding tickets and the like.
Callers to Time and Temp were none too pleased with the change.
Click the play button above for the Time and Temp experience.
Since the jingles went up two weeks ago, Carter says he has received "hundreds of calls -- mostly against the rap." The outcry is baffling to Carter, who purchased Time and Temp from Bank of America in 2005 and considers his funding of the service something of a goodwill gesture to those who -- seemingly -- cannot afford a wristwatch or a weather thermometer.
"I couldn't believe it since the service is free, right? They don't have to call it at all," says Carter.
Also there's this: Carter has been running the same jingles on Z107.7 FM without fanfare.
"Traffic Law Counselors -- it's where we go when the po-lice hassle us!"
So begins the hook to the jingle for 45Bucks.com penned by Carter's brother Chad, a.k.a. rapper "Potent C" of Hempnotics, a St. Louis-based group that has been around since 1997.
Continue on to learn about the local rap artist behind the jingles.
After busting his ass for over a decade writing, performing and producing rap music with little big-time success, Chad Carter says he made a decision in 2009 to move "in a different direction." He teamed up with his brother, and the two began crafting tunes for Mike Carter's law business. They now have more than a dozen jingles.
"I just was just trying to make something catchy, something to stick in your head," says Chad of his work with his brother. "It's the goal of any song, really."
And perhaps there's hope for those callers of Time and Temp who don't appreciate the gangster rap jingles. Chad tells RFT Music that he's been working on expanding his repertoire to include a country version of the "Did You Blow?" jingle as well as a rock version.
"I like to think that I can write any type of song or any type of music," he says. "Never thought this was the way I'd make it on the radio."
See Also: - The Top Ten Ways to Piss Off Your Bartender at a Music Venue - Ten Bands You Never Would Have Thought Used to Be Good - The Top 15 Things That Annoy the Crap Out of Your Local Sound Guy
Follow RFT Music on Twitter or Facebook. Follow RFT Music editor Daniel Hill on Twitter too, if you are into that sort of thing.