Stephen Houldsworth
Heavy Horse is Jordan Lake, Dominick Valli and Seth Rodgers.
In this biweekly column, RFT Music gets to know local creatives, musicians and their missions. Get a slice of the local scene, complete with a snippet of sound and info about upcoming releases and shows. Stick around to see what St. Louis artists have to say whenever they Fill in in the Blank.
"Busy all the time" is a feeling we're all too familiar with. Musicians and longtime friends Jordan Lake, Dominick Valli and Seth Rodgers decided to name their band Heavy Horse to exemplify the desperation and day-to-day drudgery of what can sometimes feel like a workhorse life. Their intense, often synchronized and other times cleverly layered yells cut through, providing an outwardly expressive outlet set on top of simple but hard-hitting post-hardcore hooks.
When asked to describe the trio's music, guitarist Jordan Lake says, "Simple and honest. We don't try to over complicate our music. We let the writing happen and try not to over-think or overdo it."
Each member pitches in a hand with lyric writing, and musical influence comes from bands like Converge, Young Widows, Breather Resist and Frodus. Since Heavy Horse's inception in September 2011, they've performed in basements and venues in south city, where they all currently live.
This weekend, Heavy Horse will self-release its ten-song debut album, A Dialogue Between Us, recorded at a friend's house in January. Get a preview below.
We invited Heavy Horse to fill in the blanks ahead of their release show this Saturday. See what they had to say on the next page.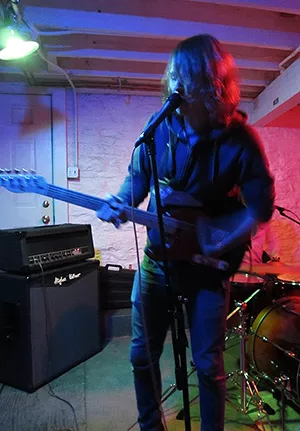 What I like most about St. Louis is... Jordan: the people. Everyone here is so talented no matter the creative outlet. Food, beer, music, art, etc. Everyone's also super nice and genuine. Seth: I can go wherever and run into at least one person I know, and if not, everyone I don't know is gonna be nice. Growing up, I always thought other cities were probably way better than St. Louis. I was wrong. Dominick: South city. There is so much involvement and excitement about the future. It is very grassroots and inclusive.
My favorite aspect of being in a band is... Jordan: the brotherhood. Creating and being open and honest with other people makes you extremely close. It feels more like family than just a band. Seth: band practice. Getting together every week, eating, drinking, playing music. It's like a little family reunion. It's great getting to collaborate within a creative process and then share it with others. Dominick: the community of musicians and friendships that are formed. The more I talk to other musicians, the more it becomes apparent that most of us are in this for the same reason. Music is our outlet and our therapy. We enjoy sharing it.
I'm most inspired by... Jordan: people's passion. If someone is really passionate and excited about what they are doing, it motivates and excites me. Seth: besides other music, I'd say art. When I look at paintings and drawings etc., I feel like I know what music they're making. As an artist, sometimes working with a particular media can help me write music better. Sounds crazy, but there you go. Dominick: the collaborations and creative endeavors of other artists. There are few things more inspiring to me than people working together towards a common goal of genuine self-expression.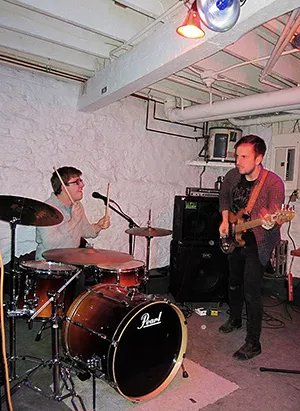 The St. Louis music scene could use... Jordan: more unity. Sometimes, it feels like there are multiple St. Louis scenes. I want more a family-like feel across the board. Seth: more basement shows. Dominick: more local support.
The best post-show food in St. Louis is... Jordan: beer and Taco Bell. Seth: pancakes. It's breakfast if it's after midnight, right? Dominick: Leftover pizza, whether its from Pi, Imo's, or whatever.
My first band was... Jordan: No Such Monster. We started the band before we could play our instruments, and that band continued for 6 years. Seth: life-changing, to say the least. I like to remember the brotherhood more than the music we wrote. Overall, it was something I'll never forget. Dominick: Loretto: Seth Rodgers, Guy Sargent, Josh Erhmann and myself. We were heroes.
Some current artists worth listening to are... Jordan: Young Widows, Good Luck At The Hog Slaughter, Metz, Converge, and Foxy Shazam. Seth: The Garden, Young Widows, Cloud Nothings, METZ, Deafheaven. Dominick: Native, La Dispute, Caravels, and I just can't get over how much I have been digging Macklemore.
Check out one of their videos and get info on upcoming performances on the next page.
Heavy Horse @ Blank Space | Video by Graham Matthews
Heavy Horse Album Release w/ White Fire Saturday, July 20, 9 p.m. @ The Heavy Anchor - $5
Heavy Horse w/ Greyscales, Anodes Saturday, July 27, 9 p.m. @ The Radskeller - $5
Heavy Horse w/ Beneath Oblivion, Grand Inquisitor, Cathedral Fever Friday, August 9, 9 p.m. @ The Firebird - TBA
Follow Heavy Horse via Facebook and Bandcamp.
Do you know a project or band that should be considered for this series? Drop a line to fillintheblank@riverfronttimes.com.
Previously from our Fill in the Blank series: - Barely Free Partial Prisoners - The Defeated County - Lizzie Weber - Kenshiro's - B.E.L.L.A. - Superfun Yeah Yeah Rocketship - Humdrum - The Blind Eyes
Follow RFT Music on Twitter or Facebook. But go with Twitter. Facebook blows.