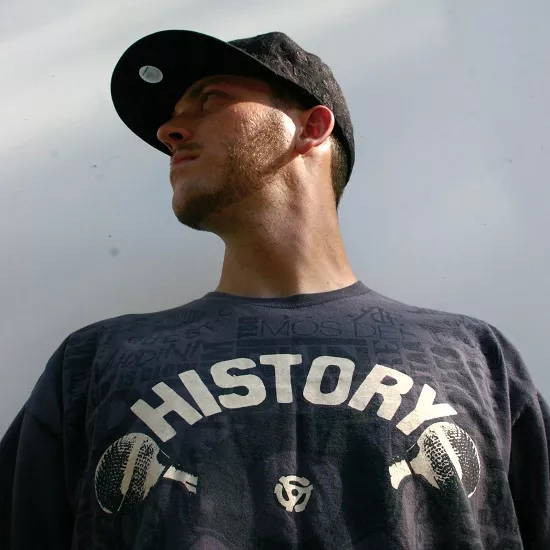 Long-time St. Louis hip-hop heads may have noticed a familiar face manning the decks at Killer Mike and El-P's Run the Jewels show last night. DJ Trackstar, who spent his first ten years as a DJ in St. Louis, is backing up the whole tour in his capacity as Killer Mike's touring DJ.
See Also: - Killer Mike and El-P Talk Run the Jewels and Rolling Blunts: "Fuck it, put it on the record." - DJ Trackstar's Farewell Show at the Gramophone
The Madison, Wisconsin native began DJing for Washington University's radio station 90.3 KWUR while he studied business administration and management. Since then, Trackstar made a name for himself with appearances at local hip-hop events like the Science and his numerous mixtapes, including the long-running Boogie Bang series.
In addition to his mixing and scratching skills, these mixtapes showcased Trackstar's networking and marketing abilities; famous rappers such as Lupe Fiasco and Royce Da 5'9 host many. All of these abilities served Trackstar well on his path to becoming Killer Mike's DJ. We caught up with Trackstar through email to discuss how he got the gig, the lingering effects of his non-profit hip-hop education program and his latest mixtape, King of Rock: (Some of) The Best of Rick Rubin (Ruined by Trackstar the DJ).
RFT Music: Can you give us an outline of you went from St. Louis to San Diego to Atlanta and how you hooked up with Killer Mike? I know you had mixtapes that featured national rappers hosting them. How did you make the connections to make that happen?
DJ Trackstar: I was able to get those hostings just by being active and in the right place at the right time. I would present my case for helping the artist become more relevant in the St. Louis market, and hope they saw it the way I did. Fortunately most of the people I approached were down to earth and willing.
I don't remember what website or magazine it was but Mike did an interview where he left his phone number at the end. Me being me, I called it with no plan, expecting a hotline or at best an assistant....but he answered. I quickly came up with a "Best of Killer Mike" mixtape concept while on the line with him, and asked him about it after we chopped it up about rap and St. Louis for a while. He said he was down, and eventually we put out Anger & Ambition in 2009 through the Smoking Section. Gotty from TSS put in a good word as well, which definitely helped my credibility with Mike.
That year at the A3C hip-hop festival I finally met Mike in person, and told him if he needed a DJ that weekend I was available and would love to back him up if needed. He replied that he was opening up for Rakim the next night and asked if I was available. Obviously I made myself available. From there, while I moved around from STL to Cali with my fiancee, Mike and I performed together when we were in the same city, mostly during A3C or SXSW, and apparently I did a decent job because he made me his tour DJ, I moved to Atlanta to facilitate working with him and it was exquisite timing. The next year he released R.A.P. Music with El-P, and we've now played Letterman, most of the major festivals, and a few hundred shows all over America and Europe. This year the Run the Jewels project is just opening up more opportunities to us -- its incredible to go from doing mixtapes and open mics in St Louis to becoming the DJ for the greatest rap group in America.
Do you feel the role of the DJ has been diminished in hip-hop? It seems DJing features less prominently in recordings nowadays. Do you think casual hip-hop fans are receptive to dj mix cds?
It has definitely been diminished...fewer records feature scratching, and fewer MCs use DJs onstage. There's less of an appreciation for scratches for sure -- even though there seems to be more scratching on TV in commercials for McDonalds and such. And technology has gotten to where MCs can -- note: can, not should -- run the music for their performances off an Ipod or CD player themselves. It may save them from having to pay a DJ to perform with them, but long-term it definitely hurts the quality of their show and lacks an important improvisational element of hip hop in their performances. Plus the MC has to handle any technical difficulties him or herself while also having to keep the crowd entertained.
As far as mix CDs, the internet has definitely hurt the market for them, but there are still plenty of fans who appreciate a well-curated, expertly mixed product. A Spotify playlist can present the same tracks, but a quality DJ mix always provides a better experience for a listener.
How did you go about creating your Rick Rubin mixtape? How did you try to encapsulate such a long and varied career within the span of a mixtape?
Like a lot of folks my age, Rick's early hip hop records with Run DMC, LL Cool J and the Beastie Boys were some of my first introductions to hip hop. I continued to follow his career through the '90s, and always marveled at his success with such a variety of acts.
When he got involved with Yeezus and was in the Magna Carta Holy Grail commercial, I noticed how many people seemed to have no idea who he was or what he'd accomplished. I searched and saw that no one had done a "Best of Rick Rubin" mixtape, and considered that a minor travesty. I only had a week before tour but I made time and knocked out a quick mix featuring some highlights of his career, and it has been very well received. So far the only major complaint has been that I didn't use enough Slayer. He has done so much amazing work that I knew I couldn't put it all into the mix but I did my best.
Do you still teach DJ workshops/hip-hop history lessons in Atlanta? If so, how do the students there compare to ours?
Since I moved to Atlanta, Mike and I have actually been on the road so much that I haven't gotten much of a chance to get involved there. I do support a great youth freestyle event in ATL called Soul Food Cypher, and also want to mention that while I was living in Los Angeles I was very involved with a really dope program, SessionsLA.
Sessions is basically a full realization of what I hoped to create with the C.R.A. in St Louis -- they teach 20-30 youths about beatmaking and rapping, put on monthly performances, release multiple collaborative projects each year, and most importantly introduce critical thinking and social components into everything they do. It's an amazing group of kids and instructors and I am proud to have been involved with them. In terms of comparing the youth, there are of course cultural contrasts (in St Louis most of the youth I ended up working with were Black, while Sessions has a very diverse group of Latino, Black and Asian youth), but they have more similarities than differences -- young humans growing up in poverty face a lot of the same issues and concerns, no matter where they grow up.
Trackstar alongside Killer Mike promoting a tour.
Do you still keep up with St. Louis' music scene? If so, how do you feel about it now? What do you think St. Louis could learn from Atlanta's scene and vice versa?
I do try to keep up with the St. Louis hip hop scene as best as I can -- the scene has definitely changed, and there are a lot of new names popping up that I don't know about. The little homie Ciej (who came up through the CRA) has fallen in with a talented group of young artists, and Doorway is another crew that I wasn't familiar with when I left that is doing some great things as well. I'm definitely still doing my best to push and support the guys I've been running with for years in St Louis - -Tef of course, Rockwell Knuckles, Family Affair and the rest of the crew.
The biggest change in the scene from my standpoint is the lack of institutions. When I got involved in the early 2000s there was the Science at Blueberry Hill, the Hi-Pointe Cafe, and other regular events that created a sense of community and family -- even if you didn't always get along with every member of the family. There was a natural process you went through to be accepted into those worlds that created a feeling of a responsibility to the scene.
Those events were a weekly meeting place, a venue to network and discover local talent you weren't aware of, and a place to learn from veterans in the scene and sharpen your skills. It seems like now everyone is moreso on their own, and the scene is more fragmented. I think those institutions are really important to a scene and I believe that not having them around hurts the culture of hip-hop in any city. Plus I personally miss the Science and Hi-Pointe a lot -- those were great memories for me and my crew.
What advice would you give to any DJ trying to make a path for themselves the way you did? Any advice specific to St. Louis DJs?
The hip-hop world and local scenes are so different now from when I came up, but there are principles that definitely still apply.
Pay attention to and learn from older DJs in the scene -- see the way they do things and adopt what works for you. I wouldn't be who I am today without spending countless hours watching and learning from Charlie Chan, Mike 2600, Fly D-Ex, Crucial, Needles and others...those guys were all mentors to me whether they knew it or not.
Do things you believe in and be very active. I may not have been the most skilled DJ -- and still may not be -- but I always had a real love for what I was doing, spent every waking hour trying to progress, and was everywhere I could be to meet other DJs and MCs to learn from and participate in the local culture. It was easy to put 1000% into everything because I only pursued projects that I was truly interested in, rather than taking opportunities that were trendy or wack just because it might be a quick paycheck or a good look.
The golden rule -- if you aren't a man (or woman) of your word, if you take advantage of people, or if you treat people poorly, it will come back to you in one way or another. You may get a taste of your own medicine, or word just may get around and folks won't want to work with someone with a suspect reputation. I've worked with, performed with and befriended thousands of artists, DJs and others over the last decade or so, and while I'm sure there are people who have their complaints about me, I don't think there's many who wouldn't admit that I'm a good dude. Be a good dude.
See Also: - The Ten Biggest Concert Buzzkills: An Illustrated Guide - The 10 Most WTF Crimes Committed by Musicians - The Glee Treatment: "Fuck That Shit" and Five Other Rejections From Bands
Follow RFT Music on Twitter or Facebook. Follow RFT Music editor Daniel Hill on Twitter too, if you are into that sort of thing.