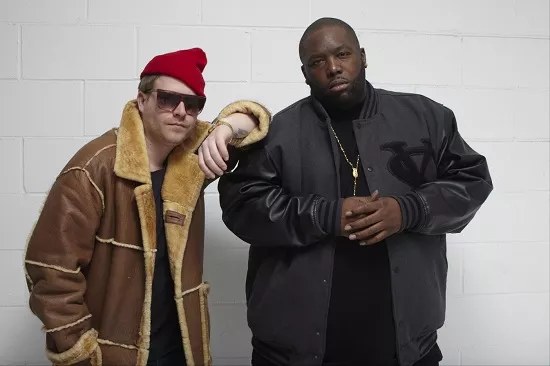 Press Photo
El-P and Killer Mike
Killer Mike and El-P have a bond that goes beyond explanation. Sure, they both make loud, abrasive rap music that often features painful introspection as well as political and societal critiques. And they are equally opposed to the cliquish mindset that is unable to reconcile a boisterous southern rapper -- who burst into the public's consciousness through mainstream Outkast guest features -- working with a brash New Yorker who made his name as a defiantly independent firebrand. But the duo's friendship goes deeper than these shared interests.
See Also: - Is Killer Mike the Best Rapper Alive in 2013? - The Best St. Louis Hip-Hop Shows in July: 2013 - St. Louis Named One of the Best Cities in the U.S. For Rap Fans by Complex Magazine
You can hear it in their music, dating back to their first full-length collaboration, last year's R.A.P. Music, wherein El-P's clattering, synth-blasted production is tweaked with southern organs to perfectly compliment Killer Mike's impassioned, occasionally twangy rapping. Killer Mike returned the favor by appearing on El-P's densely claustrophobic Cancer 4 Cure, also released last year. The bond is also on full display on this year's collaborative album Run The Jewels, which finds both artists rapping over El-P's beats. Both rappers have taken in each other's influence, and stylistically meet somewhere in the middle to form a lethal tag-team.
But the best place to see the chemistry between Killer Mike and El-P might be in conversation. The duo riff on and expand upon each other's jokes, enhance each other's ideals and come across as old friends who have known each other a lot longer than the few years they actually have. RFT Music was lucky enough to witness this as the pair talked about making a more "fun" album this time around and their upcoming tour, all the while gracefully putting up with our inept conference call interview skills.
Bob McMahon: I was reading about how you two met through Adult Swim. When did you realize that you clicked both as friends and artistic collaborators?
El-P: I mean, honestly? Kind of within a day. Really, no doubt. Like-
[A phone chime announces that Killer Mike as joined the conference call.]
Ohhh! There he is.
Killer Mike: Hey, guys.
El-P: Hi, Mike!
Killer Mike: How are you guys doin'?
El-P: We were already jumping into it. He asked us when did we realize we were clicking as collaborators and friends. I told him about 24 hours into our meeting each other, maybe even earlier.
Killer Mike: Yeah, that's for real. It was very early. I recall telling our mutual friend Jason [presumably Jason Demarco, the founder of Williams Street Records who introduced Killer Mike to El-P] after the first time we were together, "I love this guy." He got us to do the record. So somewhere in the stars, this was meant to be.
Do you think there was any tangible reason for the chemistry, or is it just one of those unexplainable connections?
El-P: We're just brothers, man. We didn't know it, but we are. That's all.
Killer Mike: Yeah, real shit. Like, I can't explain that shit. Like, when I talk about "it's my brother," I feel like I'm talking about my brother of another color from another mother. He's truly my brother. I don't even question shit like that. Too much of my life has been serendipity for me to question it. I just think serendipity has probably been my best friend, and that's my brother. A serendipitous moment. There's nothing wrong with that.
El-P: No doubt.
Killer Mike: I don't even really want to know why. I just want to keep making dope shit, and when we're 80 and about to die, we can figure it out. It's like the end of a Henry Fonda movie.
El-P: That lesson that went tragically unanswered.
Killer Mike: Yeah! [laughs]
El-P: Just when I figure it out, I die.
Killer Mike: Yeah, exactly. "This is why we are meant to be together. Goodbye."
Continue to page two for more of our interview.
On the Run The Jewels project, other than El-P doing more than one verse - which I know is not a small difference - did you approach this any differently than you did making R.A.P. Music?
Killer Mike: El gave the quote of the year to me. He just said, "For this record we took having fun as serious as we took being serious." We both went into this record knowing that we couldn't match the intensity from a place of vulnerability that I matched on R.A.P. Music, because no producer had ever pushed me there. El wasn't trying to replicate or re-do what he did for Cancer 4 Cure, 'cause that was years in the making.
But we knew what we could do, and what rap doesn't have and is really missing, is a joint album, a group album. One that is about one-upmanship of each other, one that's about competition, one that's about fun, one that's about attitude and swagger and being badass. And we knew we were smart enough and sensitive enough that the subject matter would seep in. We knew that "A Christmas Fucking Miracle" and things like that would seep in. But our focus really was on relaxing and just having fun and rapping dope shit for rap's sake. And we wanted to give this gift to the fans who had supported both records last year and put us both high on lists last year. We wanted to give them something for free. And it's almost like what you want an athlete to do after they win a championship: Talk that shit that you like to hear. That was my take on it. I'll digress with El now. That's what it felt like for me.
El-P: You know what this is? We both had serious, serious seasons last year. And then in our offseason ,we just decided to form the Harlem Globetrotters. [everyone laughs]
Killer Mike: Yeah, that's exactly right!
El-P: Like we just decided to just fuckin' kid about and just have fun, but at the same time make a real record. Like I said, we took it seriously. It's not just some bullshit we threw together. But the vibe of the record, it was a different mindset. It was just a completely different mindset. We felt like we had made a type of record with R.A.P. Music that satisfied a certain aspect of every rap fan's desire. You know, the record that moves you, the record that's powerful, the record that reminds you of some of the classic hip-hop records that changed the way people think about things. We felt like we had tapped into something there, but it was a much heftier thing. Then there's other types of records that we felt that we could tap into, and one of them was just like a record, you know? We saw an opportunity. And we wanted to just rap with each other.
Killer Mike: Yeah.
El-P: After going on tour and after doing records together, we were just like, "Yo, how crazy would it be if we made an album together?"
Killer Mike: Just rapping.
El-P: So that's what we did.
Other than Company Flow, had either of you had a group album?
Killer Mike: If you follow my twitter or Instagram, KillerMikeGTO, there's a legendary tape that people who've been following me since I first got with Outkast called Slum Lordz, and Big Boi's brother bought it. And it's actually the tape that got me my record deal, and it was called Slum Lordz Vol. 1. And there was just two black and white shotguns and like a Tec-9 or something on the cover. And it was just brutally hard. That tape my dad recently found cause he keeps everything from me. And I was like "I'ma re-press it and put it out."
Well, I was in a group with a guy named Zack and a guy named Tate. Me and Zack are still very close friends, love him to death. And that was the only other time I had been in a group, but as a group, we didn't get to get on. And that had always been kind of a, not regret of mine, but definitely one of those things I wish could have happened, you know what I mean? But life doesn't play out like that. I am from a group naturally, and I've always missed being in a group environment. I've always missed having someone I could depend on to push me, I could depend on to be there in terms of when you're writing your raps, you're throwing around ideas. So this for me is just optimally a dream. This a dream situation for me, and it makes me very happy.
El-P: I mean, for me, I started my career in a group scenario. It's something that I missed greatly. But at the same time, this version of that that I'm doing right now with me and Mike is such a different experience, just because I'm a fully formed person now. When I did the first group, I was just a kid. So I didn't really know myself and it was really tough. We didn't know what to do with fame when it his us. All the sudden, Company Flow, we got hit with success and it kind of buckled us a little bit because it just stressed us out, and we didn't know ourselves enough to be able to ride it out.
And this one, it's really cool because me and Mike already have our careers. We're established. We're doing our thing. We're not confused about who we are. And so this is a completely optional thing. This is something that we decided to do together. It's not defining us individually, it's just simply defining us together. It's a hell of a lot more fun that way, I gotta be honest. It's a hell of a lot more easy. But I always wanted to experience that again. I always wanted to do that again. To be able to look at somebody and be like, "Is this dope?". And they say, "Yes, you fucking psychopath. Stop it!"
It's a cool vibe, man. It takes a lot of pressure off you and at the same time it opens you up. Me and Mike, we've infected each other's styles. We've brought things out of each other that existed but that weren't necessarily encouraged or didn't have a context for. And we both come a little bit to the center with both of our styles and created this other thing that's not our individual shit. And I think it's beautiful. Honestly, for me, as a creative individual, it's a beautiful thing.
Killer Mike: In a weird way, it sewed the east coast together. Essentially, I'm from the southeast and he's from the northeast. And because I'm from the south and he's from the north, those regions had always been kind of separate in a weird way. But we just put it together. Like rap is supposed to be rap is supposed to be rap. I didn't lose who I was. I didn't lose my identity. I'm probably more of a southern emcee than before.
He didn't lose who he was or lose his identity. He's kickin' that furious, ill, crazy-ass super-lyrical shit that he as New York is synonymous for, and they meshed beautifully and well. I hold that in high regard, because the people I grew up looking up to did that. Bun B meshed with emcees from that region. Scarface meshed with emcees. And that's just like a check off my bucket list. I had always wanted to be one of those southern guys that did that. Me and El I think even progressed. We were just watching... What the fuck were we watching, El? The Stop the Violence shit. I was like "Oh shit."
El-P: Yeah, yeah.
Killer Mike: So it's just dope for me to knock down more barriers of what's expected. And just to make dope music together.
El-P: And we wanted to make something that was for all of us. That's one of the reasons that we gave it away for free. Because it was like, look, we want everyone to hear this. This is yours too. This is yours, no matter what region you're in, me and Mike got it handled. There is no "you're this type of person or you're this type of person" when you listen to Run The Jewels. You're a hip-hop fan. That's something that we really feel something about.
We really feel like it's our opportunity, and to some degree responsibility to help get rid of some of those fuckin' ideas that's ruining music for some people. Some people can't enjoy a record because they've got so much attached to it in terms of what it means to them to be the type of person who would listen to this record. But I think when me and Mike get together... the lines are really blurred. It's not any one thing. You're not an underground guy if you listen to Run the Jewels. You're not a commercial guy if you listen to Run the Jewels.
So what is it? It's just a record. And that's the way that we feel about music, and I think that's maybe one of the differences between guys who grew up when we grew up and guys who grew up now. Is that they don't have that luxury of having that memory. There was a time when people in Atlanta and people in New York were listening to the same records and getting inspired by the same records. I know this because two dudes were born in the same year on this earth called Jamie Meline and Michael Render [El-P and Killer Mike's real names], and we bonded over the same fucking records.
Continue to page three for more of our interview.
What can we expect as far as this upcoming tour? I know you two and DJ Trackstar will be on stage. Anyone else?
El-P: It's a crazy show, and it's a hell of a bargain for whatever the ticket price is because we've got Kool A.D., formerly of Das Racist, and then we've got Despot. And then we've got Killer Mike and El-P solo sets, and then we come back at the end and do a full Run the Jewels set. And for me I've got my dudes Little Shalimar and Wilder Zoby who are long time collaborators and friends. They're multi-instrumentalists and they're adding to the show, not only the El-P show but the Run the Jewels show. So it's a fucking event.
We wanted to come out and give an event and I think that people are going to walk away from this shit with their mind blown. Honestly, just in terms of energy and the that way we're setting it up, I'm really proud of it.
Killer Mike: Me too. And Trackstar's smashing on both sets, he's doing his thing. And shouts out to Shannon, and my man Jabee -- he's mashing with us too.
Cool, that's all of my questions. Thanks for doing this.
Killer Mike: Thank you, brother.
El-P: Alright, man. Thanks a lot.
Killer Mike: El, so you just stay on and wait for the next caller to come in?
El-P: Yeah, that's what I do.
Killer Mike: Alright.
El-P: We have like six minutes, so...
Killer Mike: Oh, ok. I'm gonna roll a blunt then.
I'm sorry, can I put that on the record? I hadn't hung up yet.
Killer Mike: You just NSAed us. [everyone laughs]
El-P: Fuck it, put it on the record.
Yeah, that's the big shocking headline: "They smoke weed." [everyone laughs]
Killer Mike: Alright, I'm going to hang up and roll the blunt, El. I've got five minutes.
El-P: Alright, peace.
Killer Mike and El-P 9 p.m. Wednesday, July 14 The Firebird, 2706 Olive Street. $18-$20
See Also: - The Top Ten Ways to Piss Off Your Bartender at a Music Venue - Ten Bands You Never Would Have Thought Used to Be Good - The Top 15 Things That Annoy the Crap Out of Your Local Sound Guy
Follow RFT Music on Twitter or Facebook. Follow RFT Music editor Daniel Hill on Twitter too, if you are into that sort of thing.