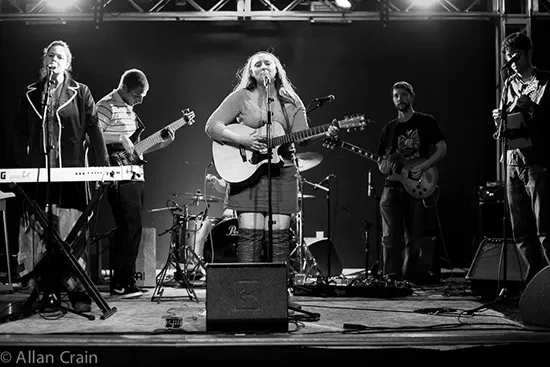 In this biweekly column, RFT Music gets to know local creatives, musicians and their missions. Get a slice of the local scene, complete with a snippet of sound and info about upcoming releases and shows. Stick around to see what St. Louis artists have to say whenever they Fill in in the Blank.
On a weekday afternoon in south city, Langen Neubacher pauses during a phone interview with RFT Music to coo at her house pets. "Sorry, my cat's licking my dog's face," she says adoringly, with a laugh. While the tag "singer-songwriter" can induce imagery of puppies and kitties just like these, Neubacher's music hasn't always rooted itself in the world of warm fuzzies.
Early on in her musical career, she donned black lipstick and thick eyeliner while playing keyboards in a goth rock band called Dolores. That influence isn't exactly obvious in the music of her current band, the Defeated County, but the dark and mysterious undertones cut through occasionally on its debut EP, set for release this weekend at Off Broadway.
See also: - A Review of the Defeated County's New Self-Titled Album - Singer-Songwriter: Meet the 2012 RFT Music Award Nominees
The Defeated County plays what Neubacher refers to as "creepy indie pop played on country instruments." She pours a primarily pop foundation with her strummed guitar and breathy vocals, leaving plenty of room for mandolin, pedal steel, drums and electric guitars to build up her songs. With influences such as Radiohead, Josh Ritter and PJ Harvey as well as muses including Kurt Vonnegut and the French Existentialist, Neubacher sings about relationships -- love and life relationships as well as the connection between personal and political worlds.
The Defeated County raised $935 through Indiegogo to self-record and produce its EP, out on fledgling local label, Extension Chord Records. Hear a track from it below:
We invited Neubacher to fill in the blanks ahead of the Defeated County's EP release this weekend. See what she had to say on the next page!
Allan Crain
Langen Neubacher (left) and Irene Allen.
What I like most about St. Louis is... the perfect blend of city life and country ease, especially in south city where I live. There are great bars, nightlife and music just like in a "big" city, but it's also completely okay to sit on your front porch in your PJs and have a beer on a hot summer afternoon. When my partner-in-crime, Ellen Cook, and I used to be roommates, we were pretty famous for sitting on our front porch in semi-matching mumus and drinking wine spritzers or other girly concoctions in the afternoons, and I can't imagine pulling that off safely and without judgement in just any old city! There is a small-town kind of love here that I just adore.
I make music because... I've always written songs in my head. Ever since I was child, it's been one of my favorite forms of writing. In the last few years, something just clicked that if I learned to play guitar, play well with other musicians and keep a beat, I could actually share my songs with the general public, and I love it!
I've learned the most from... all my awesome friends that have been musicians or involved in the scene longer than I have.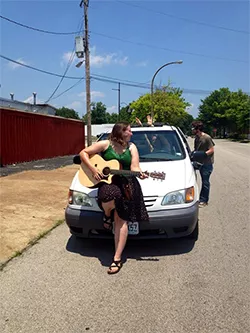 Je Dezusa
A still from a music video to be shown at the Defeated County's EP release show.
The St. Louis music scene could use... more folks that aren't directly involved in the business following the local music here. The St. Louis music scene is all love love love between the musicians and venues and artists involved -- it's beautiful, but I genuinely believe we've got some local talent that could compete with the best of national acts. We need more people outside of our circles to hear us.
The best post-show food in St. Louis is... El Broncho, on Cherokee!
My dream line up for a show is... a tricky question! Locally, there are a lot of great bands who we've been trying to line things up with but who we are never free at the same time as such as Humdrum, Union Tree Review, Sleepy Kitty, the Blind Eyes, Middle Class Fashion, the JumpStarts, and on and on! We're really really excited about our line up for July 13 though.
The most difficult lesson I've learned while playing music is... that as soon as you set yourself out there publicly, you give everyone a right to have an opinion about what you are doing! When I first started getting attention, I'd take it really personally when people said things about how they didn't think I was good and implied that I was only getting positive feedback because I was a girl or because, lived in the right part of town or whatever. A lot of time people didn't like my voice or the style that I played guitar in, and I'd hear every insult twice as loud as I'd hear any compliment. Learning to just take it easy and focus on making the music I make because I love it regardless of anything else has been really hard for me, and ultimately really good for me!
Click through for show info and a video.
The Defeated County's Indiegogo campaign video
The Defeated County EP Release w/ Cassie Morgan and the Lonely Pine, Fire Dog, Ellen the Felon, Les Gruff and the Billy Goat. Saturday, July 13. Off Broadway. 3509 Lemp Avenue. 314-773-3363. $10.
Follow the Defeated County via Facebook and Twitter.
Do you know a project or band that should be considered for this series? Drop a line to fillintheblank@riverfronttimes.com.
Previously from our Fill in the Blank series: - Lizzie Weber - Kenshiro's - B.E.L.L.A. - Superfun Yeah Yeah Rocketship - Humdrum - The Blind Eyes
Follow RFT Music on Twitter or Facebook. Follow RFT Music editor Daniel Hill on Twitter too, if you are into that sort of thing.