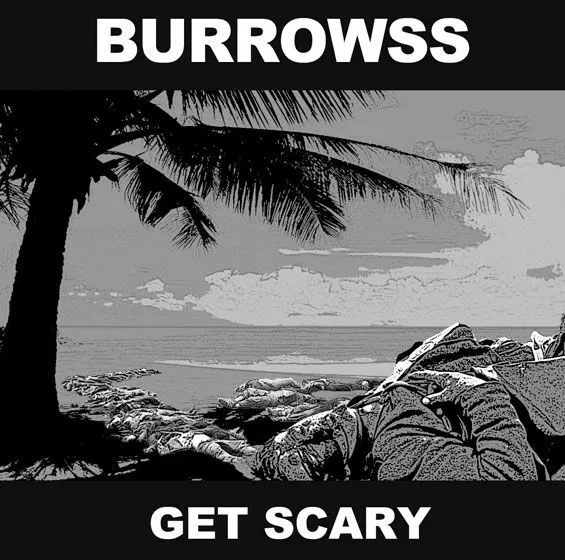 When I reviewed Burrowss' debut last September, I found the collection to be an enjoyable but hodgepodge series of songs -- lots of promise with no direction or distinct personality. Don't Take It Slow touched on lo-fi pop, roots-rock, garage-pop and a host of other hyphenated-genre bastardizations. For the six-song Get Scary EP, the band sharpens its focus on hyper and poppy garage rock, with principals Matt Stuttler (guitar and organ) and Emily Keefauver (vocals and keyboard) settling into their roles.
See Also: - Burrowss Debut Album: Review and Full Preview Stream
By beefing up the lineup (Bryan Perry and Jesse Kornhardt now compose the rhythm section) and embarking on a regional tour with like-minded duo Bruiser Queen, Burrowss has forged itself into a seriously fun and seriously rocking quartet. That's a hard balance to get right.
The tinny, Casio-borne drum intro of opening track "Teenage Wasteland" winks at the band's basement-pop beginnings but quickly shifts to Stuttler's fuzzy, sloppy riffs and the real-life drum fills of a kinetic Kornhardt. Any doubt of the band's rock cred is erased by the for-real guitar solo during the bridge. It's that kind of bait-and-switch that Burrowss is refining on these six songs.
Burrowss at Foam in December. Video courtesy of Stephen Houldsworth and Graham Matthews
The ba-ba-ba boogie of "Boy" is undercut by some ominous low-end synth squiggles and Keefauver's mantra: "I'm gonna kill for you." We've known that girl-group pop could be scary since the Shangri-Las, and it's nice to see it recast in this slightly more menacing light. Elsewhere, the quick-and-dirty spurts of scuzz-punk befit a release whose only physical iteration is on cassette (digital downloads exist as well). "I Wanna Get Drunk" has a title that speaks for itself, while "Runnin'" and Talkin'" are mirror images of each other, though Keefauver shows her range on the latter.
It's the title track that throws the biggest, juiciest curveball -- "Get Scary" starts out with spare drums and twangy guitar lines lifted from old Viva Voce records. At four-and-a-half minutes, the song is twice as long as almost every song on the program. Luckily, not one of those precious seconds is wasted, as the song moves from blues to arena rock to psych and back again. It's proof that while Burrowss has somewhat settled into a usable groove on this new EP, the band hasn't pigeonholed itself into anything stifling.
Get Scary Release Show Wednesday July 10, 2720 Cherokee 9PM CaveofswordS 10pm Cult & Leper 11PM Adelyn Rose 12AM Burrowss
Want your CD to be considered for a review in this space? Send music c/o Riverfront Times, Attn: Homespun, 6358 Delmar Boulevard, Suite 200, St. Louis, Missouri, 63130. Email music@riverfronttimes.com for more information.
See Also: - The Top Ten Ways to Piss Off Your Bartender at a Music Venue - Ten Bands You Never Would Have Thought Used to Be Good - The Top 15 Things That Annoy the Crap Out of Your Local Sound Guy
Follow RFT Music on Twitter or Facebook. Follow RFT Music editor Daniel Hill on Twitter too, if you are into that sort of thing.