Amy June Breesman
Priests - Friday, July 12 @ Schlafly Tap Room
Aaaaand we're back from the weekend show bender plus a full four days of chanting "U.S.A.! U.S.A.!" in a barbecue sauce and beer stained flag tee. This week, check out touring acts such as Lemuria, Gregory Alan Isakov, Luella and the Sun and more. Wrap up the week with the Indie Rock Ice Cream social and a free show featuring the Urge.
Lemuria Monday, July 8, 8 p.m. w/ The See, Trauma Harness, Times Beach @ The Firebird - $10-$12 By Michael Dauphin To call Lemuria a punk band wouldn't be off base, yet possibly misleading. With its last two albums, both produced by J. Robbins (Dismemberment Plan, Against Me!), the band has opened up its sound by easing up on the high-energy urgency of its past, in favor of more indie-pop-centric arrangements. The sugarcoated, nervy guitar work, the sideways, mathematical drumming and the bottomed-out bass noodling -- they're still there. Lemuria has gotten better, though, both technically and creatively. And on its newest album, The Distance is So Big, each player spreads their wings a little more, in ways that allow each arrangement more breathing room, including the vocals. Both singers, Sheena Ozzella and Alex Kerns, hit notes they never would have dared in the past, and who knows if a standard punk song would even allow it?
Gregory Alan Isakov Tuesday, July 9, 8 p.m. w/ Geoff Koch @ Old Rock House - $12/$15 By Roy Kasten With a dry and lonesome falsetto and a pocketful of tunes that beat the dungarees off most of his fellow troubadours, South Africa-born, Colorado-based songster Gregory Alan Isakov tells stories in limber lines. "Heartbreak drives a big black car / I was in the back seat, just minding my own" -- then, just when you think he'll fade into folkie verbomania, he'll stun you with a good chamber-pop arrangement or a Waitsian blues reverie. The first single from his forthcoming album The Weatherman, "Saint Valentine," has a swinging jazz-folk feel that should appeal to the pre-War hillbilly jazz life-stylers, but his songwriting is never a put-on.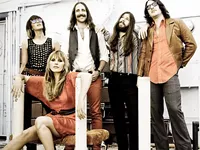 Grace Potter & the Nocturnals Wednesday, July 10, 7 p.m. @ Verizon Wireless Ampitheater - $40-$75 w/ Dave Matthews Band By Katie Moulton From this 2011 Q&A: "We're devoted to never nailing down exactly what we are," says the namesake siren of Grace Potter and the Nocturnals. Critics agree: Although they've called the Vermont-based classic rockers "big on the jam-band scene," and pegged lead singer-songwriter Potter as a "Dustier Springfield," that doesn't quite do the band's music justice. Fans don't seem to mind the ambiguity, however. Thanks to the steamy breakout single "Paris (Ooh La La)," the Nocturnals' bluesy retro rock -- and the band's vivacious, long-limbed frontwoman -- is flaring up in the public's consciousness.
Luella and the Sun Thursday, July 11, 8 p.m. w/ Lida Una, Melody Den @ Off Broadway - $8-$11 By Roy Kasten Guitarist and producer Joe McMahan is one the unheralded geniuses of American music -- unheralded unless you've been hanging out in the hipper parts of East Nashville for the last decade. As guitarist for Kevin Gordon and Webb Wilder (for starters), he's forged a spare, sliding, fierce style that sounds like no other guitarist on earth. He's now applying himself to Luella and the Sun, a post-blues, pre-punk rock 'n' roll band featuring brazenly sensual howler Melissa Mathes and a rhythm section that just sweats groove. With locals Melody Den and Lida Una, this could be the show of the week.
Priests Friday, July 12, 9 p.m. w/ What We Won't See, Kisser @ Schlafly Tap Room - free By Mike Appelstein Priests is a Washington, D.C. band in process as well as sound. The nation's capital has been fertile ground for raw, challenging punk rock since the late 1970s, and this four-piece band germinated in the same milieu of group houses, basements and semi-legitimate venues. Over simple surf drumming, busy basslines and Banshees-meet-Bratmobile guitar licks, lead singer Katie Alice Greer wails lyrics of politics and paranoia like Teenage Jesus-era Lydia Lunch. On Tape Two, a cassette-only release the band is selling on tour, the mood ranges from contemplative, roughly melodic gems like "Twelve" and "Lana," to incendiary rants such as "Leave Me Alone." It's a free show rounded out by two of St. Louis' finest experimental bands, the Krautrock-influenced Kisser and the Scratch Acid-style ooze of What We Won't See.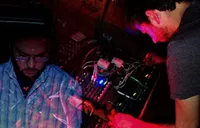 Ou Où Friday, July 12, 9 p.m. w/ Hands and Feet, Fumer @ Blank Space - $5 By Joseph Hess Ou Où (pronounced ooo, ooo) locks ambient drones into dancing rhythms. The duo inserts both cool and abrasive sounds alike, building a secure state of calm before ripping into colorful peaks and valleys. Electronica is treated as a purpose and not just as a platform here. Ou Où explores what could only be done through synthetic, digitized sound and turns its own respective genre of dance upside-down with improvised progression and startling transitions. Founding member Travis Bursik tends to keep his calm, holding down the status quo while Patrick Weston can't help but to squirm under the pressure of his own loops. Ou Où comes recommended for the hyper club-goer with severe ADHD, but you won't find the duo atop seedy raves or industry dance parties: Ou Où's sound feels much more comfortable in an art gallery or a dusty basement on Cherokee Street.
Indie Rock Ice Cream Social Saturday, July 13, 8:30 p.m. w/ Elsinore, Via Dove, Scarlet Tanager, Bear Hive @ The Firebird - $10 By Allison Babka Ice cream on a summer evening is blissful, but ice cream plus entertainment is downright exquisite. St. Louis bands and RFT Music Awards nominees Elsinore, Via Dove, Tanager and Bear Hive each bend the definition of "indie rock" a bit (is it genre or a way of producing music?), but they all pack heat when it comes to their sound, precision and creativity. Local comedians Kelsey McClure, Kenny Kinds, Emily Hickner and RFT's 2013 Standup Comedy Throwdown winner Jon Venegoni will perform between sets, and Serendipity will dish out ice cream all night long. With a night like this, there's no need for a cherry on top.
The Urge Saturday, July 13, 6 p.m. w/ Superhero Killer, Mathias and the Pirates @ Soldiers Memorial Plaza - free By Bob McMahon From this 2011 show review: "We have an announcement: The Urge is back!" While it was nice of singer Steve Ewing to mention this midway through his band's first set in six years, it was also totally unnecessary. From the moment Bill Reiter and Matt Kwiatkowski blasted the staccato intro of "Violent Opposition" out of their horns, it was obvious that the Urge was back and sharp as ever. The local funk/ska/metal heroes powered through a crowd-pleasing eleven song performance that, aside from two barely noticeable slipups, showed no sign of the sextet's layoff.
Mark Dew Sunday, July 14, 8 p.m. @ Hideaway - free By RFT Staff To walk into the Hideaway is to enter a place that seems frozen in time, where the dozen or so seats around the piano are packed with your grandparents' friends, decked out in chunky jewelry and tilted fedora hats. Ostensibly, they're here to listen to Mark Dew play — he's here Wednesday, Friday, Saturday and Sunday nights — but you're just as likely to hear one of those old-timers sitting around the piano trill Charlie Rich's "The Most Beautiful Girl." And when Dew finally has his turn at the mic, he'll say something humble, like, "I apologize; it should have been in the key of F." No matter. Dew is the conductor of this time-traveling train, and everyone's on board. Dew, who is blind, has been the piano man here for nearly a quarter-century and jokes that the best part about working here is, well, getting paid. He marvels at the younger set trickling in and its knowledge of the Cash and Sinatra songbooks: "The more the crowd gets into it, the more I play," Dew says. And that's enough to keep him around. "I'm not quite ready to be out to pasture," he says. "Yet."
Note: Though we wish we could, we can't feature every great show happening in town in just one measly post. Look for plenty more recommendations this Friday in our weekend shows post, and peruse the St. Louis concert calendar for more ideas any time. Let everyone know what you're looking forward to seeing this week in the comments below, and send show tips any time to clubs@riverfronttimes.com to be considered for inclusion on these lists.
See also: -Crotching Whiskey at the Justin Bieber Concert and Getting Thrown Out: A Review -The 15 Most Ridiculous Band Promo Photos Ever -The Ten Worst Music Tattoos Ever
Follow RFT Music on Twitter or Facebook. Follow RFT Music editor Daniel Hill on Twitter too, if you are into that sort of thing.