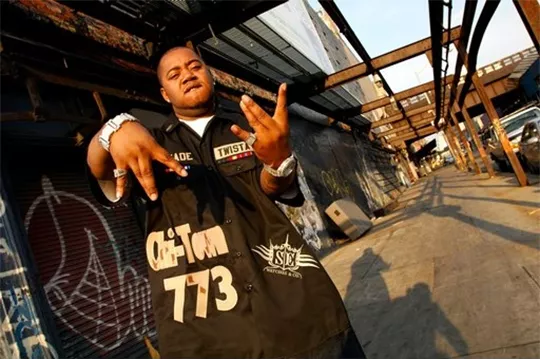 Twista - Saturday, July 6 @ Old Rock House
Shuttup fireworks, you're drunk. If you've seen and heard enough kaboom-y photos and videos to last through 'til next year, get as far away from the sounds of explosions as possible by hiding out at a show or two this weekend. Big Muddy Records brings the noise with a fish fry, Twista takes over the Old Rock House and Skarekrau Radio puts out a new album. Didn't catch a glimpse of the the evening sky filled with expanses of color? Fair St. Louis goes on. Check it out.
See Also: - Nappy Roots, Voodoo Glow Skulls, Pastor Troy, Kenny Loggins and More in This Week's Show Announcements
Friday (July 5):
Big Muddy Records Fish Fry w/ Southwest Watson Sweethearts, Mat Wilson and Little Rachel, Lonesome Cowboy Ryan & His Dried-Up Teardrops, The Hobosexuals, Jack Grelle & the Johnson Family, Bob Reuter's Alley Ghost, Rum Drum Ramblers @ Off Broadway 6 p.m. | $7-$10 Food's included while it lasts, so arrive on time! Music kicks off right away, and Big Muddy don't mess around. Neither does Off Broadway.
Connor Christian and Southern Gothic w/ Old Capital Square Dance Club @ The Demo 8:30 p.m. | $10-$12 Connor Christian was a world-traveler before he was even a teenager, having taken up residence in South Korea, Indonesia and Belgium. Born in Los Angeles, Christian has taken the influences and cultures of his travels and poured it into this southern-rock country group. (DH)
Fair St. Louis w/ Bret Michaels @ Gateway Arch 8 p.m. | free The patriotic party continues downtown with live music, a frenzy of fireworks, and a performance by Poison's Bret Michaels. Catch him tonight or head down on Saturday to see Counting Crows. (MS)
Lizzie Weber CD Pre-Release w/ Rachel Brandt, Audri & Aaron @ Old Rock House 8 p.m. | $7 St. Louis singer-songwriter Lizzie Weber has been playing the piano since she was eleven and guitar since she was eighteen, influenced by artists such as Fiona Apple and Josh Ritter. (DH)
New Orleans Suspects @ Broadway Oyster Bar 10 p.m. | $13 Following the disbanding of venerable group the Radiators in 2011 (after 34 years!), some of that band's members started the New Orleans Suspects, a supergroup comprising some of the most respected players in New Orleans. (DH)
Also on this evening, check out Farshid Etniko and Tideland. Click the links to learn more.
Elizabeth McQueen Meets Brothers Lazaroff - Sunday, July 7 @ Atomic Cowboy
Saturday (July 6):
Harvest Sessions w/ Arthur & the Librarian @ Tower Grove Farmers' Market 10 a.m. | free How's this for a way to start your Saturday? Shop for fresh local produce, devour some crepes prepared on site and let the little ones splash around in the wading pool, all to the soothing sounds of 2013 RFT Music Award nominees under the folk category, Arthur & the Librarian. (MS)
Twista @ Old Rock House 8:30 p.m. | $25-$50 Twista can rap faster than your favorite rapper and will master any tongue-twister you would dare to throw at him. From Chicago, Twista has been playing St. Louis a lot lately; this is a good thing. (DH)
Will Hoge plays Off Broadway and the Reptilian rocks the Radskeller this evening, as well. Click the links to learn more.
Sunday (July 7):
Elizabeth McQueen Meets Brothers Lazaroff w/ DJ Pome, Thelonius Kryptonite @ Atomic Cowboy 10 a.m. | free Elizabeth McQueen, of country outfit Asleep at the Wheel, joins forces with Brothers Lazaroff to celebrate the release of their single together, "Gone Solid Gone," off of an upcoming EP. Enjoy it over brunch! (MS)
Cellular Chaos w/ Skarekrau Radio (Album Release) @ Apop Records 9 p.m. | $5 Your Sunday just got a lot stranger. RFT Music spoke with Skarekrau frontman Rick Wilson last year about his new album, and it's finally seeing the light of day. Read about it here, and pick up a copy in person while checking out Weasel Walter (of the Flying Luttenbachers, XBXRX, Lake of Dracula and Behold... the Arctopus fame) as he slaughters strings in a crazy new female-fronted noise rock band. (MS)
The Fleshtones w/ St. Paul and the Broken Bones @ Off Broadway 8 p.m. | $12-$18 Queens, New York's the Fleshtones formed in 1976, playing garage-rock and sharing a practice space with the Cramps. (DH)
If you're a big softie, consider seeing John Mayer instead.
Note: Though we wish we could, we can't feature every great show happening in town in just one measly post. Peruse the St. Louis concert calendar for more ideas any time. Let everyone know what you're looking forward to seeing this weekend in the comments below, and send show tips to [email protected] to be considered for inclusion on these lists.
See also: -Crotching Whiskey at the Justin Bieber Concert and Getting Thrown Out: A Review -The 15 Most Ridiculous Band Promo Photos Ever -The Ten Worst Music Tattoos Ever
Follow RFT Music on Twitter or Facebook. Follow RFT Music editor Daniel Hill on Twitter too, if you are into that sort of thing.