[image-10]
July 4th lands on a Thursday this year, but don't mind us for getting the celebration started way early this week. Read on for some recommendations on how to make that happen. Check out the next Tower Groove Records Singles Club seven-inch release, party with the Lion's Daughter, experience the world music of Farshid Etniko and much more.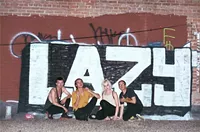 Lazy Monday, July 1, 9 p.m. w/ Sauna, Big Blue @ Foam - $5 By Mabel Suen Lazy plays laidback Midwest fuzz punk laden with pop and simple, fun-filled subject matter. Reminiscent of a care-free era they probably weren't even alive yet to see themselves, the Kansas City rockers present the finer points of lo-fi power chord pounding in short but sweet basement-born party anthems.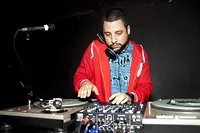 DJ Mahf Tuesday, July 2, 10 p.m. @ Pin-Up Bowl - free By Blair Stiles DJ Mahf works from some place in his brain that pumps out enough enthusiasm to make his work look easy. Performing with a chilled zeal, the Indyground DJ interplays dense minutes of thumping samples with crackling movie clips and fine-tuned, one-and-two-handed scratches. He has already banged around Kansas City's spirited Middle of the Map Festival with labelmate Brett Gretzky, crossed the northern American border and cut and pasted for Red Bull's Thre3style competition this year. Whether live or replayed through Indyground's streaming footage, Mahf exudes the enjoyment he feels: In tempo he bobs at the waist, moving faster in the moments when he is inundated with the floor's energy, always looking pleased. It is Mahf's obvious enjoyment of his craft that puts his sets so squarely in the spotlight.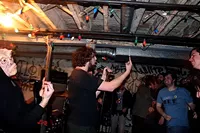 Tower Groove Records Singles Club 7" Release Wednesday, July 3, 9 p.m. w/ Maximum Effort, Shaved Women @ CBGB By Joseph Hess Maximum Effort's conspiracy-rock for cautious punks tears through notions of well-being in our river city. Frontman Zeng belts out vocals like a sideways preacher, gasping for air between words telling of the shadow government and imparting cautionary tales that feel like dangerous anthems. Striking guitar riffs drive alien conspiracy theory with a damaged vehicle. Maximum Effort asks you to heed its call — after all, this is not a band; it is an awareness group. Behind the curtain is a revelation, an enlightenment built on power chords and feedback. Maximum Effort feeds our fears with what could very well be the truthiest of truths.
The Lion's Daughter Thursday, July 4, 8:30 p.m. w/ Fister, The Fuck Off and Dies, Better Days @ The Demo - $5-$8 By Jaime Lees From this 2012 show preview: When the Lion's Daughter debuted, it was clear that this wasn't going to be the average Midwest metal band. First of all, it was loud as hell. The band is only three dudes, but it's absolutely thunderous. Rick Giordano, Erik Ramsier and Scott Fogelbach make songs that are dark, aggressive and even a little flashy. Giordano's metal growl is mixed with just a bit of goblin, adding a horror-vibe to many of the songs on its impressive first full-length release, Shame on Us All. The album is not just quality, it is all local — it features artwork by Coby Ellison, it was recorded by Brian Scheffer and Firebrand Recordings and it's being released on the Pissfork label.
Farshid Etniko w/ Sandy Weltman Friday, July 5, 7:30 p.m. @ Jazz at the Bistro - $10-$20 By RFT Staff The definition of "world music" may vary greatly depending on whom you ask, but by bringing together influences from four different continents, Farshid Etniko surely qualifies. Guitarist Farshid Soltanshahi was born in Iran and educated in Paris before coming to St. Louis, and that worldly background has provided a variety of experiences and influences to inspire the band's music. Farshid's acoustic guitar and the superb Sandy Weltman on mandolin and harmonica lead the way. Call it Latin jazz with a Persian touch -- or call it original, intriguing and entertaining.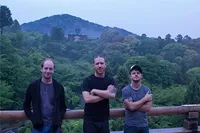 Tideland Friday, July 5, 9 p.m. w/ Trauma Harness @ Foam - $5 By Mabel Suen Tideland echoes the throes of the '90s with a modern blend of intense grunge, shoegaze and punk. Vocals get crooned over a noisy pop wall built up by guitars, with whispers of influences including Dinosaur Jr., Nirvana and Sonic Youth peeking out from underneath dense chords and hard-hitting drum hits. The feel-good, forward-moving songs sound like they're dunked under salty sea water, warbling from residual reverb and desperate yet determined to find its land legs.
Will Hoge Saturday, July 6, 8:30 p.m. w/ The Incurables @ Off Broadway - $15-$20 By Allison Babka Well over a decade ago, Will Hoge washed through St. Louis as backup for one of Aussie band Midnight Oil's final tours. His music -- usually about broken hearts -- was youthful but solid; you just knew this guy with the Springsteen sweat, Otis Redding soul and Merle Haggard twang was going somewhere. These days, Hoge is the headliner, with lyrics and bandmates that have matured with him. The heartbreak still is there, but it sits alongside war, poverty and other dark shadows in songs that inspire and ignite. A master when plugged in, Hoge is even better when he takes his beat-up old acoustic and sings while wandering through the audience Grand-Ole Opry style. Don't leave early.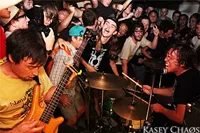 The Reptilian Saturday, July 6, 8 p.m. w/ Alta, Foxing, Anodes, Strangers Now @ The Radskeller - $5 By Joseph Hess The Reptilian tears through quick, twisting songs of wiry riffs. The power trio line-up pounds through pieces bound by jazz glue. The Reptilian's key sound comes from sharp fret-tapping, where guitar and bass intertwine with a striking rip. The sound feels informed by equal parts emo and math-rock, where throaty screams glaze over shape-shifting beats. Each song remains fierce with tight structure, while the Reptilian's pop leanings poke out from behind the subversive sound. Dan Riehl manages to eke out lead vocals from behind the kit, which he bashes with unbridled force. Russ Wagner bends his ax in accordance with Riehl's percussive drive, lending melodic context to the dense drum-play. John Sacha's murky bass bonds with deep overdrive. The Reptilian pushes a deeply involved, fresh take on punk rock.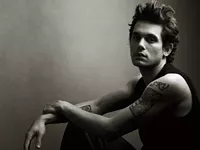 John Mayer Sunday, July 7, 7 p.m. w/ Phillip Phillips @ Verizon Wireless Ampitheater - $36-$75 By Christian Schaeffer From this 2010 show preview: Hating John Mayer has grown from a hipster pastime into a full-contact sport. Following a particularly damning Playboy interview -- in which he spoke crassly of his celebrity bedmates and dropped a racial epithet -- Mayer caught flak from every corner of the Internet. Perhaps it's a sign of the times that more people follow his Twitter account (@johncmayer) than his musical exploits, but Mayer's failed career as a raconteur has been a reminder that he should let his guitar do the talking. After all, he's one of the few modern musicians who can coast on only his charm, blue-eyed-soul vocals and nuanced, blues-guitar playing.
Note: Though we wish we could, we can't feature every great show happening in town in just one measly post. Look for plenty more recommendations this Friday in our weekend shows post, and peruse the St. Louis concert calendar for more ideas any time. Let everyone know what you're looking forward to seeing this week in the comments below, and send show tips any time to clubs@riverfronttimes.com to be considered for inclusion on these lists.
Follow RFT Music on Twitter or Facebook. But go with Twitter. Facebook blows.