Melissa Maciorowski
Antonio Leone, Julio Prato and Joe Bayne of Kenshiro's.
In this biweekly column, RFT Music gets to know local creatives, musicians and their missions. Get a slice of the local scene, complete with a snippet of sound and info about upcoming releases and shows. Stick around to see what St. Louis artists have to say whenever they Fill in in the Blank.
Kenshiro's, which released "bootleg" live performance, #whereareyoujoe, this spring, calls its home-base a basement in St. Charles, but the small county town isn't necessarily where the members of the garage-punk trio come from. Curly-headed guitarist and vocalist Julio Prato hails from Caracas, Venezuela, where he's spending the summer, and bassist Antonio Leone currently basks in the salty sea air back in his home city of Lucera, Italy. The two will rejoin forces with their drummer, Joe Bayne, a St. Louis native, when it's back-to-school at Lindenwood University this fall.
Named after the savage and powerful lead character of classic anime, Fist of the North Star, Kenshiro's packs a corresponding wallop with its raw and relentless garage'n'roll. Simple yet powerful chords shakily traipse between strummed and stabbed motions, and the boomy rhythm section holds down frontman Prato's howls and squealing guitar licks as they attempt to fly away in an electrifying frenzy. The self-described "basement punk for the unworthy" provides with upbeat, dance-worthy songs generated from youthful souls.
Kenshiro's hopes to record its first official album this fall. The #whereareyoujoe demo was recorded live at Foam during a show with Volcanoes, Rigoletto and Plaid Dragon, and includes a Violent Femmes cover. Listen below!
We invited Kenshiro's to fill in the blanks. See what they had to say on the next page!
What I like about St. Louis is... Julio: how everything seems connected. Cherokee Street seems like some sort of temple and after three or four shows, you feel like you know everyone. There's a really tight connection between all of the underground artists and that's always cool to see. Antonio: diversity. Even when not widely accepted or fully understood, it is present -- for observation, discussion, and admiration. It's there. Joe: the attitude and people. It seems like everyone else in every other non-Midwest town is mean-spirited or stuck-up on the idea that they have to seem like someone cool. People here are just chill and themselves. I love it.
My favorite aspect of being in a band is... Julio: being in this band. Ever since we started, we have developed a really tight chemistry that has allowed us to connect on each rehearsal really easily and work out new songs like it's nothing. It's nice to start a band and develop a connection that quickly. We've been Kenshiro's for about 4 months now but it feels like a lot more time. Antonio: having the opportunity to experience the greatness of live shows with close friends with whom you can share the stage, not to mention the convenience of three-way gas money divisions. Joe: there isn't any set scene here, so what we get is a lot of different bands with a lot of different styles sharing the same stage. You get variety and lots of creativity that way.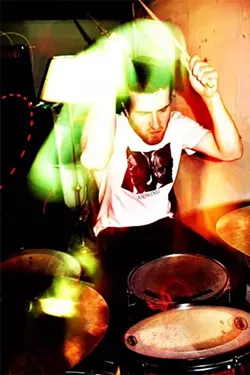 I've learned the most from... Julio: Eric Peters, the drummer from Volcanoes. He's a really close friend of all of us and he has helped us all the way with everything, even lending us his gear when we were a bunch of broke immigrants with no amplifiers. He has also introduced us to the St Louis scene and really helped us propel ourselves into that stream. We will always thank him for his help. Antonio: Joe Bayne. Don't drink more than you can handle unless you trust your band-mates with your instruments. Although even when you confide in them completely, don't pass out: pieces of the drum set WILL be lost. Joe: Pabst Blue Ribbon and talking to homeless men after lots of it.
The St. Louis music scene could use... Julio: more drive to get outside. St Louis is great but I feel like it needs a different approach to making it nationally. There's so much fantastic music being made in the city, I wish I could see So Many Dynamos headlining Coachella or something like that. I've gained a lot of respect for the scene because I discovered that I actually enjoy the music quite a bit, so I would like to see those bands propelling themselves into the national territory so that the country starts looking at St Louis and realizing the scene is worth a lot more than what people think. Antonio: immense free expanses of square meters, along with the metric system and empty warehouses for shows to flourish wildly around the city. Joe: more and more basements shows. Every show is great when it is in a basement that belongs to some music lover.
Continued on the next page!
The best show I ever played was... Julio: the show I recorded for the #whereareyoujoe bootleg at Foam. It was simply fantastic. The lineup was killer back to back, the audience was fierce and exciting, and the mood was of pure fun. I loved it! Antonio: probably our first unofficial basement showcase for the enjoyment of birthday boy Cole Figus, proud Milkshed dweller and owner along with Volcanoes' very own Eric Peters. With the right amounts of light and beer, respectively poor and excessive, fifty people can seem like a wild stampede directed at you in a wavy tribal dance. Joe: Julio says the Foam/#whereareyoujoe show, but so far I think I loved our first unofficial basement show that was put together in like a day. So much love was in that room. One guy even told us that it sounded like he was transported back into an 80's punk concert because of our energy,
The best post-show food in St. Louis is... Julio: QuikTrip because we are all broke all the time. Antonio: a dollar menu or pocket friendly combo. One day I'll elevate from Rally's -- I promise. Joe: more beer.
The dream line-up for a show is... Julio: any show with Volcanoes. We love playing with them and it has become like a thing where we play and then they play and I jump in at the end of "A Knife in the Dark" to play drums. It's extremely fun and we love those guys. Boreal Hills is also a damn fun band to play with, they're fierce garage rock so we blend in really nicely and set that raw mood with ease. We love playing with garage bands in general because Antonio and me are always looking for new garage music to listen to. Antonio: the smashing firepower of the duos Volcanoes and Boreal Hills. We will all come together one day, hopefully in an abandoned warehouse. Joe: Including us? What Julio said, although we already got to play with Rigoletto, and that was a music nerd's dream come true.
Follow Kenshiro's via Facebook and Twitter.
Do you know a project or band that should be considered for a feature? Drop a line to [email protected]
Previously from our Fill in the Blank series: - B.E.L.L.A. - Superfun Yeah Yeah Rocketship - Humdrum - The Blind Eyes
Follow RFT Music on Twitter or Facebook. But go with Twitter. Facebook blows.