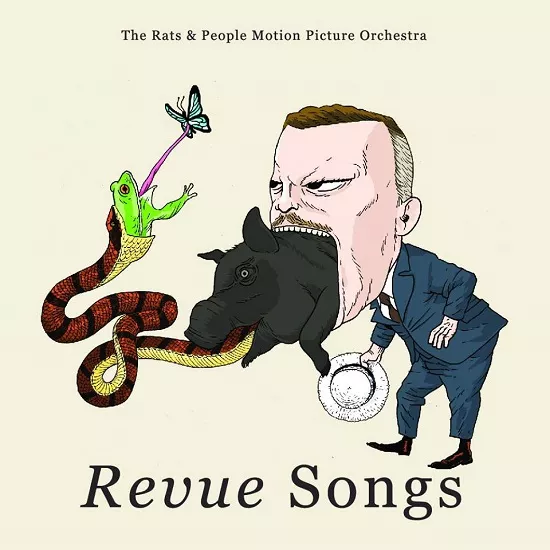 Perhaps you were one of the estimated 60,000 or so who saw Shakespeare Festival St. Louis' production of Twelfth Night in forest park over the past few weeks. If so, you probably noticed that on-stage music played a much larger role than in years past -- in the play's fictional Illyria, we learn early that music is the food of love, after all.
See Also: - The Rats & People Motion Picture Orchestra Composes Music For the Shakespeare Festival's Production of Twelfth Night
The original score was composed by the Rats & People Motion Picture Orchestra principals Matt Pace and Brien Seyle, and Seyle even made his stage debut as a member of the musical troupe. It was the most high-profile gig yet for a band with an increasing presence in the local arts scene. In April, R&PMPO performed its original score for Erich Von Stroheim's two-and-a-half hour Greed, the most ambitious and fulfilling of all the group's silent film scores. The Shakespeare Festival's imprimatur gave the sextet mainstream recognition for what its fans and supporters have known for a few years: The Orchestra's skill and ambition is unparalleled in town. It was only a matter of time before the upper-tier arts organizations in St. Louis took notice.
Early in Twelfth Night, the heroine Viola tells an aide, "Conceal me what I am," before embarking on a cross-dressing double-life that drives the play's focus on identity and duality. That line serves as a good motto for the Rats & People crew as well -- while the band has its hallmarks (muted brass, florid string work, spare percussion), the players tend to melt into its chosen iteration in service of the project. So for Revue Songs, the Rats & People Motion Picture Orchestra recorded six songs taken from the poems of American poet Wallace Stevens. The suite was originally performed last September at the Pulitzer Foundation for the Arts, and to bring these poems to life, R&PMPO enlisted the high, operatic vocals of Natalie Huggins and the cello of Liz Myers, both of the chamber-pop band Wax Wine.
Stevens is both an engrossing and confounding poet, but for all of his wonderful abstrusities, he makes an ideal candidate for translation into song: His verses keep a pretty strict metrical rhythm, and his word choice, while obtuse in place, is always mellifluous. Wrapping your mouth around words like "concupiscence" (a holy yearning) or "somnolent" (drowsy) or "flagellants" (a practitioner of religious self-mortification) is a big part of the fun with reading Stevens' work aloud, and that goes double for putting those words into song. Huggins is a solid interpreter of the text, and the Rats & People crew has taken care with the arrangements -- a considerable feat for a band whose very genesis was the belief in the ability for music to take the place of words.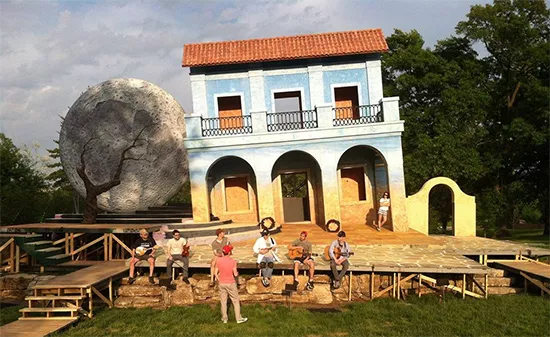 Mabel Suen
R&PMPO on the set of Twelfth Night.
The turgid strings on opening track "Bantams in Pine-Woods" give a short, striking entré into the program, which blends into the piano balladry of the "The Ordinary Women." That song wouldn't have been out of place on Wax Wine's debut EP from earlier this year, and it plays to Huggins' strengths -- her breathy, assured delivery practically drips empathy. Elsewhere, the genre-hopscotch shows the group's depths and musical chameleons - "Frogs Eat Butterflies..." kicks off with Seyle's burnished, backwoods banjo, while the breezy, near-tropical sway of "O, Florida, Venereal Soil" doesn't blot out the creeping undercurrent of unease in the lyrics and the minor-key progressions.
When Huggins' soprano voice is pushed to its upper limits, though, the words themselves almost surpass the range of human hearing. That affectation of the outré and operatic reminds you that the R&PMPO aren't about to start cutting three-minute rock songs anytime soon. On closing cut "The Emperor of Ice-Cream" (the Stevens poem you may recall from literature class), the string section's fits and starts, along with Heather Rice's vibraphone, give plenty of space for Huggins' most high-flying (and potentially alienating) vocals. But for a poem that is about, in part, the gap between artifice and reality, such a dramatic performance aptly caps an EP that shows the contours of Stevens' poetry while casually displaying the Rats & People Motion Picture Orchestra's many strengths.
Rats & People Motion Picture Orchestra EP Release Saturday, June 29. $10. Off Broadway, 3509 Lemp Avenue. 314-773-3363.
Want your CD to be considered for a review in this space? Send music c/o Riverfront Times, Attn: Homespun, 6358 Delmar Boulevard, Suite 200, St. Louis, Missouri, 63130. Email [email protected] for more information.
Follow RFT Music on Twitter or Facebook. But go with Twitter. Facebook blows.